This continuing blog series on the Digital Solutions Economy™ (DSE) previously has explored:
In this new post, we will look deeper at the challenges and key factors for success with regard to management of supply chain and logistics processes as part of a holistic approach to DSE.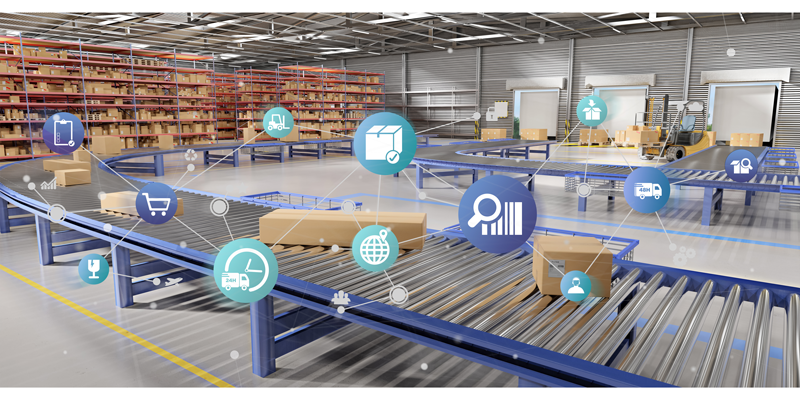 No matter what specific offerings are in your DSE business model, ultimately your customers are buying a product or service. The supply chain aspects of DSE focus on how you are creating it and delivering it to them. The options are many and your system needs to be tailored to seamlessly accommodate your DSE goals and your specific ways of doing business.

Key questions to ask include:
If it is a physical item, are you using contract manufacturing or making it in-house?

Do you use third-party logistics services?

How are you shipping to the customers?

Do you give customers options on choosing shipping methods?
If you're selling digital products or services there's another set of questions.
How are you handling Digital Rights?

How do you manage entitlements to your content?

Are there third-party services within your digital supply chain?

Do you license content from others?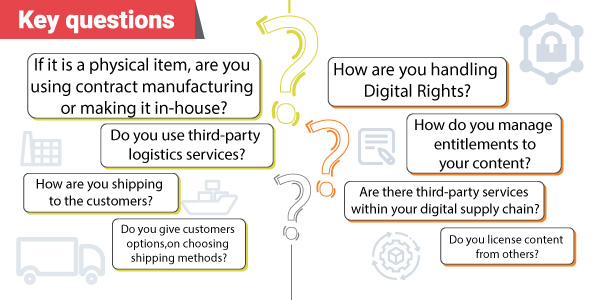 As with other aspects of DSE that we've discussed, the overall goal is to design and optimize your delivery and fulfillment systems to seamlessly meet your customers' expectations, while at the same time assuring that it meets stringent requirements for responsiveness, controls over inventory and working capital, manufacturing efficiency, and security.
Visibility, Agility and Holistic Integration are Critical
Supply chain, delivery and fulfillment integration can be particularly difficult because of the inherent complexity of most logistics environments, even before the advent of DSE.
Typical supply chains have materials in various states of completion (raw inventory, work-in-process, finished goods, etc.), in multiple locations (especially for global companies), and under the control of multiple parties (in-house manufacturing, out-sourced production, third-party logistics providers, etc.). In addition, for global companies, different country-specific controls, regulations, import/export processes, taxes, etc. also impact supply chain management. With DSE, these complexities are exacerbated by giving customers more choices on configurations, delivery locations, bundling options, and so forth.
In addition, the importance of real-time visibility into all aspects of the logistics chain becomes even more important in DSE because of the need to integrate delivery and fulfillment data with DSE models such as usage-based or entitlement-based offerings. In essence, you need to know in near real-time what is being delivered to each customer and to match that against the relevant contractual model.
Some of the key SAP applications and solutions that can help provide a holistic unified DSE delivery, fulfillment and logistics environment include:
SAP Billing and Revenue Innovation Management (BRIM) - is a comprehensive portfolio of solutions for dynamic, high-volume, consumption businesses.

BRIM (previously known as Hybris Billing) is a modular suite that is designed to optimize the business lifecycle processes of design, sales, delivery, and billing, which can tailored to specific DSE business requirements.

SAP Ariba - brings together solutions for end-to-end, cloud-based integration of complete Source-to-Procure-to-Pay processes. Ariba brings these operational processes together with the Ariba Network, consisting of 6.7 million companies that trade $3.2 trillion per year, thereby giving DSE companies a ready-made ecosystem of suppliers that are already using the Ariba end-to-end solutions.
SAP Analytics Cloud (SAC) - unifies the entire DSE model - from customer engagement, through ordering, billing, invoicing, delivery and fulfillment - with the ability to integrate transaction-level supply chain visibility into the overall picture in real time. This is critical to manage previously mentioned models, such as usage-based and entitlement models. Embedded end-to-end analytics are not only operationally important; they are also key to effectively managing overall DSE profitability, working capital and customer outcomes.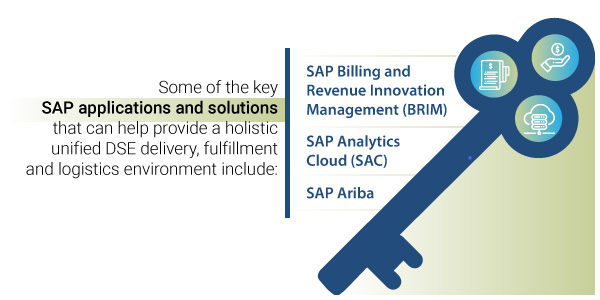 Overall, it's also important to leverage the flexibility of an open platform that runs efficiently, remains compliant, and can track with the dynamic requirements of DSE delivery and logistics processes. SAP environments such as S/4HANA and the Business Technology Platform (BTP) can support a variety of deployment scenarios and seamless interoperability whether the underlying infrastructure is on-premise, a private cloud, hybrid, or a multi-cloud setup within a major hyperscaler provider. Companies implementing DSE business models also may benefit from the SAP RISE offering that provides a bundling of existing SAP assets to focus on providing customers with business-transformation-as-a-service.
As we at Bramasol are helping numerous companies plan and implement their DSE businesses, it becomes more clear every day that a holistic approach is critical for success. From a supply chain and logistics perspective, this requires previously disconnected stovepipes of processing and data to be transformed via digitalization and real-time processing integration. Real-time sharing of data to and from the supply chain provides a key element in the vital lifeblood of information, visibility and dynamic agility that forms the heart of any successful Digital Solutions Economy business model.
For more information: