For most companies, real estate represents one of the largest investment and expense categories on their balance sheets and P&L reports. Regardless of whether their real estate assets are owned or leased, effective management of the real estate portfolio is a key factor for managing bottom line results and achieving business goals.
Of course, in practice, a company's real estate is much more than just some financial line items.
Real estate holdings also represent:
The "home base" where many employees spend much of their lives.
The factories, warehouses, and other production facilities where products are made.
The sales offices and stores where customers get their first impression of the company.
A major factor impacting the company's overall energy usage and carbon footprint.
And, for lessor companies, a significant revenue stream and associated expenses.
In light of this multi-faceted impact that real estate plays in every company's existence, it is vital to consider the needs of all stakeholders and to take a comprehensive approach to Intelligent Real Estate management.
Employees and customers deserve a well-managed, safe, secure and esthetically pleasing environment. Production workers need safe and productive facilities to accomplish their mission. Tenants expect companies acting as landlords to maintain everything in good working order and to fulfill their contractual obligations. And, of course, investors in the company expect real estate assets to be properly utilized and contribute to the company's financial soundness and profitability.
As a long-term partner with SAP and a leader in solutions for the Office of the CFO including lease accounting software, Bramasol has significant experience in helping companies manage their real estate holdings.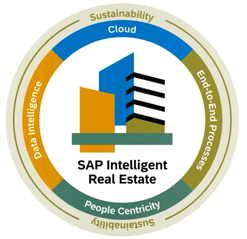 A major key to success is adopting a holistic approach that brings together all aspects of real estate management, utilization and finance, including assuring compliance with appropriate regulations for lease accounting (ASC 842 and IFRS 16) and revenue management for lessors (ASC 606 and IFRS 15).
In addition to providing end-to-end processing and data intelligence, the SAP Real Estate portfolio of applications provides a wide range of flexibility for addressing "people centricity" issues to meet the needs of both managers and end users of the company's real estate. In addition these solutions offer a range of deployment options including cloud, as well as a sustainable and scalable path forward with SAP S/4HANA.
Based on our experience helping companies comply with the new lease standards, it is clear that a holistic end-to-end approach is critical for optimizing productivity, visibility and sustainability over the long run. We've seen too many companies that tried a short-term standalone software solution and end up paying the price in efficiencies, lack of data visibility, and lots of wasted staff time to manually assemble a complete picture.
Having worked with a range of leasing solutions, including co-innovation with SAP on lease compliance, Bramasol has found that the SAP RE-FX solution is among the most comprehensive and integrated approaches for both today and the future.
SAP RE-FX is an application that supports all contract types and integrates with SAP back-end systems in support of contract compliance. This enables a unified leasing contract data repository that can be accessed to leverage accurate and relevant data for the optimization of the lease accounting processes particular to your business, including equipment management, supplier management, business planning, and more.
As a native integrated solution that provides end-to-end life-cycle management for all your leases, SAP RE-FX is the best choice for SAP customers. It is fully integrated with SAP ECC and S/4HANA and leverages your master data and GL without costly, complicated or difficult integrations.
In addition to already helping many companies optimize their real estate leasing and lessor processes, Bramasol has turned our learnings on the topic into a rapid assessment and project planning process that we call a Health Check. This disciplined process is designed to help clients understand the current situation, formulate the best path forward and define the specific implementation plan including milestones, metrics and responsibilities.

The detailed workshop process in Step 2 addresses these four key areas:
Accounting - decisions regarding processes, procedures and policies for alignment with appropriate FASB/IASB regulations as well as accounting and audit guidelines.
Functional/System - addressing how the solution is implemented including lease types, contract types, contract modifications, unique terms, etc.

Reporting

- looks at your ability to produce appropriate statutory reports (IFRS 16 or ASC 842 disclosure), management, and operational reporting and recommends improvements
Technical - evaluation of the technical aspects of your lease (real estate and movables) accounting and management eco-system including current leasing application, SAP environment analysis, interfaces and data sources, landscape, data archiving and security. Consider any customizations or workarounds for remediation of identified issues.
Based on the workshop outcomes from Step 2, the final report in Step 3 provides detailed recommendations, timelines, costs and responsibilities to define a clear path forward.
In addition to the specific leasing Health Check described above, Bramasol is able to provide input and guidance on how the overall SAP RE-FX and other real estate applications can be leveraged to optimize your overall real estate management program. This can include integrating data on space utilization, lease vs buy decisions, energy usage, and more.
Click here to learn more about the Leasing and Lessor Accounting Health Check.