The demands on corporate treasury departments are driving constant change. Requirements for increased accountability, better monitoring and improved performance means treasury leaders need to constantly upgrade their technical expertise, reduce costs and mitigate uncertainty. Treasurers also need to cope with the growing complexity of financial instruments, volatile financial markets and the introduction of new regulations and accounting practices.
The current Covid-19 crisis has sent shockwaves through global financial markets, putting businesses in the middle of extreme scenarios. Treasuries must be ready to back them up.
As the leaders in SAP Finance and Compliance, Bramasol brings you fresh insights and ideas from experts across the broad topics of Cash Management and Treasury. We covered foundational processes such as cash position, consolidation of EBS, and bank rationalizations. We help provide insights on complex topics around Working Capital, In-House Cash, Hedging and others.
So to help you focus in on what matters we are sharing the top 5 most popular Bramasol Treasury pieces, taken from the dozens of webinars, blog posts, and podcasts that we published over the years. We encourage you to take at these and then head over to our resource center to learn more.
Read on for the full list and stay tuned for more.

To stay on top of what's new, sign up for our Monthly Newsletter.
1) Key Elements for Driving Enterprise-Wide Treasury Integration
This post focuses on three areas, Financial, Geo-political, and Business Continuity, with regard to enterprise-wide treasury integration. Read Now!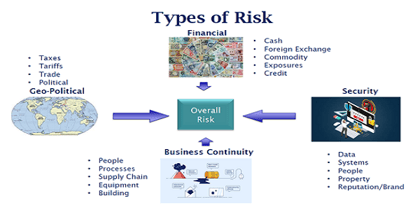 2) Insights from Matthews, Inc and Bramasol on Implementing In-House Cash and Treasury
In this hands-on webinar, you will hear from Matthews' Treasurer, Rob Marsh, about their goals and challenges and the results they are achieving with IHC. Bramasol's team will also share project insights and topics to consider for launching a successful IHC project. Watch Now!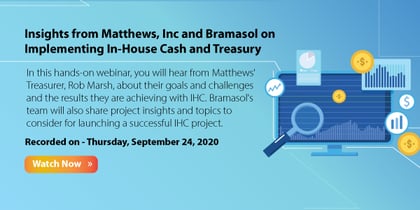 3) Working Capital Management – The Hidden Gold Mine for Cash
Working capital or free cash flow is often seen as quick barometer reading of a company's basic operating health. However, most companies are continuously dealing with pressures to manage working capital and struggle to sustain cost containment. Watch the webinar to find out how SAP's Finance Solutions can help you improve your working capital utilization. Improvements in Working Capital management increases financial dexterity and the ability to achieve strategic goals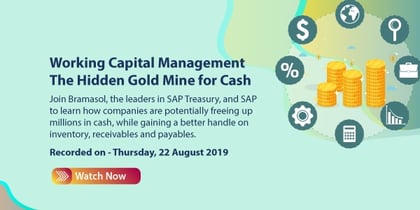 4) SAP Multi-Bank Connectivity: Optimizing Payment Processing and Reconciliation
Learn about step-by-step processes for integrating payment processing across multiple banks, countries, and currencies, while laying the foundation for securely and efficiently scaling up your enterprise-wide cash management and payment processes. Watch Now!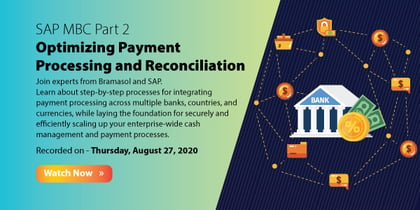 5) Treasury Integration is Key to Optimizing Digital Transformation
CFOs are becoming more empowered to overcome legacy application silos and enhance interconnectedness of treasury processes, data, and analytics.

Which of these content did you enjoy most? What topics would you like to see us cover?
We design our content to serve you and would love to hear your feedback. Contact us to make suggestions for tips or insights you'd like to gain from our team of experts.
We look forward to having you join us for our live webinars!