Lower costs and increase security and flexibility all at the same time? Yes, it can be done!
Bramasol's expert team shared how we can help you lower bank fees, compensating balances and transaction fees, while increasing the security and flexibility of you banking infrastructure on the webinar recorded on January 21st, 2021. Watch now!
Watch Now as we will explore how SAP's Multi-Bank Connectivity can help enable a modern banking eco-system that helps you lower fees, increase visibility to cash and create a more secure, flexible and scalable global banking eco-system.
If you are wondering whether you have too many banks, how you can free up trapped cash or enable a more flexible, secure and scalable banking platform to support you globally, you won't want to miss this webinar.
Watch Now! This webinar is Part 4 in Bramasol's Multi-Bank Connectivity webinar series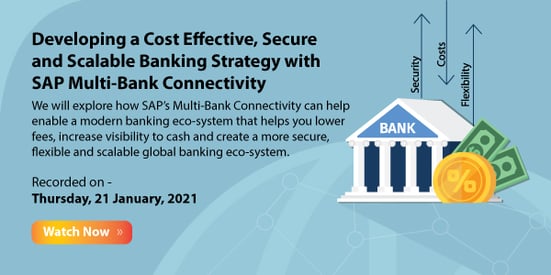 Watch previous episodes here;
Part 1- "Gaining Quick Impact on Cash Visibility with SAP MBC", this webinar shifts into the Optimization phase of our Comply, Optimize, Transform™ framework by drilling down to focus on automation of payment processing and reconciliation.

Part 2- "Optimizing Payment Processing and Reconciliation", in this webinar Bramasol and SAP explains about step-by-step processes for integrating payment processing across multiple banks, countries, and currencies, while laying the foundation for securely and efficiently scaling up your enterprise-wide cash management and payment processes.
Part 3- "Cash Forecasting Integration and Optimization" in this webinar Bramasol and SAP discovers the key steps for integrating MBC with AR/AP processes and analytics tools to optimize cash management and set the stage for transformational changes to improve liquidity forecasting, risk mitigation and overall capital management.