Companies throughout the world and across many industries are grappling with huge waves of change regarding how customers engage with them to purchase products and services. In a previous blog, we looked specifically at how disruption is happening in consumer focused companies and detailed the key issues in that particular market segment.
In this blog, we zoom out and look at the broader aspects and impacts of the Digital Solutions Economy that is now driving dynamic changes across almost every industry.
You have probably already heard terms like "solutions economy" and "subscription economy" but these don't really capture either the breadth of industry applications that are being disrupted or the full scope of related process changes that are needed to create dynamically scalable and manageable systems for market success.
Even as the early waves of customer-driven digital disruption have moved across the B2C consumer space, some players continue calling it the "subscription economy" but there really is much more to it than just offering subscriptions. This is especially true as B2B and B2B2C companies are jumping in to offer an increasingly wide range of digitally disruptive business models.
Some examples of the range of applications in the "Digital Solutions Economy" include:
B2C consumer offerings where the customer buys a subscription, such as signing up for recurring deliveries of a specific product or service (first wave of change)
B2C and B2B models where the customer buys a product with an associated subscription for related services, such as home exercise equipment with coaching sessions or a piece of production floor equipment with associated supplies (second wave of change)
B2B and B2B2C offerings where the entire customer or client experience is addressed with bundles of related products and services, such as an equipment purchase or lease that includes ancillary deliverables like utilization management, rights to upgrade, consulting support, usage analytics, etc. (third wave of change)
It has become increasingly clear that companies across the full B2C to B2B spectrum need a combination of well-integrated software systems and complementary processes that do much more than just manage their customers' subscriptions.
As a long-term co-innovator with SAP, the Bramasol team has developed a multi-faceted and highly integrated set of capabilities to address all aspects needed for success in the Digital Solutions Economy.
Key elements for implementing the Digital Solutions Economy include:
Customer Engagement – Anytime, anywhere, with any device and omni-channel.
Order Capture and Management –Customer-driven flexible bundling and pricing on the fly.
Delivery and Fulfilment – Optimized supply chains and logistics to deliver when, where, and how the customer wants it.
Billing and Invoicing – Flexible billing based on what the customer wants to see without forcing them into a cookie-cutter approach.
Payments and Collections – Tailored billing, payment, and credit options with secure transactions and seamless capability for dispute management, exception handling, etc.
Revenue Recognition – Capturing all the revenue in the right buckets to assure compliance and to help drive better offers and upselling opportunities to the client.
Cash and Treasury Integration – Providing seamless integration and visibility into cash flows and working capital management that tracks with the dynamics of the digital delivery models.
Embedded Analytics – Built-in system-wide analytics capabilities to monitor key metrics, surface alerts/exceptions, and enable ad hoc drill-down and drill-through for issue resolution.
Future-proof Infrastructures – Enabling high-performance transaction processing, customer-driven agility, unified end-to-end visibility, comprehensive back-end systems integration and deployment options for cloud, non-cloud and hyperscalability.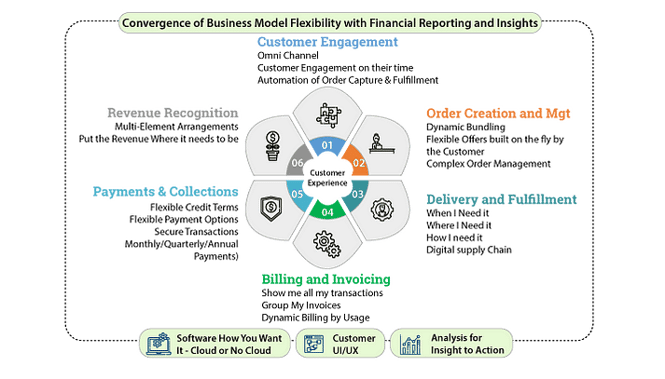 In summary, the global movement toward the Digital Solutions Economy has given new meaning to the old adage "the customer is always right". In today's world the customer is not only "right" they are also "in control" over virtually everything in the relationship!
The only way companies across the full B2C and B2B spectrum can hope to succeed in this new world is to strategically transform all their related business systems to optimize customer control while assuring back-end flexibility to deliver on customer expectations with seamlessly integrated, high-productivity, hyperscalable, dynamic systems.
Learn more about enabling technologies for the Digital Solutions Economy