Companies that offer products and services to consumers are currently grappling with multiple tidal waves of disruption across virtually all industry segments.
On the customer-facing side, companies must deal with radical, sweeping changes in consumer expectations for more options, more control, and unique experienced-based offerings. On the backend systems side, companies need to quickly put in place robust, agile, and highly scalable processes for fulfillment, billing, revenue management, supply chain, and customer support services that can adapt to consistently meet new more demanding customer expectations.
Whether you are an established company that is at risk of disruption from new "digitally born" rivals, or you're one of the innovative disruptor companies aiming to grab market share, it is critical that all your offerings this new "solutions economy" be built on a solid foundation designed to go the distance.
In the end, the winners will be those companies that can shift core competencies away from selling to customers and toward serving them.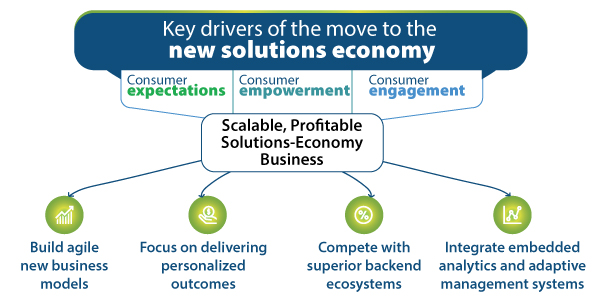 Some of the key drivers of the move to the new solutions economy are:
Consumer expectations: Today's users are rewarding those companies that meet their desires for immersive experiences with services and products that are easy to understand, easy to access and that seamlessly fit with their increasingly digital lifestyles.
Consumer empowerment: They want to be in the driver's seat regarding all choices about product options, delivery methods, service plans, and much more.
Consumer engagement: Customers are ready to give their continuing loyalty to brands that understand and meet the above expectations and empower them with "do it my way" solutions.
So, what should companies be doing now to lay a sustainable foundation for successfully meeting customers' needs and building a scalable, profitable solutions-economy business?
Build agile new business models: While the old economy was most often driven by economies of scale for highly standardized, mass production selling and fulfillment processes, the new economy must be built around agility. New "speed factories" and digitally nimble approaches are needed to align all fulfillment and support systems with consumer driven choices.
Focus on delivering personalized outcomes: Companies should optimize all customer-facing systems for listening across the myriad ways that customers express their needs and then companies must use this information to design user interfaces for maximizing personalization of individualized consumer choices.
Compete with superior backend ecosystems: While the customer-facing processes above are vital to engagement, the linchpins for business scalability and profitability are the backend systems. Separate silos for sales, billing, order processing, supply chains, fulfillment, etc. simply cannot keep pace, so a commitment to unified and integrated systems is critical. Ideally, the unified ecosystem should integrate advanced capabilities for adaptive data mining, machine learning, robotic process automation (RPA), and conversational artificial intelligence (AI) that can provide seamless response to customer choices while optimizing competitive agility and profitability.
Integrate embedded analytics and adaptive management systems: As mentioned in a previous blog,

advanced analytics are key to integration

of all frontend and backend systems. Analytics are no longer an add-on function but instead need to be considered a core element within every system. This is especially true for new solutions economy offerings, where missing out on an emerging consumer trend can quickly result in loss of market share and brand reputation.
In Bramasol's work helping both existing consumer products companies and new digitally born disruptors navigate the challenges and optimize their systems for the solutions economy, we are seeing excellent successes with leveraging the SAP ecosystem across all the challenges identified above.
Targeted applications such as SAP Billing and Revenue Integration and Management (BRIM) and SAP Revenue Accounting and Reporting (RAR) provide the flexibility to support customer-facing transactions while assuring compliance with revenue recognition and reporting. Within the backend ecosystem, integrated applications like SAP Supply Chain Planning, SAP Cash Management, Banking, and others provide a full range of capabilities to scale and optimize fulfillment and working capital management.
In addition, SAP Analytics Cloud enables embedding of analytics across all functions to provide the unified visibility and insights needed for sensing, understanding, and adapting to the dynamic changes inherent to customer-driven offerings in the solutions economy.
From an enterprise-wide strategic perspective, another key advantage is the fact that all the above applications are native to the SAP S/4HANA ecosystem. This means that companies can move quickly to implement solutions economy business models using various targeted applications, while also laying the foundation for a smooth migration to implementing S/4's far reaching digital transformation benefits.
The bottom line is most consumer industry segments are either already being disrupted or soon will be. Companies cannot afford to ignore these trends and need targeted applications to move quickly. However, they also need to be assured that today's implementation choices will provide a sustainable path forward with both the flexibility and scalability to succeed over the long run.