Companies in the SAP ecosystem need to carefully consider their options and start planning now for the inevitable migration to S/4HANA. While the discontinuance of ECC support has been rescheduled to 2027, it is critical that you not wait too long to evaluate what the best path will be for your company.
It is also important to remember that this will be much more than just a software upgrade. S/4HANA represents a unique opportunity for undertaking truly transformational changes and improvements across the entire enterprise.
Just some of the key areas of operational benefits from S/4HANA include:
Finance – unification of financial data in a single-source-of-truth with resultant improvements in financial close processes, AP/AR productivity, billing, revenue, cash management and more.
Sales – streamlining of sales master data, sales contract management, sales order processing, billing, invoicing, claims, returns, refunds, and sales forecasting.
Supply Chain – goods issue and receipt, warehouse management, shipping, logistics, material requirements planning, and vendor information sharing.
Analytics – embedded capabilities to access data from all functions with drilldown, drill-through, visualization, and reporting - for both on-going monitoring and to inform ad hoc decisions.
Taken together, the enterprise-wide impacts of S/4HANA will enable both near-term and long-term transformation spanning the user experience, business agility, real-time management, and automation, enabling the Intelligent Enterprise.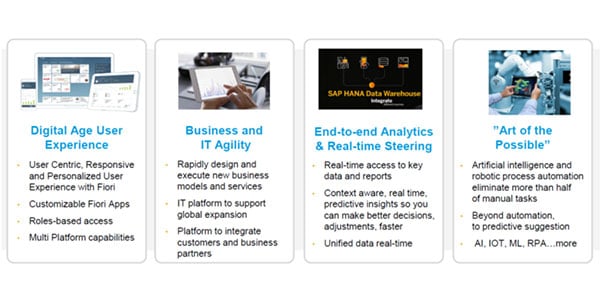 Before embarking on your transformational journey, you need to answer fundamental questions. Do you stay on ECC and make process improvements until 2027? Do you migrate your current system to S/4 (Brownfield upgrade) or do you start new with a fresh new S/4 implementation (Greenfield) or consider a Hybrid approach?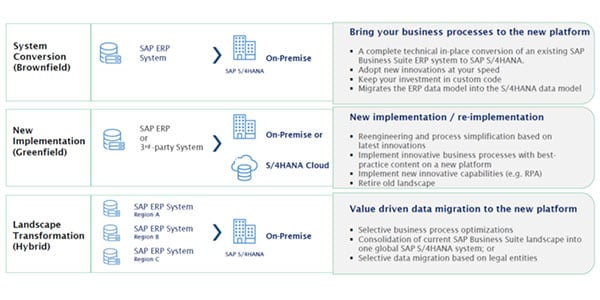 When embarking on this journey, you must understand all the strategic elements involved in making this decision and realizing you may need help. What is the value? What is the cost? How long will this take? The impact to your business? What is our organization's business and IT roadmap?
As we have worked with numerous clients to chart out their S/4HANA journeys, we've established a structured assessment approach for surfacing and addressing all of these and other key issues. Following a Design Thinking discipline, our team leads the client's key stakeholders through an analysis and planning process to define the path forward.
The S/4 Assessment addresses the questions below and much more.
Should we Migrate our current ECC environment to S/4HANA? (Brownfield)

Do we implement a new S/4HANA systems? (Greenfield)

What portions of the SAP S/4HANA platform do I need?

Which SAP Fiori roles and apps are relevant to me and how to improve Fiori adoption in projects?

Which SAP S/4HANA simplification items are relevant?

Will my custom code work with SAP S/4HANA, and if not, what do I do?

How do I remediate my configuration and Custom code?

Are my Business Process KPI

'

s complete and reflective of my goals?

Can I take advantage of new business models, such as subscription based?

What are my S/4HANA options? How long will it take, how many resources and what is the cost?
The near-time goal of the assessment process is to Define the Journey by addressing the digital business strategy. IT strategy, and IT initiatives as shown in steps 1, 2 and 3 below. This establishes a foundation upon which the rest of the S/4HANA roadmap can be delineated.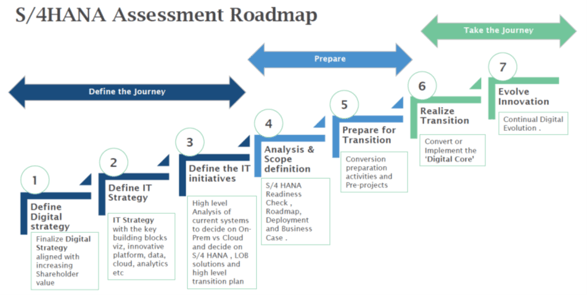 Assure success for your S/4HANA journey by starting now.
To learn more about how an S/4 assessment can help, click here.