SAP S/4HANA represents one of the most significant and transformational changes in the history of the SAP ecosystem as well as within the wider scope of ERP technologies in general. By bringing together comprehensive ERP functionality with a high-performance data transaction and analytics engine, S/4HANA is a true game changer that provides exciting opportunities for improving productivity and transforming enterprise-wide business operations.
SAP recently announced that mainstream maintenance for SAP Business Suite 7 core applications will continue until the end of 2027, followed by optional extended maintenance until the end of 2030. They also announced a maintenance commitment for SAP S/4HANA until the end of 2040.
While these clarifications provide companies with additional flexibility for planning their implementation schedules, it should not be viewed as a chance to postpone formulating a proactive approach to leveraging the real innovation opportunities with S/4.
As described below those companies that have shifted their mindset away from viewing S/4 as a "have to" change requirement and toward a "want to" innovation opportunity are already driving near-term ROI benefits along with opening the door for enterprise-wide transformational changes.
Unlike previous software upgrades, moving to S/4HANA will require a deep awareness of the underlying business processes and technical impacts in order to get the most benefit from the transition.
This is not just an implementation of new software designed to do the same old things a bit faster. If it is approached with an open mindset, S/4 can be the catalyst for overcoming the limitations of current operational processes and achieving new levels of automation, integration, visibility, simplification, and productivity across all global operations within the enterprise.
According to a 2019 survey by SAPinsider, the approaches that companies are taking to S/4HANA can be grouped into three categories: Leaders, Industry Average and Laggards.
Leaders are the early adopters who are actively in the process of implementing S/4HANA. This group represents 19% of the survey respondents.
Industry Average companies are in various stages of evaluating S/4HANA by gathering information and/or starting pilot projects. This group makes up 52% of respondents.
Laggards are those companies that are not yet making any plans for moving to S/4HANA, which represents 29% of the survey.
A closer look at key characteristics of the companies categorized as Leaders shows the following:
Business transformation is a top driver for 53% of Leaders, versus only 36% for Laggards.
Leaders are more likely to undertake new "Greenfield" implementations (39%) as compared to only 16% of overall respondents.
Leaders are seeing wider-reaching business benefits from ERP in more areas than the other groups — for example, 67% of leaders highlighted analytics as a key benefit vs. 46% overall.
A significant majority (85%) of leaders report that their move to SAP S/4HANA met or exceeded their expectations, with performance and simplicity among the top benefits cited.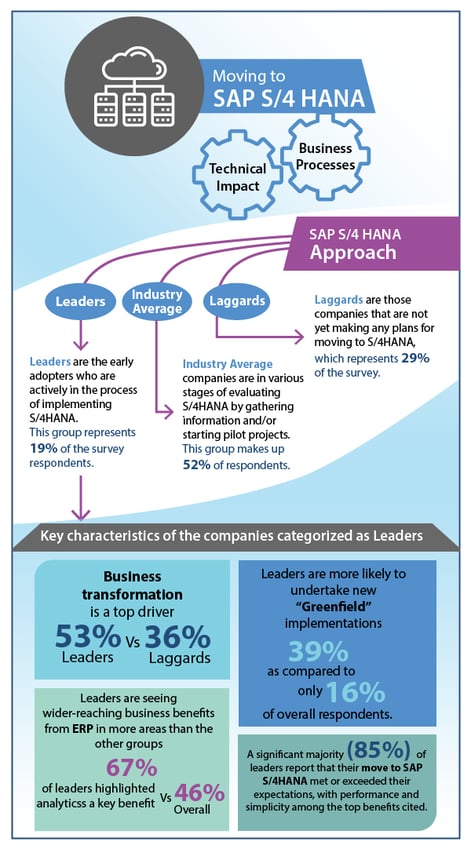 Based on these insights, along with Bramasol's real-world experience working to help clients prepare for and implement S/4HANA, we've compiled the following list of key factors that you need to keep in mind to make your S/4 journey successful:
Don't wait. The time to start moving is now. With leaders reporting average implementation times of 7-12 months, it is risky to delay until end of support for ECC is more imminent.
Start with a focus on finance and analytics. Experience shows that prioritizing these areas can quickly deliver benefits and even provide ROI to help defray costs of overall S/4 projects.
Avoid the pitfalls of custom code. We recommend a fit-to-standard approach that leverages the overall integration benefits of S/4 and assures a more manageable system going forward.
Invest in your organizational skillset. You will need in-house staff who understand SAP HANA data models, core data services, embedded analytics, SAP Fiori, and new types of integration requirements — especially when it comes to the cloud.
Understand that S/4HANA is much more than just a technical upgrade. This is a major opportunity to unburden your organization from the "digital debt" accumulated by past incremental decisions and disjointed business processes. S/4 offers the opportunity for true enterprise-wide business transformation.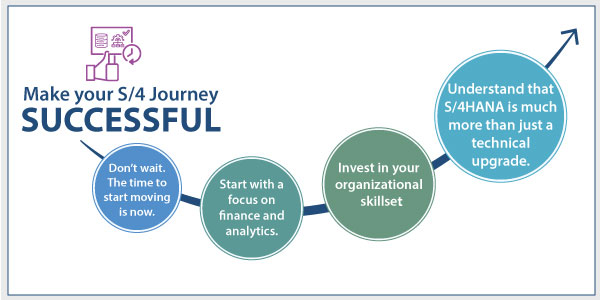 The bottom line is S/4HANA is coming whether you like it or not. But if you look closer and keep an open mind to the possibilities, you'll find that there is a lot to like and embracing the changes with an eye toward business transformation can make all the difference.