One of the major trends facing many businesses today is the move away from discrete product sales transactions and toward providing subscriptions for experience-based and outcome-focused services.
Dubbed the "subscription economy" or "outcome economy" by many industry analysts, these sweeping changes to customer relationships offer numerous benefits including:
Deeper engagement with customers
Higher retention rates
Enhanced opportunities for up-selling and cross-selling
Increased brand loyalty
Higher revenue streams with more predictability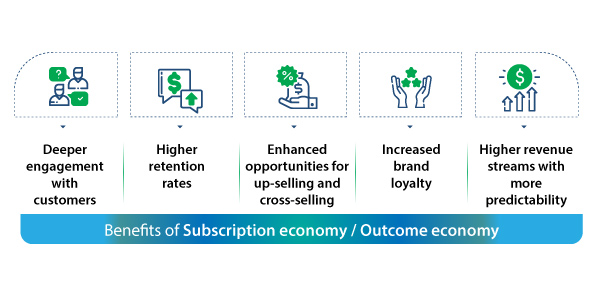 For customers, the new subscription-based models provide increased convenience, personalization options, and often lower costs. High-profile consumer focused examples such as streaming media entertainment subscriptions and wireless phone services have led the way, along with business focused offerings such as software as a service (SaaS).
In recent years, the subscription economy has virtually exploded with new innovative and niche targeted offerings such as personal care and beauty (Dollar Shave Club, Birchbox, Ipsy), meal-kits (Blue Apron, HelloFresh, etc.), clothing (Stitch Fix, Trunk Club), exercise (Peloton, Mirror), home management (Nest, Ring, etc.) and many others. There are even specialized offerings targeting kids markets such as Raddish and Kidstir meal-kits, Little Passports and KiwiCo educational services, etc.
As innovative startups break new ground with targeted subscription services, some of the world's largest companies are also jumping into these lucrative market opportunities. For example, as Netflix pioneered the streaming media and entertainment arena, behemoths like Amazon, YouTube, Disney and Apple have all launched high-profile streaming services.
On the business side, SaaS offerings have proliferated to target virtually every functional area including marketing, finance, human resources, recruiting, out-sourcing, artificial intelligence services and more. In addition, new B2B models such as hardware-as-a-service, transportation services, insurance, travel, and facilities management are offering specialized and customizable services for businesses.
While the subscription economy offers huge opportunities, the challenges for companies hoping to enter and succeed are big as well. Some of the key issues that must be addressed include:
Agile pricing with recurring and usage-based billing that is flexible enough to handle daily change
Revenue sharing, licensing and other partner-focused accounting mechanisms
Loyalty rewards programs management
Complex contracting requirements (especially for B2B services)
Automation and machine learning to optimize services and productivity
Scalability to handle high-volume and dynamically changing service delivery
Need for excellence and consistency in Customer Experience across all channels of engagement – web, phone, mobile device or other
Revenue Recognition compliance requirements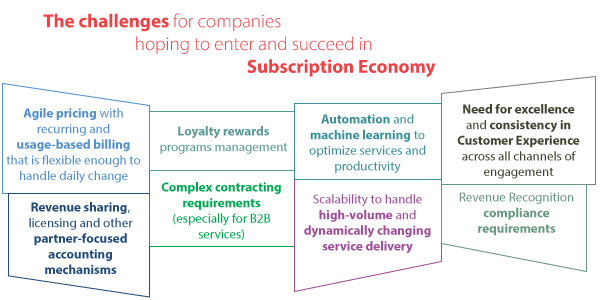 Integrated analytics are particularly important since success in the subscription or outcome economy necessitates a deep and intimate understanding of dynamically evolving customer needs and priorities. Subscription models inherently create huge amounts of data, which can be critical for staying ahead of customer and market changes but also can be overwhelming if agile analytics are not built into the business model from the outset.
Depending on a company's starting point for jumping into the subscription economy, the business system requirements can be quite diverse. For example, a new startup could benefit greatly from an end-to-end integrated solution set that addresses all of the elements, whereas an established company getting into subscription services would more likely need to pick and choose specific features to integrate within their existing business systems.
The graphic below provides an overview of functions that need to be integrated to support a successful subscription services business. As mentioned above, an established business might not want to make changes to some existing processes, such as credit and collections, but would need to add other new functions and, just as importantly, make sure that they integrate with the company's overall systems. Also, product companies that intend to transition to outcome-based service offerings, may need to map out an evolutionary plan that incrementally integrates some functions in a hybrid model as an interim steppingstone to implementing a fully integrated services model.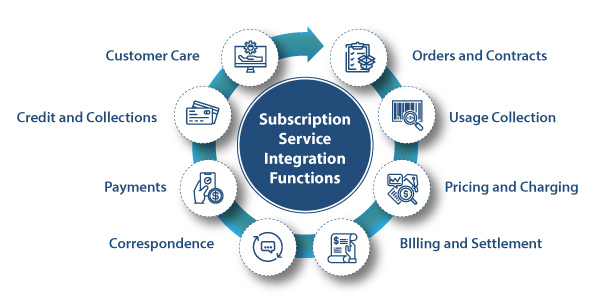 In summary, it has become clear that the subscription economy is here to stay and it's going to continue disrupting old markets as well as creating new ones. No company can afford to ignore the possibilities and opportunities because disruption is sprouting up virtually everywhere.
Whether you're in a new company bent on disruption or an existing one needing to defend your market position, a key element for success will be understanding the underlying business requirements and planning ahead to make sure you put in place a comprehensive set of systems and processes to support the new models.
To learn more about solutions for optimizing the Subscription Economy, watch this video of recent Bramasol webinar.