Join Bramasol at the Virtual event of SAP Insider 2020. Along with industry leaders, we bring you pre-recorded session on Business Continuity in Times of Economic Disruption. Strategies and quick wins you can apply to leverage SAP to maintain business continuity in this unique environment.

Experts from Bramasol will cover "Managing Cash and Risk in Times of Economic Disruption".
Register Now for the Virtual event of SAP Insider 2020.
During these challenging economic times, the focus on managing cash and cash risk are even more important. We will discuss four types of risk and hone in on financial risk, exploring specific actions you can take with SAP Treasury and Cash Management to mitigate and manage financial risk. We will discuss establishing firm foundation of knowing where your cash is and how to leverage SAP Multi-Bank Connectivity, Bank Account Management and other tools to get a view of your cash position, implement straight through processing and save time and money.
You will:
Learn the four types of risk
Understand how you can get a complete view of you cash position and consolidate bank balance views using SAP MBC
Learn from practitioners about how challenges they faced in managing cash
Gain a perspective on how to establish straight through processing
Speakers: John Froelich, Julio Dalla Costa, Kim Dowling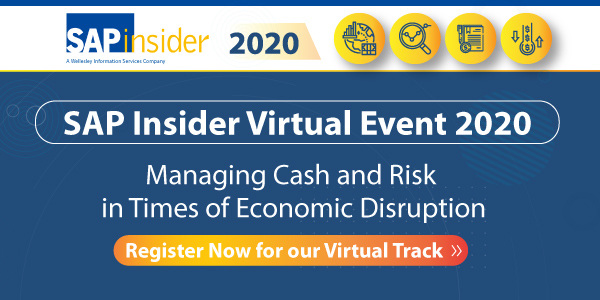 Learn More about event sessions!