This new episode in our ongoing series on the Digital Solutions Economy (DSE) provides an overview of how DSE is impacting the transportation industry. Previous episodes in this series include DSE in the Medical Device industry, DSE in Utilities industry, and DSE in the Energy Sector.
Overview
In some ways, the transportation sector has always included services based on subscriptions and usage. For example, shipments of goods are typically billed based on weight, size and distance and customers that maintain subscription accounts with carriers can receive discounts on their shipping costs.
Subscription-based offerings also have become common place in the transportation of people, including everything from ride-sharing services, to public transportation passes, to airline loyalty programs. The rise of new smarter vehicles is also turning people's cars into subscription content delivery platforms for everything from navigation assistance to full self-driving capabilities, as well as in-vehicle infotainment and productivity services.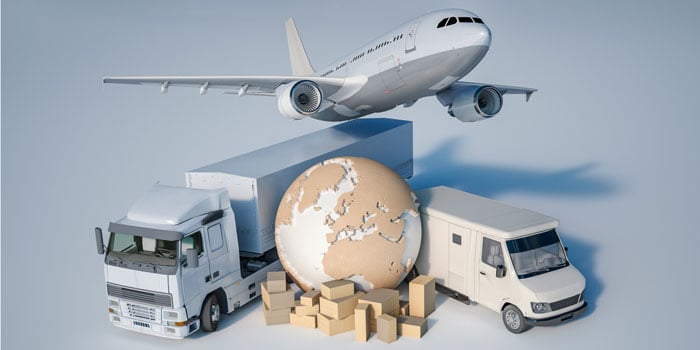 Some of the key challenges and disruptive trends in the transportation sector include:
Supply chain inefficiencies exposed by the pandemic and shifts in consumer buying behavior.
Last-mile delivery has become a critical cost factor as retail sales shift from in-store to online.
Autonomously driven vehicles emerging for both commercial and consumer markets
Public transportation systems need to improve accessibility and cost of ridership
Commercial trucking fleet management is facing driver shortages and looking at tech alternatives
Railway freight services are turning to new technologies for tracking, efficiency and flexibility
How DSE Applies to the Transportation Sector
As subscription-based services become more prevalent in the transportation sector, companies are turning their attention to how holistic Digital Solutions Economy methodologies can help them better serve their customers while also keeping back-end processes adaptable, scalable, efficient and compliant. Solutions such as SAP Billing and Revenue Innovation Management (BRIM) enable transportation companies to smoothly transition from their conventional business models to new subscription based offerings.
Other related solutions in the SAP ecosystem are key to helping transportation companies make the transition to these new business models. For example, SAP Revenue Accounting & Reporting (RAR) streamlines and simplifies accounting and reporting of complex revenue streams under ASC 606 / IFRS 15 and SAP Contract & Lease Management (CLM) provides asset management and accounting compliance for ASC 842 / IFRS 16.
Some interesting examples of leading companies in the transportation sector that are pioneering new disruptive approaches are:
AITX in the railcar leasing sector leverages new technologies to provide customers with a high degree of flexibility across multiple industries to assure the right types of railcars are always available when and where needed, with turnkey integration of repair and service bundled into the offerings.
Geotab in the fleet management sector uses on-vehicle tracking devices and comprehensive software to provide companies with turnkey management of fleet productivity, optimization, safety, compliance and uptime.

Metro Micro in LA County provides mobility-on-demand services

that improve riders' experience by operating small-scale, on-demand public transit services that offer fixed routes and schedules, as well as flexible routes and on-demand scheduling.

Waymo has built on autonomous driving technologies to become a trusted turnkey services partner with automated driving solutions for companies that move people as well as companies that move freight.
Last-mile consumer delivery services such as Uber Eats, Postmates, Instacart,

Cornershop

,

and many others have exploded in growth by providing a convenient way for companies of all types to get their products to consumers' homes.
Summary
Having worked with companies across the entire transportation sector on helping them implement new DSE-based services, the Bramasol team has developed an in-depth understanding of the key issues that need to be addressed for success.
It has become clear that DSE success requires a holistic approach that unites both the front-end, customer-facing service offerings with robust and well-integrated back-end systems for order management, usage monitoring, billing, bundling, and revenue compliance.
Some of the key challenges that often come up in the transportation sector are 1) revenue-sharing when multiple companies are involved with ultimate delivery to the end customer, 2) bundling options where the end customer is empowered to make changes on the fly that then must be handled transparently in the back-end, or 3) services that have embedded equipment (such as railcars) that create complex revenue, leasing and significant financing compliance issues.
The bottom line for virtually all of these new Digital Solutions Economy offerings in the transportation sector is the goal of providing customers with high value by putting them in charge and giving them choices that foster loyalty and provide upsell opportunities. However, equally important for success is the need to implement robust, holistic back-end DSE systems that transparently handle all the fulfillment, accounting and compliance issues required for overall business success.
For more information, check out these resources: