This new episode in our ongoing series on the Digital Solutions Economy (DSE) provides an overview of how DSE is impacting Oil & Gas industries and the overall energy sector. Click here to read episodes on DSE in the Utilities Industry, and DSE in the Medical Devices Industry.
Overview
Possibly more than any other sector, the overall energy industry is facing huge waves of change at the macro level from dealing with global climate change concerns down through the tactical and operational levels, including the survival prospects for existing companies.
Disruption is widespread as traditional oil & gas companies cope by positioning themselves for transitioning to become more diverse energy providers, with a mix of natural gas and renewables alongside traditional oil production & distribution services. At the same time, new companies focused exclusively on green energy are also making inroads and competing with the established fossil fuel leaders.
According to McKinsey's Global Energy Perspective 2022, "Renewable generation is projected to reach 80–90% of the global energy mix by 2050 as the global build-out rates for solar and wind grow by a factor of five and eight respectively." The report further states that while annual investments in energy supply and production are expected to double by 2035 to $1.6 trillion, almost all growth is expected to come from decarbonization technologies and clean power.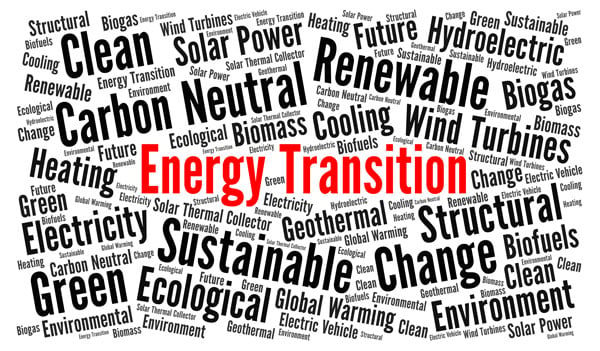 Key Disruptive Challenges
Some of the specific challenges in the energy sector include:
Managing the transition from fossil fuels to sustainable energy sources

Scaling up and integrating more renewable energy into business models

Disciplined capital planning to support the transition of energy sources

Increasingly complex partnering scenarios between energy producers, supply chains, distribution networks, and consumer-facing delivery systems

Integrating more M&A deals aimed at diversifying into new energy offerings

Implementing digital transformation to improve end-to-end efficiency of energy infrastructures

Complying with evolving regulatory requirements around ESG and carbon accounting
How DSE Applies to the Energy Sector
Digital Solutions Economy applications, along with overall digital transformation strategies, will play key roles in helping companies in the energy sector navigate these challenges.
For example, the increasing emphasis on agile partnering scenarios between companies in the end-to-end energy generation and delivery infrastructure will require DSE-based software solutions that can dynamically adapt to shifts in usage levels, revenue sharing and contract change management. These B2B applications of DSE solutions, such as SAP Billing and Revenue Innovation Management (BRIM), will enable companies to more efficiently integrate new energy sources while balancing the transition from fossil fuels.
On the consumer-facing side, DSE solutions such as BRIM will also be critical for traditional oil & gas retail companies, such as gas station networks, as they navigate the shift away from fossil fuels and install electric vehicle (EV) charging systems. According to WardsAuto, "If drivers can count on available vehicle chargers at gas stations, it will support sales of new electric models and push the U.S. closer to meeting targets for electrification established by regional and federal entities."
However, the shift to EV charging holds both challenges and opportunities for gas station companies. On one hand the fact that EV charging takes longer than a gas fill-up, means there are opportunities for increasing sales in gas station convenience stores. On the other hand, the shift to charging will require new contractual relationships with electric utilities and charging system providers. Incentive and loyalty programs will likely be key factors for gas stations to optimize the opportunities for increasing consumer spending, both for charging and for other on-site products and services. DSE solutions such as BRIM are built from the ground up to adapt for supporting such complex bundling, usage tracking, incentive credits and revenue sharing requirements.
From a macro perspective, the ability of solutions such as BRIM to adapt agnostically to disparate legacy billing and consumer-facing systems will also be key to supporting a smooth transition for companies in the energy sector. For example, heightened M&A activity will mean companies need to accommodate and integrate a variety of different systems and revenue streams, while also being able to see and manage the full end-to-end picture. In addition, from a compliance perspective, they will need end-to-end analytics capabilities for both revenue accounting and for ESG carbon accounting disclosures.
Summary
While these sweeping changes in the energy sector present major challenges, there are also lots of lucrative opportunities for forward-looking companies to leverage the DSE and digital transformation solutions described above.
At Bramasol, we are excited to be at the forefront of helping companies across the entire energy ecosystem, from B2B to consumer-facing applications. By using a holistic approach that brings together Digital Solutions Economy functionality with compliance (both revenue and ESG) companies can successfully navigate the near-term challenges while at the same time laying the foundation for ongoing digital transformation with SAP S/4HANA.