Do you know where your data is? Actually, it is everywhere.
According to Statista, the total amount of data created, captured, copied and consumed globally is projected to grow to more than 180 zettabytes by 2025, from the 64 zettabytes in 2020.
From an enterprise standpoint, an IDG Market Pulse survey of North American companies with over 1000 employees indicated that, "the mean number of data sources per organization is 400. More than 20 percent of companies surveyed were drawing from 1,000 or more data sources to feed BI and analytics systems." The range of data sources include computers, smartphones, websites, social media networks, e-commerce platforms, and IoT devices. Also, unlike in the past, data is no longer the exclusive purview of IT – it is incorporated into every business department.
The unrelenting growth in the data volumes and diversity of sources creates a variety of challenges for company executives and IT departments. Complex organizations typically have many different functional area processes that consume and generate data for specific purposes, making it difficult to gain enterprise-wide visibility and actionability.
Data Fabric Can Help Bring It All Together
A new report from Forrester describes how, "Data fabric delivers a unified, integrated, and intelligent end-to-end data platform to support new and emerging use cases. It automates all data management functions — including ingestion, transformation, orchestration, governance, security, preparation, quality, and curation — enabling insights and analytics to accelerate use cases quickly." The report also sees a "trend of data fabric initiatives across all industries — including financial services, retail, healthcare, manufacturing, oil and gas, and energy — as organizations continue executing their digital transformation initiatives."
SAP is at the forefront in providing Data Fabric solutions with advanced data and analytics capabilities in the SAP Business Technology Platform (BTP), SAP Data Intelligence Cloud, and S/4HANA Cloud environments.
The Forrester report states: "SAP stands out on semantic data modeling, data catalog, governance and security, connectivity, discovery and classification, semantic data integration, data quality, data transformation and lineage, data events and transactions, data access and delivery, and deployment options."
As one of SAP's longest serving partners and a leader at integrating various SAP solutions for operations, finance, and compliance, Bramasol is at the forefront of integrating end-to-end data to meet a wide range of client requirements. For example, Bramasol's leadership in bringing together end-to-end processes for the Digital Solutions Economy (DSE) uses advanced data fabric concepts for seamless integration across multiple functions.
As shown below, the key DSE elements including Customer Engagement, Order Creation & Management, Delivery & Fulfillment, Billing & Invoicing, Payments & Collections, and Revenue Compliance, need to have access to shared data structures in real-time to provide the responsiveness and scalability required by companies and their customers.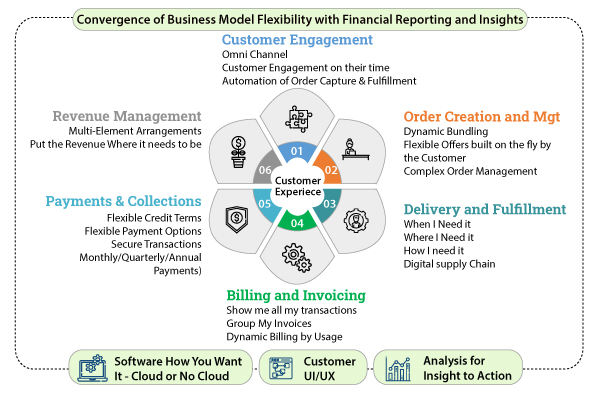 Within the SAP ecosystem, SAP Analytics Cloud (SAC) provides an important unifying capability for pulling together disparate information from both SAP and non-SAP applications, giving users the ability to analyze, plan, predict and report all in one place.
By integrating directly with the SAP Business Technology Platform (BTP) and leveraging Data Fabric concepts within the S/4HANA single-source-of-truth, SAC provides seamless analytics for the full spectrum of FP&A focus areas, including Planning & Budgeting, Financial Planning, Reporting, and Forecasting/Modeling.
In summary, the SAP Data Intelligence Cloud and S/4HANA architecture combine to provide a comprehensive Data Fabric management environment that connects, discovers, enriches and orchestrates disparate data assets into actionable business insights at enterprise scale. This enables forward-looking companies to:
Discover and connect to data in a variety of locations from a single enterprise data fabric

Transform and augment data across complex data types and curate a robust, searchable data catalog

Implement intelligent data processes by orchestrating complex data flows

Enable scalable, repeatable, and production-grade machine learning


Discover and connect to data in multiple locations and in a variety of ways

Integrate and orchestrate massive data volumes and streams at scale
For more information on data management, integration and migration, check out these resources:
Also, consider attending this upcoming Ask the Experts webinar: