There has been a lot of focus recently on supply chain issues because of the global challenges from the pandemic, conflict in Ukraine, and economic uncertainties. However, the supply chain is only a part of the overall picture that companies need to consider for fueling sustainable business success. This blog post zooms out for a more holistic view of the entire Value Chain, which encompasses the full gamut of enterprise-wide processes.
Value Chain Overview
Value Chain is a term used by Michael Porter, economist and professor at Harvard Business School, to describe the importance of interrelated systems within a company. Porter said, "Competitive advantage cannot be understood by looking at a firm as a whole. It stems from the many discrete activities a firm performs in designing, producing, delivering and supporting its products."
The goal of value chain management is to optimize communication and feedback between each stage in the process to ensure that products and services are meeting customer needs, adapting to changing market dynamics, and achieving profitability objectives.
Porter's concept of value chain separates key functional areas into primary activities such as inbound/outbound logistics, operations, marketing, sales and service or support activities such as infrastructure, human resource management, technology development and procurement. In addition, new compliance requirements such as recent changes in revenue recognition, lease accounting, and the emergence of sustainability issues with carbon accounting all impact various activities in the value chain.
Using an end-to-end approach to the value chain is becoming even more important as many companies move toward subscription-based offerings in the Digital Solutions Economy, where the pace of change is constantly accelerating amid higher Volumes, Velocity, Density and Complexity of real-time data. The transition to the digital economy, plus the Internet of Things, social media, and other external, structured and unstructured data flows add to the complexities that must be addressed across the entire value chain.
With today's more complex value chains and the hyper-dynamic nature of data in DSE business models, it is simply not possible to keep up by using standalone systems or off-line spreadsheets to manage each separate functional area. Siloed information in different business areas makes it virtually impossible to manage the entire value chain efficiently and effectively. Modern ERP systems , such as the SAP ecosystem and S/4HANA, have become indispensable for unifying and coordinating these various primary and support functions.
The Digital Value Chain
As the need for value chain optimization has become an increasingly important part of the overall Digital Transformation trend, the accelerated adoption of S/4HANA during 2022 is helping companies keep pace and to even get ahead of the change curve.
SAP S/4HANA represents one of the most significant and transformational changes in the history of the SAP ecosystem as well as within the wider scope of ERP technologies in general. By bringing together comprehensive ERP functionality with a high-performance data transaction and analytics engine, S/4HANA is a true game changer that provides exciting opportunities for improving productivity and transforming enterprise-wide business operations.
The S/4HANA in-memory architecture was intentionally designed to provide higher performance and to unify all processes within a single-source-of-truth concept, which provides a future-proof foundation for bringing together the entire value chain as a key part of enabling the Intelligent Enterprise.
The Digital Value Chain enabled by S/4HANA unifies end-to-end value chain elements including, customer-facing processes, resources (materials, assets and cash), human resources, and external suppliers & logistics.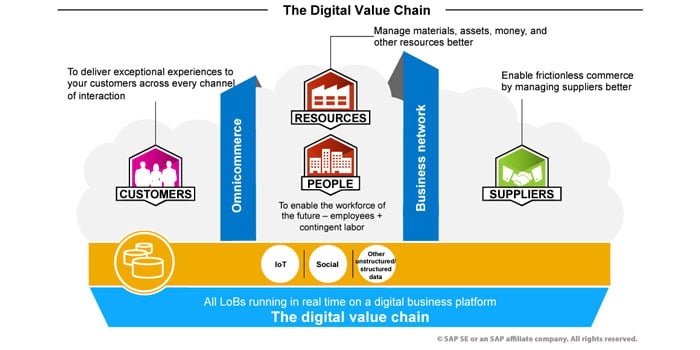 It is important to remember that this transition is much more than just a software upgrade. S/4HANA represents a unique opportunity for undertaking truly transformational changes and improvements across the entire enterprise, whether moving from SAP ECC or doing an entirely new S/4HANA implementation.
Taken together, the enterprise-wide impacts of S/4HANA will enable both near-term and long-term transformation spanning the user experience, business agility, real-time management, automation, and enabling the Digital Value Chain within the Intelligent Enterprise.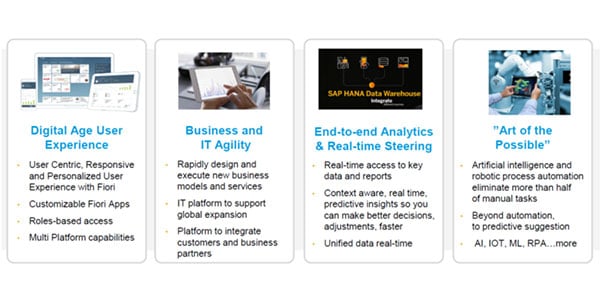 Building on the S/4HANA enabled Intelligent Enterprise concept, RISE with SAP provides a unified set of migration and optimization capabilities within a single package. It is designed to help businesses move from where they are to a seamlessly integrated, holistic, enterprise scale, S/4HANA environment.
RISE with SAP technical migration tools can be very helpful for companies that are looking to move their processes into the overall sphere of business transformation. The infrastructure elements in RISE with SAP provide a helpful pathway for clients that are looking to migrate from on-premise or legacy environments to S/4HANA.
As one of SAP's longest serving partners, Bramasol has seen and participated in many major changes during our 26 years of working in the SAP ecosystem. With a deep background in finance and compliance related business solutions, the Bramasol team is already at the forefront of helping companies leverage a wide range of SAP applications as ROI-driven entry points for their journey to full implementation of S/4HANA. This process of planned, incremental improvements is also readily adaptable for delivering near-term optimization to the value chain while keeping the big picture in mind for ultimately enabling the full Digital Value Chain in a unified S/4HANA environment.