Although the initial compliance phase for ASC 606 and IFRS 15 revenue recognition mandates is in the rear-view mirror for most companies, it's important to also keep a focus on the road ahead because optimization of overall RevRec processes across the enterprise will be key to ongoing success.
Within the scope of a comprehensive Comply, Optimize, Transform™ journey, company decision makers need to understand the importance of integrating RevRec within the ever-changing enterprise-wide landscape of management processes. This blog post provides an overview of how the latest enhancements within the SAP ecosystem can provide a useful roadmap for the next steps toward optimization and ultimately transformation.
By building on the proven foundation for RevRec compliance first established in SAP Revenue Accounting and Reporting (RAR) and combining it with Automated Revenue Management, Billing and Revenue Innovation Management (BRIM), and SAP Analytics Cloud (SAC), SAP brings all aspects of revenue-related functions, within the overall SAP S/4HANA based Intelligent Enterprise.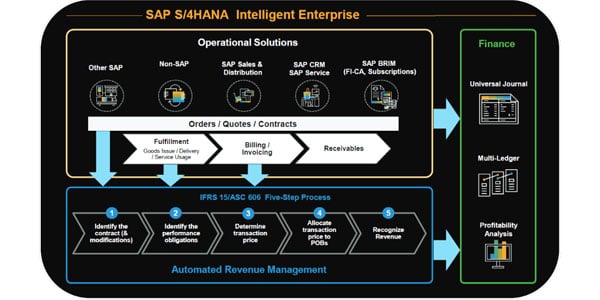 Throughout the evolution of SAP RAR, the product roadmap has been closely aligned with SAP S/4HANA to proactively address the widening impacts of revenue accounting requirements across the entire enterprise. Since the SAP S/4HANA 1809 release, new updates of RAR and S/4HANA have deepened and expanded both revenue management functionality and overall integration with other applications in the S/4HANA ecosystem.
Two of the most notable enhancements available with S/4HANA are:
Optimized Inbound Processing - OIP provides improvements to the database model and APIs to boost performance over classic inbound processing by simplifying interfaces, enhancing APIs, avoiding batch processing, and pre-defining runtime working structures.
Optimized Contract Management - OCM offers an enhanced alternative to classic contract management (CCM) that leverages full integration with S/4HANA. Some of the key improvements with OCM include:

Day-based contract modifications
Freeze periods on time-based POBs
Early termination of contracts
Improved usability with Fiori apps
Other key advantages include:
Enhanced disclosure and reporting support for revenue accounting
Improved management of POBs
Decoupling of revenue recognition rules and rules engine from order entry and billing systems
Resolution of data quality issues
Improved capabilities for massive scalability
The following important new RevRec features are now available in SAP S/4HANA.
Direct Posting:
This feature provides an option to post accounting documents immediately without running a revenue posting run job. Also, the accounting document is posted for each revenue contract. You can enable the direct posting feature for each revenue contract.
Trigger time-based revenue recognition at customer invoice:
Provides option to start the time-based revenue recognition of a POB when the customer invoice related to the POB is issued.
Early warning mechanism for Standalone Selling Price (SSP):
Enables users to verify whether the correct SSP is applied to an underlying product or service for allocation of the transaction price in multiple element arrangements. You can also evaluate past transactions to assess a reasonable range of prices and can compare the charged prices (e.g., transaction price) to the SSPs.
Contract balance reclassification:
Enables SAP Fiori app classification of balance sheet items related to revenue contracts into short-term or long-term items.
Manual price allocation:
Enables use of SAP Fiori app to manually change allocated prices for POBs.
Revenue Catchup:
SAP Fiori app that enables users to analyze the period revenue catch-up, quarterly revenue catch-up, and yearly revenue catch-up. In the SAP Fiori app, additional dimensions are provided that help analyze the revenue catch-up for other purposes.
Supporting the intercompany dropship process as revenue recognition events:
Enables direct integration of sales and distribution in SAP S/4HANA with the intercompany dropship process and recognize revenue when goods are delivered from another company.
Cloud Deployment Options
The combination of RAR, S/4HANA and other related SAP applications has made possible the use of fully integrated cloud-based capabilities that offer a whole new set of opportunities within the path forward.
One major benefit of moving to the cloud is built-in scalability and flexibility, both in terms of meeting higher transaction volumes and addressing more complex revenue accounting scenarios.
Another benefit is the ability to quickly transition from sub-optimal compliance methods (standalone or offline) by moving to a comprehensive cloud environment that includes multi-faceted capabilities to address a wide range of current and future RevRec scenarios.
SAP offers both Public and Private Cloud options with S/4HANA, that enable different solutions and capabilities for different customer requirements and markets.
In the Private Cloud, the availability of RAR with OCM provides customizable flexibility within S/4HANA deployments. Private cloud is typically well suited for companies on mixed landscapes that need robust migration and integration capabilities, along with a high degree of data Volume, Velocity, Density and Complexity.
On the other hand, Public Cloud options are good for companies that need out-of-the-box, seamless interoperability very quickly. For example, in some cases, companies can move from older ERP systems, right on to the S/4HANA cloud and immediately take advantage of built-in RevRec capabilities.
The S/4HANA Public cloud can support various RevRec scenarios for which the billing scenarios are handled within SAP BRIM. These include Event Based Revenue Recognition (EBRR) and Contract Based Revenue Recognition (CBRR). (Note: integration with third-party billing systems is also possible through use of SOAP APIs in BTP to connect with CBRR functions.)
In particular, RevRec requirements related to subscriptions, professional services, or sell-from-stock scenarios, are very readily supported by EBRR within the S/4HANA public cloud and delivers immediate benefits. First, real time reporting, with matching of costs and revenues so you have very little reconciliation efforts. Second, the revenue recognition process is fully integrated into the universal journal, so many RevRec flows are automatically built-in with Public Cloud.
Finally, across either Public or Private Cloud implementations, there's full transparency, which really comes from the S/4HANA Intelligent Enterprise platform using in-memory technology as well as the universal journal. So you can get full transparency by drilling down into GL accounts, such as revenue or profitability attributes or really any revenue document, which is a hallmark capability of the S/4HANA Intelligent Enterprise suite.
As part of the SAP Intelligent Enterprise, RAR in the cloud helps drive innovation, scalability and transparency by integrating with third-party applications, optimizing closing, providing disclosures and reporting, and integrating Embedded Analytics. At Bramasol, we also have found related initiatives, such as RISE with SAP, offer excellent opportunities for accelerating the overall cloud migration process.
Summary:
For any company that falls under ASC 606 / IFRS 15 compliance requirements, the compliance step was only the beginning. Now is the time to take a hard look at your revenue recognition and reporting processes, as well as your S/4HANA journey, with an eye toward the future and an understanding of the available options in your Comply, Optimize, Transform journey.
More Related Resources: