One of the biggest advantages of the return to in-person events is the opportunity for engaging with colleagues in those impromptu conversations that organically bring to the surface new insights. These unstructured talks create the kind of "ah-ha" moments that you just can't get in a half hour video call.
The Bramasol team had the pleasure of doing just that last week at SAP Insider in Las Vegas and it was both enjoyable and very informative! We saw a steady stream of booth traffic, great questions about our demos, excellent audience interaction at John Froelich's presentation on "Powering Digital Transformation with SAP Quote-to-Cash", and lots of sidebar conversations at lunches, dinners and on the show floor.
Here are four key insights and trends from our interactions with fellow participants at the SAP Insider Event.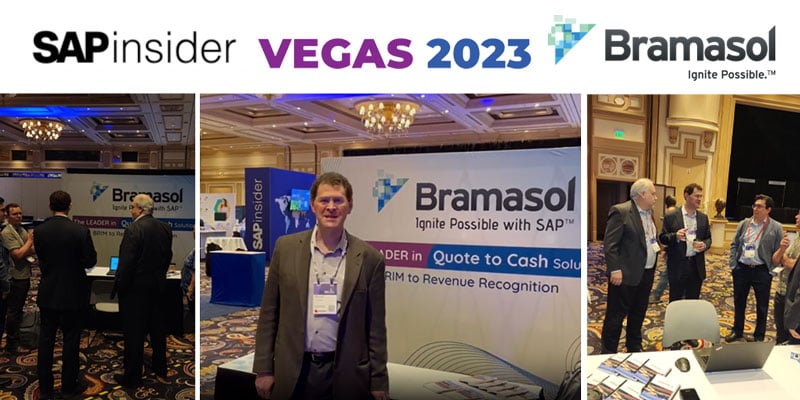 1. The Digital Solutions Economy Continues to Disrupt More Industries
Because we've already been deeply involved with how the Digital Solutions Economy (DSE) is impacting various industries, this continuing trend was not really a surprise. But based on conversations with many companies, it became clear that the shear speed of change is accelerating even faster than previously predicted.
Although subscription-based offerings initially focused on B2C models tailored to serve consumers, as DSE has moved beyond just subscriptions, many B2B markets also have discovered the value of bundling various offerings into recurring revenue streams.
While some of the first industries leading the way on DSE were telecom, media streaming, and SaaS, we've seen a proliferation into diverse arenas such as semiconductors, medical devices, electronics, energy, transportation, utilities, and more.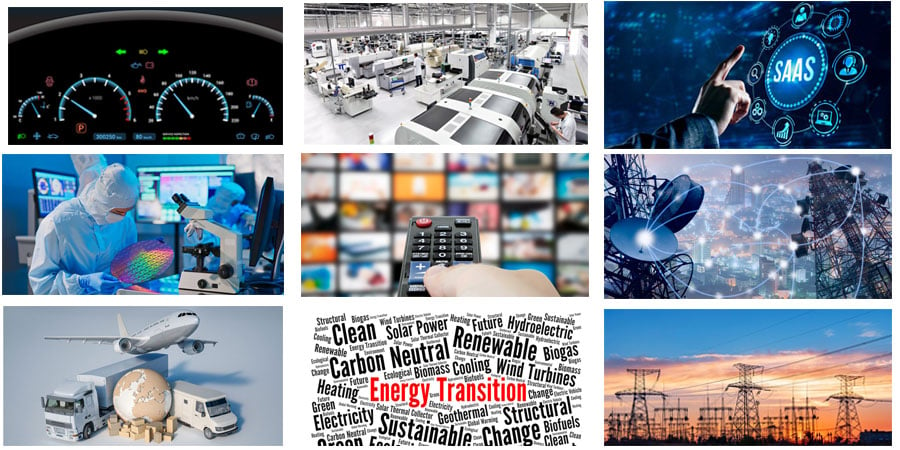 Since many of these B2B scenarios include bundling of devices and entitlements along with usage-based services, the need for entitlement management tailored to specific industries has become a key element for success.
According to SAP's high-tech industry executive Patrick Maroney, "Offering a usage- or subscription-based solution entails a fundamental change in your business model, whereby there is synchronization and native integration between commerce, configuration, pricing, quotation, finance, supply chain, billing/invoicing and entitlement management."
2. BRIM Portfolio Applications Have Become the Go-To Solutions for DSE
When it comes to implementing DSE business models, our discussions at SAP Insider confirmed that the SAP Billing and Revenue Innovation Management (BRIM) portfolio has quickly gained traction as a core foundational technology.
Based on core subscription management technologies that go back to 2007, BRIM has evolved into a comprehensive quote-to-cash portfolio of applications including Subscription Order Management, Quoting, Convergent Charging, & Invoicing, Convergent Mediation, and Entitlement Management, along with native compatibility with existing SAP ERP finance and operations systems.
According to people we talked with at SAP Insider, one of the most attractive aspects of BRIM is the ability to pick and choose specific applications within the portfolio and to leverage BRIM's agnostic capabilities for meshing seamlessly with existing legacy and customer facing systems. We have found that this flexibility to leverage BRIM within other business processes can be a big benefit when it comes to both lower development costs and speed of deployment.
Some of the other real-world benefits of BRIM-enabled DSE offerings are shown below.

3. RevRec Compliance Needs to Be Revisited in Light of DSE Changes
Another key issue that lots of people mentioned at SAP Insider is the need to revisit their revenue recognition and compliance processes as part of the move to new DSE business models. Not only does bundling of devices, services and entitlements create new issues for recognizing different types of revenues; in addition, the rise of multi-partner offerings, such as licensing of content for streaming, is leading to more complex revenue-sharing scenarios.
While the combination of BRIM with SAP Revenue Accounting and Reporting (RAR) is often the first alternative considered for integrating revenue compliance into BRIM-enabled DSE offerings, it is only one of several options to consider.
To be sure, RAR makes a lot of sense for many situations because, like BRIM it is designed to operate seamlessly within the overall S/4HANA ecosystem and to integrate with ERP and finance functions.
However, depending on the specific situational requirements, some companies may want to consider legacy revenue recognition approaches, such as using SAP Sales and Distribution (SAP SD) or results analysis in SAP Project Systems. Going forward in the cloud, solutions such as Contract Based RevRec (CBRR) and Event Based RevRec (EBRR) will offer excellent integration opportunities. It's even possible in some straightforward situations to handle RevRec functions directly within BRIM.
At SAP Insider, there were lots of questions and a good interchange about these various methods for integrating RevRec with BRIM, especially during John Froelich's presentation on optimizing quote-to-cash.
The bottom line is that revenue compliance will still be a mandated accounting function as DSE business models arise, but it will have new implications due to complexity of offerings, revenue sharing, event-based revenue recognition, etc.
4. BRIM, S/4HANA, BTP, and Cloud Offer a Solid Roadmap for Transformation
Much of the overall discussion at SAP Insider also was centered around the big picture of digital transformation, with a focus on how to assemble the best roadmap forward using various applications within the overall technology stack.
Obviously the options for cloud deployments are a major consideration over the long run but companies need to balance both near term success with their longer term plans. The Bramasol team always tries to help clients chart the optimal path forward to the optimize these dual goals.
It helps greatly that the overall SAP solutions roadmap provides flexibility for on-premise, private cloud and public cloud options. While some features may be slightly different depending on the chosen approach, for the most part there is a great degree of consistency with SAP applications across the various deployment options.
For example, the diagram below illustrates in detail how SAP BRIM applications provide parallel features across private cloud, public cloud and hybrid deployments using the SAP Business Technology Platform (BTP).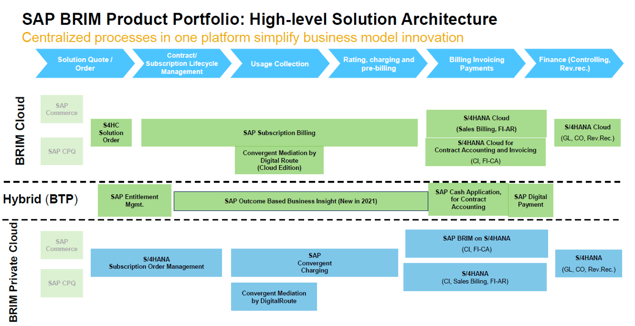 Within the scope of a comprehensive Comply, Optimize, Transform™ journey, company decision makers need to understand the importance of integrating end-to-end DSE solutions within the ever-changing enterprise-wide landscape of management processes.
By building on the proven foundation for compliance first established in SAP Revenue Accounting and Reporting (RAR), combined with Automated Revenue Management, Billing and Revenue Innovation Management (BRIM), SAP Analytics Cloud (SAC), and BTP, SAP brings all aspects of revenue-related functions, within the overall SAP S/4HANA based Intelligent Enterprise to address both near-term and long-term requirements.
Summary
The bottom line results from SAP Insider were excellent in terms of knowledge gained from talking with SAP experts and real-world users, as well as opportunities for sharing our own expertise and latest solutions, within a vibrant and wide-ranging series of give-and-take discussions. It was great to reconnect with old friends while making new connections with future friends and colleagues.
Now, it's time to mark your calendars for SAP Sapphire in Orlando, Florida on May 16-17, 2023. Watch for more information from Bramasol and we hope to meet up with you there!
For More Information, check out these resources: