This new installment in our ongoing series on the Digital Solutions Economy (DSE) provides an expanded look and follow-up to the previous post that provided an overview on Entitlement Management. In this episode, we drill down for a closer examination of the types of entitlements that are offered as part of subscriptions and bundles in various industry segments, along with some insights into how entitlement management solutions that are part of the SAP BRIM portfolio and ecosystem that can be helpful to achieve success.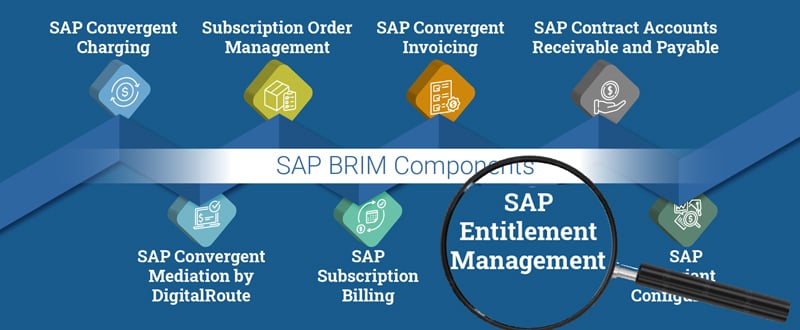 Entitlements can be broadly defined as "rights" that are awarded to a customer based on a contract or other agreement. Entitlements can include a wide range of offerings, such as access to a cloud service, number of user licenses, software support, hardware maintenance services, warranties, media access rights, or usage-based consumption rights.
While there are commonalities regarding entitlements across many industries, here is a quick overview of some specifics for key industries that are moving toward DSE offerings:
Software and SaaS
Access to software applications via the cloud

Licensing agreements for multiple users or devices

Scalable pricing based on usage or number of users

Customization and configuration options

Automatic updates and maintenance

Access to updates and new versions of the software

Technical support and customer service

Training resources and documentation

Data backups and security features
Integration with other applications and services
Telecom
Access to voice, data, and messaging services
Flexible pricing plans based on usage or features
Bundled purchase options and payment plans for devices and upgrades
International roaming and connectivity options
Technical support and customer service
Value-added services such as cloud storage or access to digital media content
Semiconductors
Access to semiconductor components and technology
Technical support and consultation
Customization and design services such as software development kits (SDKs)
Options for software-enabled features and updates
Intellectual property licensing agreements
Supply chain management and logistics support
Medical Devices and Services
Access to medical devices or equipment
Usage-based pricing plans
Bundling of consumables with subscription plans
Training and support for medical professionals
Remote monitoring and diagnostics
Ongoing maintenance and repair services
Regulatory compliance and certification
Transportation
Access to transportation services such as ride-sharing, delivery or public transit
Subscription-based pricing, usage-based pricing or volume discounts
Cross-integration with other mobility services, rewards plans, and multi-modal travel
Freight management, tracking and integration with supply chain systems
Data analytics and insights
Safety, security, bundled insurance and other features
Autonomous or Assisted Driving and In-Vehicle Services
Access to autonomous driving software and systems
Integration with other vehicle components and sensors
Bundled GIS and location-based-services information
Regulatory compliance and certification

Access to entertainment and information services within a vehicle

Customization and personalization options

Voice control and other user interfaces

Ongoing maintenance and support
Gaming
Access to games and gaming content
Multiplayer and online gaming capabilities
In-game purchases and virtual currency
Customization and personalization options
Technical support and customer service
Keys to Effectively Managing Entitlements
Companies in these and many other industries are rapidly discovering the value of offering entitlements as a way to deepen customer loyalty and engagement, while simultaneously opening up a variety of new upselling and revenue enhancement opportunities.
However, the keys to success require providing transparent, easy to understand, customer-facing systems on the frontend to handle entitlements bundling; combined with seamless meshing together of the myriad of inter-related systems on the backend for order management, delivery & fulfillment, billing & invoicing, payments & collections, and revenue management.
As the leader in helping companies implement Digital Solutions Economy offerings and one of SAP's longest serving partners, Bramasol has deep expertise in combining all aspects of DSE business models, including integrating entitlement management within overall DSE implementations.
Within the end-to-end, quote-to-cash, DSE management model, having a robust, integrated Entitlement Management System (EMS) has become a critical success factor. An EMS is effectively a bridge between sales and provisioning, with linkage to backend accounting and revenue compliance systems.
For instance, the Entitlement Management functions within SAP's Billing and Revenue Innovation Management (BRIM) portfolio provide flexibility for independently handling entitlement usage, tracking and changes on the fly between sales and provisioning, while also integrating seamlessly with other related processes.
Integrating entitlement management within the overall SAP Ecosystem also enables seamless meshing between BRIM and other key functions such as SAP Revenue Accounting and Reporting (RAR), SAP Event Mesh, and SAP Analytics Cloud (SAC), while also laying a solid foundation for a forward-looking Digital Transformation journey using SAP S/HANA and the SAP Business Technology Platform (BTP).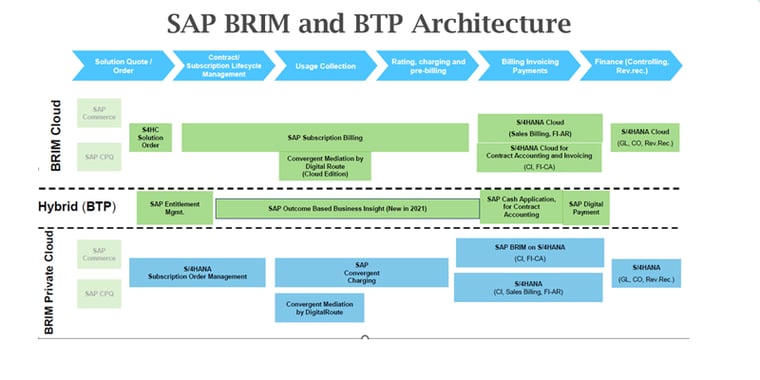 Summary
As the Digital Solutions Economy continues to drive significant disruptive changes across a widening range of industries, the use of entitlements has become a key factor for boosting customer satisfaction and increasing revenues.
However, it is vital to recognize that customers will want their various entitlements to be transparently combined within a seamless, easy to use interface that puts them in charge and provides a single-unified customer-facing environment. They don't want to worry about or deal with the inherent complexity required in the backend to assure provisioning, delivery and associated revenue compliance issues.
Therefore, companies offering various types of entitlements, such as those described above, need to implement a holistic, end-to-end approach to efficiently integrate and manage all of the end-to-end processes behind the curtain that are critical for satisfying customer expectations and ensuring cost-effective scalability to achieve overall business goals.
For more information, check out these additional resources: