This new episode in our ongoing series on the Digital Solutions Economy (DSE) provides an overview of how DSE is impacting the Telecom industry. Previous episodes in this series include:
Overview
In the nearly 150 years since Alexander Graham Bell patented the first telephone in 1876, the telecom industry has seen unbelievable growth, continual innovation and periodic waves of massive disruption.
Even so, the past two decades have arguably been among the most turbulent periods in the long history of telecommunications. Not only has the pace of innovation accelerated; the telecom industry has also been whipsawed by pandemic related changes, global macro economic issues and shifting strategies on the part of major telecom companies and the changing demands of their customers.
The lines between content delivery and content creation have been blurred by telecom companies, such as AT&T, investing in studios or building internal creative divisions, followed by subsequent divestitures and retrenching to focus primarily on content delivery via telecom services.
As part of this refocusing, telecom network providers are also grappling with bottom line profitability issues in the face of consumer demands for lower costs and higher performance. Ultimately, network providers still have to compete on assuring robust reliability as a primary factor to maintain subscriber loyalty and reduce churn. In the consumers' world, people still only notice the network when it fails in some manner.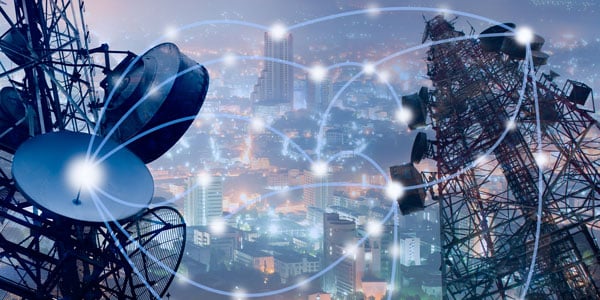 Some of the Key Challenges and Opportunities in the Telecom Sector include:
Increasingly complex cross-licensing partnerships and revenue sharing on content vs. delivery

Accelerating growth in data traffic from 5G rollouts, new applications and IoT connected devices

Shifting to more cloud-enabled services as corporate customers abandon use of data centers

Leveraging AI and machine learning to improve network management, security and performance

Heightened emphasis on building in sustainability and ESG compliance for network operations

Continuing CAPEX and OPEX challenges as networks need to keep supporting 3G/4G during the ongoing transition to 5G and beyond
How DSE and Digital Transformation Apply to the Telecom Sector
According to the telecom newsletter Light Reading, "Telcos have oceans of data, but much of it is scattered and siloed. For example, operational data is stored across multiple legacy technologies, like 3G or 4G, and platforms, including operational support systems (OSS) and business support systems (BSS). Further, many ISVs across the telco value chain maintain their data within walled gardens. This makes it hard to consolidate, govern and share data across the organization."
In working with a range of mid to large size companies in the telecom industry, the Bramasol team has seen good success at leveraging SAP solutions such as Billing & Revenue Innovation Management (BRIM) in conjunction with SAP Revenue Accounting and Reporting (RAR) to help companies gain improved visibility and management over their disparate operational processes, compliance mandates, and data repositories.
Combining pre-integrated applications from within the BRIM portfolio enables quick integration of legacy systems and helps optimize subscriber self-management of their billing, service-tier levels, and bundling of various services. On the back-end, deploying BRIM and RAR together enables telecom companies to effectively manage complex licensing, partnering and revenue-sharing relationships to assure end-to-end visibility, scalability, data consistency, and accounting compliance.
As SAP's Scott Campbell said in this recent podcast, "SAP's Billing Revenue Innovation Management suite of solutions can help manage the back end for everything from pricing, managing orders and contracting, gathering consumption data, charging customers, billing & invoicing, commissions, collecting money and handling disputes. It's used today by most of the largest Media and Telecom companies in the world, as well as a growing number of mid-sized telecom companies."
In 2023, telecom network providers will increasingly leverage the cloud to optimize both scalability and flexibility to build and manage services that can be ramped up when demand increases or scaled back when external factors – such as cost-of-living or supply chain disruptions – dictate that business will slow down. To help with a smooth transition to cloud, the SAP Commerce Cloud Telco and Utilities Accelerator is an omni-channel commerce solution that is optimized for the delivery and support of telco-grade products, subscriptions, and services offerings.
From a forward looking perspective, it's clear that the waves of change in telecom are likely to continue and even get bigger. To help companies stay ahead of these changes while maintaining their competitiveness, the combination of SAP Analytics Cloud and SAP S/4HANA provides visibility across the whole enterprise, along with a unified single-source-of-truth for management of disparate elements, scaling to meet demand, and optimizing profitability.
For more information, check out these resources: