In 2018, the Financial Accounting Standards Board (FASB) and the International Accounting Standards Board (IASB) announced the release of new accounting standards, ASC 842 and IFRS 16, that redefined how organizations must account for leases.
These new leasing standards represent more than just an accounting change, with far-reaching and profound implications on lease/buy decisions, internal process coordination and financial reporting. Effective lease management must go beyond a one-time compliance perspective by enabling both ongoing management of lease changes and seamless integration with associated finance processes.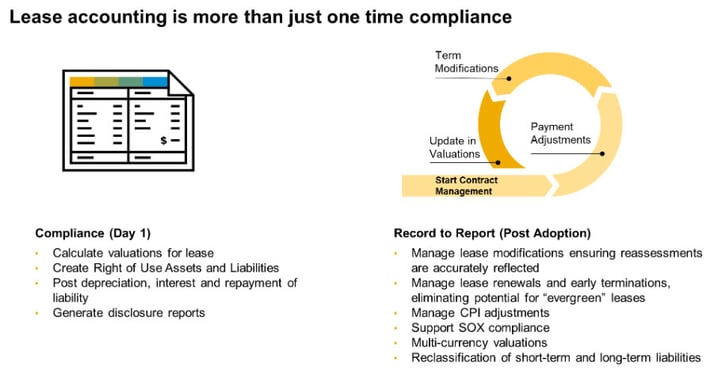 An important purpose of the accounting standards update was to address the fact that most operating leases were deemed off balance sheet financing arrangements and currently were only disclosed via a company's financial reports in the "Commitments and Contingencies" footnote.
Therefore, for every identified operating lease, companies are now required to create a lease liability calculated as the present value of the future fixed payments and a corresponding "right of use" asset. The right of use asset is to be amortized over the life of the lease. The income statement is therefore impacted by a straight-line lease expense item that would essentially contain an interest component with amortization of the asset to achieve straight line lease expense over the life of the lease.
As companies have moved through the initial compliance phase for ASC 842 and IFRS 16, it has become clear that some implementation approaches, such as standalone software or offline spreadsheets, are now running into challenges when it comes to ongoing optimization and enterprise-wide integration of lease management activities.
It is not possible to effectively manage enterprise-wide leasing activities and associated financial impacts without understanding the full context of the lease lifecycle. Without this context, leasing can degenerate into a disjointed series of ad hoc decision points with a high risk of key information falling through the cracks.
To move beyond compliance into optimization while setting the stage to support full digital transformation initiatives, companies need comprehensive software solutions that can unify disparate leasing data and provide enhanced visibility to make informed decisions on their lease portfolios, assets, and liabilities while conforming with ASC 842 and IFRS 16.
Using an end-to-end lease lifecycle administration approach provides complete visibility into every step in the process and
automatically prompts appropriate actions, while seamlessly surfacing visibility at both the individual lease level and
across the whole leased asset portfolio.
Key elements of an optimized comprehensive lease management approach include:
End-to-end Lease Management
› Designed to provide visibility into lease exposure for assets and equipment
› Enables unification of data in a single repository
Lease Accounting & Compliance
› Full lease accounting capabilities from classification, accruals, and payments to disclosure and reporting
› Built for compliance with current and new leasing standards (IFRS 16 & ASC 842)
Analytics & Reporting
› Disclosure reporting for capital and operating leases
› A complete view of global lease portfolio from multiple perspectives
How SAP Contract and Lease Management Enables Optimization
As one of SAP's longest serving partners, Bramasol has been at the forefront of helping clients understand and deploy advanced lease management solutions that both leverage the SAP ecosystem and support interfacing with legacy data.
SAP Contract and Lease Management (CLM) is a leading end-to-end solution for managing contracts for both lessors and lessees. It is available as part of SAP Real Estate Management or as a separate solution. CLM can either be integrated with third-party leasing or legacy applications or can be used to create a complete leasing solution in SAP S/4HANA.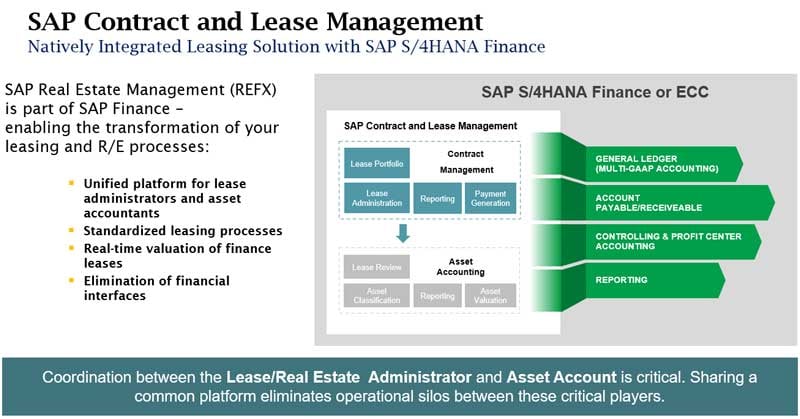 Deploying CLM as an integrated solution enables the optimization goals as follows:
Assisting customers with IFRS 16 / ASC 842 compliance
Providing comprehensive end-to-end lease management
Leveraging seamless Integration with SAP S/4HANA Finance
Providing a unified dataset for all users
Universal journal and multi-ledger accounting
Improved performance with S/4HANA in-memory architecture
Incorporating a modern, easy to understand user interface
Enabling visibility and analysis with SAP Analytics Cloud
The native integration with backend business systems is a key benefit in that it ensures the cross functionality between CLM and core ERP functionality will not break every time there is a software update, as too often happens with standalone approaches.
In the process of refining our lease accounting and management offerings, we have also developed a range of purpose-built enhancements, such as ASC 842 / IFRS 16 disclosure reports, SAP Cloud Analytics tools, dashboards, accelerators, and other intellectual property solutions to enhance lease management decisions.
In addition, for lessor accounting, we have developed cross-integration processes to optimize CLM with SAP Revenue Accounting and Reporting (RAR) functionality, which greatly simplifies the correlation of leases and associated revenue streams. Finally, to help companies smoothly transition from dead-end standalone solutions to a future-proof CLM environment, we've also developed a Leasing Health Check process and a disciplined changeover methodology to minimize transition time and expense.
In summary, companies that want to optimize their lease management over the long run need to move beyond a "compliance only" approach by investing in a comprehensive, end-to-end, fully integrated solution that lays a solid foundation for the entire Comply, Optimize, Transform journey.
For More Information: