A previous episode in this blog series gave an overview of How the Digital Solutions Economy (DSE) is Impacting the Medical Device Industry. This new post provides a deeper look at how the leasing of medical equipment along with other bundled services or products presents particular challenges for meshing contracts and lessor accounting with DSE management and revenue recognition.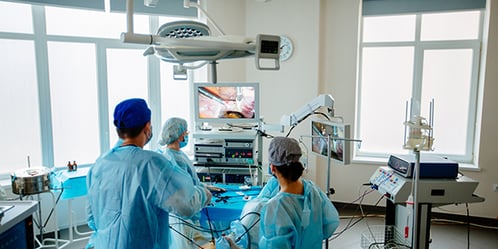 According to Allied Market Research, "The global medical equipment rental market was valued at $56.0 billion in 2022, and is projected to reach $94.5 billion by 2032."
The use of medical equipment leasing saw a major surge during the Covid-19 pandemic as hospitals and other medical facilities needed to quickly deal with unprecedented increases in patients. However, even as the pandemic peak has subsided, the healthcare industry's shift toward leasing has continued to grow for a number reasons, including:
Avoidance of high upfront purchasing costs and long procurement approval cycles
Greater cost efficiency and flexibility over the lease term
Better alignment of equipment usage with actual patient requirements
Enhanced ability to upgrade to new technologies and innovations
Options for holistic bundling of equipment with usage, consumables, and services
Leasing of equipment within a bundling scenario also opens the way for innovative subscription-based DSE relationships between the facilities and equipment providers.
For example, according to Med Device Online, "Many manufacturers are implementing innovative pricing models to lower buyer-side pressure. Some have developed shared savings contracts with hospitals, where they supply devices at a low price in exchange for a percentage of the revenue from using the devices."
However, even though medical equipment leasing bundled with other services and products is making relationships with customers more holistic, the backend systems for handling lease management and accounting have mostly remained in separate silos from those for subscription management and revenue recognition.
In order to take these bundling scenarios to an optimal level, medical equipment makers need to leverage more integrated solutions that bring all the backend processes together in a seamless end-to-end environment that meshes with compliance and reporting mandates.
Putting All the Pieces Together
Because these leasing and bundling scenarios are multi-faceted offerings, they don't fit easily into conventional standalone software approaches. It can quickly become unmanageable to try and handle lease contract management, lessor accounting, maintenance services, sales of consumables, revenue recognition and disclosure reporting all with different siloed software.
In addition, global companies need the flexibility to comply and report according to multiple accounting standards. For leasing, this means International Accounting Standards Board's (IASB's) IFRS 16 and US GAAP Financial Accounting Standards Board's (FASB's) ASC 842. For revenue recognition, they also must comply with ASC 606 and IFRS 15.
As one of SAP's longest serving partners, the Bramasol team has been deeply involved in the evolution of purpose-built, integrated SAP solutions for revenue recognition, lease accounting and end-to-end management of new subscription-based DSE offerings.
These include Automated Revenue Management with SAP Revenue Accounting and Reporting (RAR), lease management and accounting with SAP Contract and Lease Management (CLM), and the portfolio of subscription management solutions in SAP Quote-to-Cash (formerly BRIM). As key elements of the overall SAP ecosystem, all these solutions provide integration capabilities of varying degrees with current SAP ECC and forward-looking SAP S/4HANA environments.
In addition to out-of-the-box implementations, the Bramasol team has also developed a range of specific IP around enhancing the holistic deployment of these SAP solutions, including with legacy and/or third-party systems.
For example, one of our clients, a German-based global leader in medical equipment, has been able to enhance their equipment leasing programs by moving beyond a limited, customized third-party approach focused only on leasing to a more integrated approach with SAP CLM.
Using CLM, they are better able to manage lease classification such as sales type leases and operating leases, as well as to meet lessor accounting requirements of US GAAP and German GAAP, with IFRS to follow. Because the lease billing and accounting can both be handled in CLM, the overall process is much more efficient.
Additionally, from a bundling standpoint, the ability within SAP to integrate CLM with sales and billing provides other significant advantages. In this case the SAP Sales and Distribution (SAP SD) module in ECC is integrated with with CLM to enable cross-posting into a clearing account, which eliminates offline manual processing. Going forward, the current integration approach also lays a foundation for further migration from SD to other SAP solutions, such as RAR, Convergent Invoicing in Quote-to-Cash, and to S/4HANA.
Summary
As the demand for leasing of medical equipment continues to expand, more companies are going to need extendable roadmaps for efficiently integrating their lease front-end billing and multi-GAAP backend accounting, simultaneously enabling holistic bundling of services and consumable products.
From a Digital Solutions Economy perspective, providing a range of leasing and bundling options to customers is critical for market success and highly efficient backend process integration is critical for achieving profitability, productivity and scalability goals.
In addition to the MedTech sector, these issues of optimizing and integrating lessor accounting with DSE also apply to other industries such as semiconductors, electronics manufacturing, transportation, telecom, energy, utilities, and others.
For More Information, check out these resources: