Previous posts in this blog series on the Digital Solutions Economy (DSE) have explored a wide range of issues and solutions as well as deeper dives into DSE implementation in specific industries. In this latest post, we take a look at data security, privacy protections, and overall cybersecurity issues, which impact all companies, especially those that are implementing new DSE programs.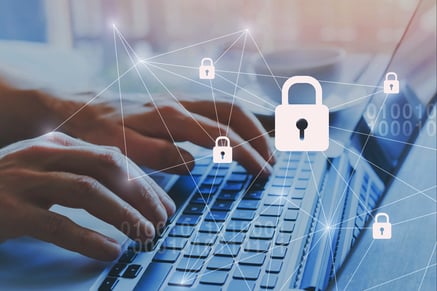 Overview
Data security, privacy protections, and cybersecurity are crucial for companies that offer subscription-based DSE models in either Business-to-Consumer (B2C) or Business-to-Business (B2B) environments for several reasons:
Trust and Reputation: Customers, whether they are individual consumers or other businesses, need to trust that their sensitive information is handled with care. Any breach of data can lead to loss of trust, damage to the company's reputation, and potential legal consequences. Maintaining strong security measures can help build and maintain a positive reputation.
Legal and Regulatory Compliance: There are numerous data protection laws and regulations that companies must adhere to, such as the General Data Protection Regulation (GDPR) in Europe and the California Consumer Privacy Act (CCPA) in the United States. Non-compliance can result in hefty fines and legal penalties.
Data Breach Prevention: Cyberattacks are a significant threat in today's digital landscape. Companies that store and process customer data, including payment details, are prime targets for hackers. Also, recent SEC regulations require more transparency and disclosure of security breaches, which can hurt company reputations.
Financial Loss Prevention:

Data breaches and cyberattacks can result in financial losses in various ways, including legal fees, fines, compensation to affected customers, and the costs associated with investigating and mitigating the breach. Implementing security measures is an investment in preventing these potential financial losses.

Intellectual Property Protection:

B2B companies often deal with intellectual property and trade secrets that are valuable assets, especially when partnering or licensing bundled DSE offerings. Ensuring the security of this sensitive information is essential to maintain a competitive advantage and prevent corporate espionage.

Customer Data Protection:

In DSE, companies often collect a wealth of personal data from their customers, including names, addresses, payment information, and more, that is referred to as

protecting this Personally Identifiable Information (PII) and Sensitive Personal Information (SPI). Protecting this data is not only a legal requirement but also an ethical responsibility to safeguard customer privacy.



Global Reach:

Companies offering subscriptions may have customers or partners around the world. Adhering to international data protection standards ensures that the company can operate without hindrance across various regions.
End-to-End Integration of Security and Privacy in DSE
As the Bramasol team has helped companies implement new subscription-based, Digital Solutions Economy initiatives across numerous industries, the need for integrated security is always top of mind. We have found that the comprehensive nature of the SAP ecosystem is an important factor for addressing these security concerns from both a high-level and throughout specific interrelated applications.
The avoidance of disparate standalone applications or offline manual processes by using SAP is a major benefit because moving information between separate data repositories can be a significant risk area for data breaches.
The SAP ecosystem addresses specific end-to-end DSE application areas with both purpose-built applications and an overall unified, scalable and secure architecture.
These key elements, as shown below, are all brought together within the SAP S/4HANA environment, with a single source of truth, end-to-end integration, and high scalability.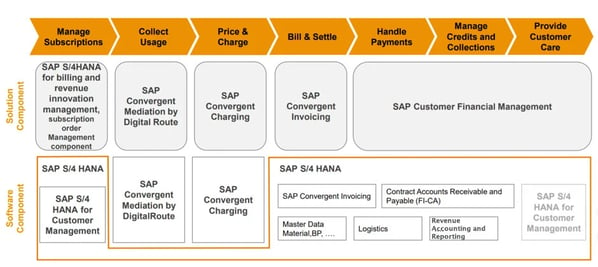 This unified environment also makes it possible for DSE implementations to take full advantage of SAP's extensive data security, privacy and cybersecurity solutions, while avoiding the inherent risks of external unsecured applications and multiple data repositories.
SAP's Data Security Trust Model provides a full portfolio of solutions to seamlessly mesh specific security issues into an enterprise-wide DSE program. As shown below, these solutions include:
Security Governance
Security, Audit & Compliance
Business Resilience
Cyber Defense
Threat & Risk Assessment
Global Physical Security
Development, Security & Operations (DevSecOps).
Summary
Because all the frontline and backend SAP applications for implementing DSE are a part of SAP S/4HANA, as is the SAP Data Security Model, implementing comprehensive security into DSE is much easier and more robust than trying to implement security for multiple disparate applications.
This compatibility between DSE and SAP security solutions within S/4HANA also provides important benefits by enabling a range of deployment options. These include activation in SAP Public Cloud, as well as support for tailored implementations in multi-tenet private cloud or on-premise deployments.
The bottom line is that tight integration of data security and privacy protection across the full end-to-end DSE processing chain is absolutely critical to avoiding the types of risks that can undermine overall success and survival of the company.
Implementation of these security measures doesn't have to be overly difficult - but it does have to be done!
For More Information, check out these resources: