In this ongoing series about the Digital Solutions Economy™ (DSE) previous episodes have focused on DSE for specific industry segments such as DSE in telecom, media, electronics, medical devices, software/SaaS, semiconductors, transportation, energy, and utilities.
This new episode provides a broad look at three different overall DSE use case scenarios and a variety of specific implementation approaches that the Bramasol team has developed during our work with a range of clients.
The three use case approaches discussed below are:
Subscription business model pilot projects
Moving from subscriptions to usage/consumption based models
Greenfield implementation across advanced DSE offerings and enterprise ERP
Which approach to choose is dependent on each company's particular situation, goals and the state of their existing business models, finance processes, and revenue management methodologies. In fact, it is sometimes the case that a company could progress through the different use-case scenarios over the course of time as their DSE involvement deepens and becomes more sophisticated.
Pilot Projects for Adding Subscription Models
For many companies, their first foray into offering DSE business models is a move to add subscriptions as a new option within their existing product or services portfolio.
For example, a maker of printers might start adding subscriptions for ink, paper and other consumables to create additional revenue streams beyond their hardware sales. Or a company could acquire an existing subscription based business and want to use the M&A integration process as a way to pilot test subscriptions for wider deployment within other business units.
For either of these situations, the implementation plan needs to be carried out within a well-defined set of guardrails in order to gain insights without incurring widespread disruption of other business processes.
Moving to Usage/Consumption or Bundling Models
In this scenario, a company typically is already offering basic subscriptions but wants to improve customer engagement and increase revenue levels by incorporating usage or consumption based models and/or bundling devices with service offerings.
For example, a telecom company with flat-rate subscription services might expand into offering data usage based options and/or bundled devices as part of the service. In such a case, the company needs to integrate the more complex billing and revenue recognition processes into seamlessly integrated, simplified billing for their customers. And on the back-end the company needs to integrate with revenue management and compliance reporting processes that properly account for various revenue streams.
Greenfield Implementation Encompassing DSE, Finance and ERP
Of course, in some cases, a company could decide that they want to re-engineer their quote-to-cash processes as part of an overall business transformation program. In such situations, it is critical to have a full end-to-end view of how the entire quote-to-cash-to-compliance ecosystem fits together and to plan upfront for maximum scalability and extensibility.
How SAP Quote-to-Cash Provides Flexible Deployment Options
SAP's comprehensive suite of Quote-to-Cash solutions has been evolving over the past two decades with a focus on delivering fully integrated end-to-end functionality for managing complex subscription based DSE offerings. In parallel, SAP and partners like Bramasol are continuing to expand the range of deployment platforms and targeted implementation options to address the full spectrum of use case scenarios for customers.
As shown below, the current Quote-to-Cash portfolio from SAP (formerly known as BRIM) includes Subscription Order Management (SOM), Convergent Charging (CC), Convergent Mediation (CM), Convergent Invoicing (CI), Corporate Finance Management (CFM) and Revenue Accounting & Reporting (RAR).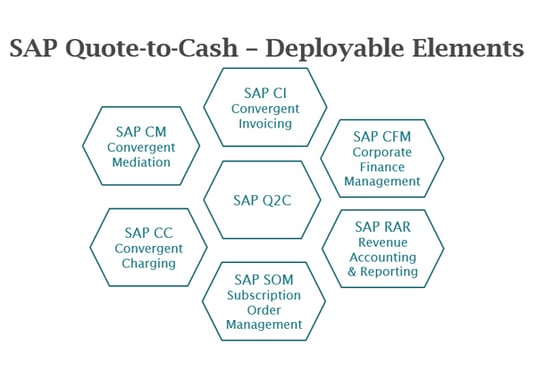 The following sections briefly describe how the applications within SAP Quote-to-Cash can be leveraged in various combinations to address different use case implementation scenarios.
Full-Stack Deployment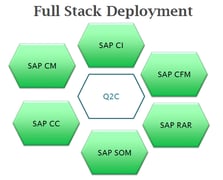 This approach is most appropriate to support Greenfield implementations where the company is either starting from scratch or needs to migrate away from an existing legacy system that has become error prone or fragile. All the elements are already optimized for working together out of the box, thereby providing end-to-end flexibility for creating a robust overall quote-to-cash ecosystem.
While the full-stack approach has the advantage of leaving chronic legacy ERP problems behind, it also typically incurs the highest implementation cost and project timeframe commitment, although the impact provides enterprise wide fundamental change.
Streamline Billing Processes with CI & CFM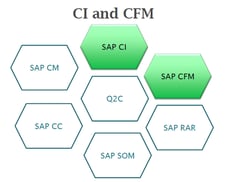 If a company is just looking to streamline the billing processes, a more targeted implementation using just Convergent Invoicing and Corporate Finance Management can be an effective approach.
For customers that already have an SAP landscape in place, integrating these two powerful functions is relatively straightforward within ECC or S/4HANA and they can also be integrated with non-SAP legacy systems.
Implement Usage/Consumption Based Offerings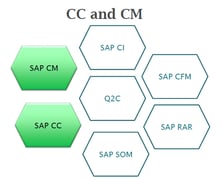 For companies that are looking to enhance existing subscription offerings by integrating usage or consumption based services, a beneficial approach can be to opt for using Convergent Mediation in combination with Convergent Charging.
Key benefits include handling very complex rating and charging functionalities that are geared to support real-time, high-availability, high-volume scenarios such as telecom.
Bundling Hardware and Digital Offerings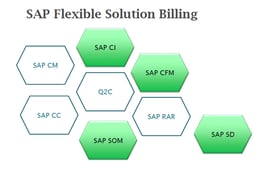 Using a flexible billing solution can be a good option for companies looking to bundle hardware sales using SAP Sales and Distribution (SAP SD) with digital sales using SOM. Or, if the situation calls for more functions, SD can be integrated within the whole set of quote-to-cash applications.
Public Cloud Subscription Billing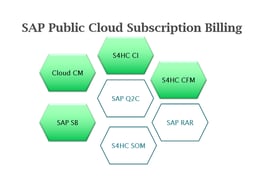 For companies that are looking for a quick, robust out-of-the-box solution for handing subscriptions without a lot of upfront investment, opting for SAP Public Cloud Subscription Billing can be a good approach.
Because it comes pre-configured with best practices and all cross-integration functions, the Public Cloud approach is faster to implement and easier to support. However, if any significant custom requirements exist, opting for Public Cloud may also require interfacing with Business Technology Platform (BTP) functionality.
Summary
Ultimately, there is no single, one-size-fits-all approach for implementing and optimizing quote-to-cash processes for the Digital Solutions Economy. Tailoring the best approach requires both a clear understanding of the big picture use cases, such as piloting subscriptions, enhancing usage/consumption offerings or full greenfield transformation, coupled with detailed knowledge of the whole range of functional building block solutions that are available.
For More Information, check out these resources: