In this blog post, we are taking a closer look at two important initiatives from SAP with a focus on what they are and how they can help companies optimize their ERP systems and accelerate their business growth.
RISE with SAP and SAP GROW are two distinct offerings that serve different purposes as outlined below.
RISE with SAP Overview:
First introduced in Q1 2021, RISE with SAP is a bundle of services that aims to help businesses migrate to the cloud and transform their operations. It provides a standardized approach to implementing SAP S/4HANA and other cloud-based solutions, with the goal of accelerating the adoption of digital technologies and enabling businesses to respond more quickly to changing market conditions.
The RISE bundle includes tools and services such as business process optimization, technical migration, data migration, and implementation services.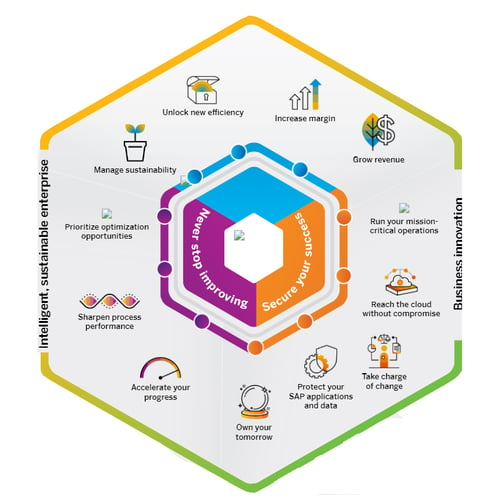 In a previous blog post, we detailed how RISE with SAP is a perfect complement for Bramasol's Comply, Optimize, and Transform process. RISE with SAP brings together all the necessary elements, including Business Process Intelligence, migration Tools and Services, and S/4HANA based applications, along with options for platform and infrastructure resources in a single offering called Business Transformation as a Service (BTaaS).
In working with companies across numerous industries, the Bramasol team has found that RISE with SAP technical migration tools can be very helpful for moving their ERP, finance and compliance processes into the cloud and/or to improve the overall scope of business transformation. In addition, the infrastructure elements in RISE with SAP provide a helpful pathway for clients that are looking to migrate from on-premise or legacy environments to S/4HANA in the cloud.
SAP GROW Overview:
On the other hand, SAP GROW introduced in March 2023 is a program designed to help small and midsize businesses (SMBs) to grow and succeed in their respective markets. The program provides SMBs with access to SAP's enterprise-level solutions, including ERP, CRM, and supply chain management tools, at an affordable price point. SAP GROW is designed to help SMBs gain visibility into their operations, streamline their processes, and make data-driven decisions.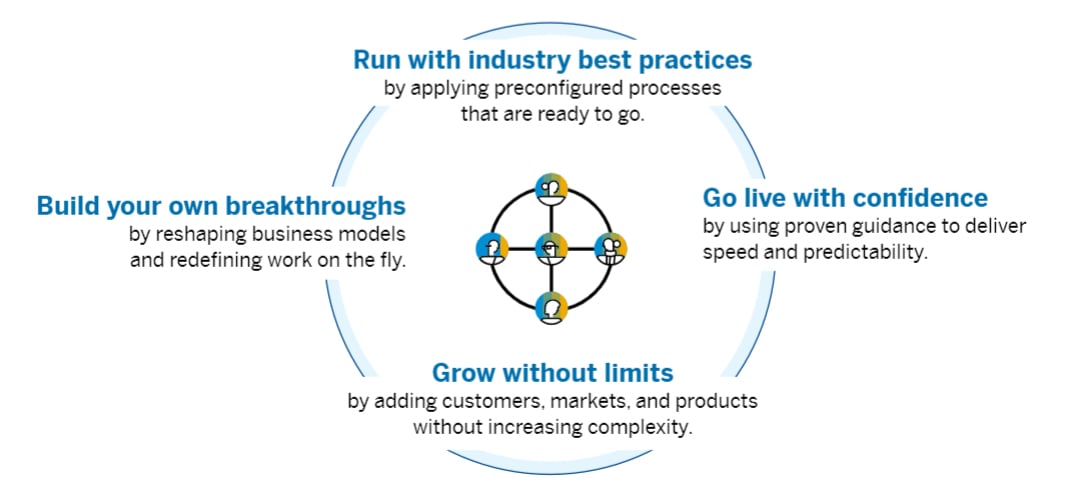 According to Maura Hameroff, SVP of ERP Product Marketing at SAP, "GROW is an offering that was built around SAP S/4HANA Cloud, public edition, which adds tools, methodologies, and services to help customers get up and running within four to eight weeks. The fact that it is a cloud-native service run by SAP means companies don't have to worry about the security or any of the infrastructure. Having a true, cloud-native solution that's always up to date and having SAP be responsible for the service-level agreement (SLA) is extremely important."
Initially, SAP sees the GROW initiative as being most relevant for midmarket companies in services, such as consulting, media, audit, engineering and construction, as well as product-centric companies in industrial manufacturing, machinery and components (IM&C).
Key benefits of GROW include:
Faster, simplified adoption of advanced cloud ERP
Greater scalability to grow the solution
Enhanced efficiency through optimized processes
Increased predictability of costs and operations
Community support and role-specific learning


Summary
At Bramasol, our work with helping mid-to-large size companies implement and optimize complex quote-to-cash and revenue compliance solutions means that RISE with SAP is a more relevant benefit for their needs than SAP GROW.
Depending on the amount of customization in their current implementations, these companies may already be using on-premise or private-cloud solutions. In many cases, RISE with SAP can provide an attractive path for migrating some existing elements to the public cloud and/or starting up new subscription-based businesses using quote-to-cash public cloud solutions.
On the other hand, companies that are "starting fresh" and want a hassle-free standards based cloud solution are better candidates for SAP GROW. For these companies, the Bramasol team might focus primarily on helping build-out and optimize specific areas, such as quote-to-cash and revenue recognition processes.
Regardless of whether the overarching goal is migration and digital transformation of existing systems or jumpstarting a new greenfield implementation, the Bramasol team's experience can help companies map out a project plan that takes into account each company's specific starting point and budget while addressing both their near-term and long-term goals.