As one of SAP's longest serving partners, Bramasol has seen and participated in many major changes during our 25 years of working in the SAP ecosystem. When we express how excited we are with the new RISE with SAP initiative that was launched in Q1 2021, it comes with that deep history and perspective in mind.
We are particularly pleased with how seamlessly RISE with SAP aligns with the ongoing Comply, Optimize, Transform™ paradigm that Bramasol instituted some years ago.
In this blog post, we provide a brief summary of the key aspects of RISE with SAP and discuss how it can add value to your Comply, Optimize, Transform journey.
Overview of RISE with SAP
Building on the S/4HANA enabled Intelligent Enterprise concept, RISE with SAP provides a unified set of migration and optimization capabilities within a single package. It is designed to help businesses move from where they are to a seamlessly integrated, holistic, enterprise scale, S/4HANA environment.
As shown below, RISE with SAP brings together all the necessary elements, including Business Process Intelligence, migration Tools and Services, and S/4HANA based applications, along with options for platform and infrastructure resources in a single offering called Business Transformation as a Service (BTaaS).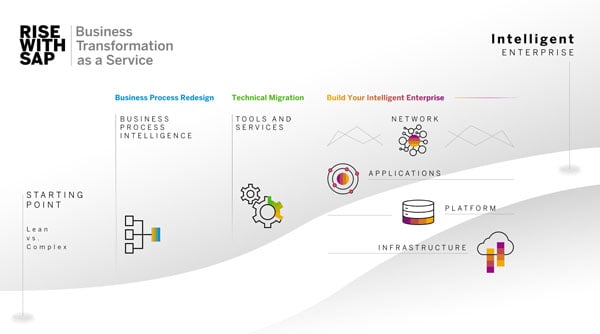 This approach enables a new level of "digital resiliency" that provides benefits including:
Efficient growth and resource alignment by interconnecting data, business systems, and value chain relationships
Informed decisions by tying data sets to real-time analytics and intelligence
Reduced waste and healthier financial reserves by responding quickly and effectively to business disruptions
Increased business resilience with best practices and rapid delivery of meaningful outcomes to customers, partners, and internal stakeholders
Overview of Comply, Optimize, Transform
With our years of experience in helping clients achieve compliance with new mandates such as revenue recognition (ASC 606 and IFRS 15), lease accounting (ASC 842 and IFRS 16) and optimizing Office of the CFO processes for treasury, cash flow, risk management and more, Bramasol has long advocated a comprehensive, integrated approach - as exemplified by our Comply, Optimize, Transform methodology.
From the beginning of any project, we believe that compliance should never be addressed by using ad hoc or limited scope approaches because such short-term thinking invariably results in process inefficiencies, manual offline workarounds, and a lack of forward migration capabilities.
Instead, the Comply, Optimize, Transform approach inherently keeps the future in mind by emphasizing integration of compliance solutions within the overall business operations, while also laying the groundwork for future transformation.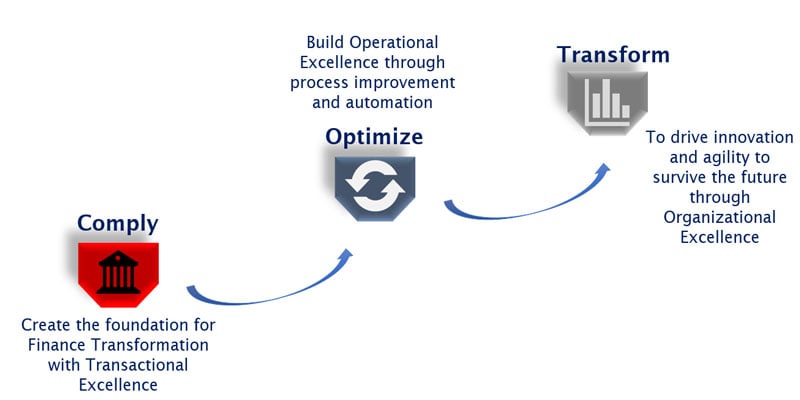 Summary of Synergies
Since both the Comply, Optimize, Transform approach and RISE with SAP migration tools enable complementary paths that lead to the Intelligent Enterprise on S/4HANA, it makes a lot of sense to leverage the synergies wherever possible.
For example, RISE with SAP technical migration tools can be very helpful for companies that are looking to move their compliance processes into the overall scope of business transformation. Likewise, the infrastructure elements in RISE with SAP provide a helpful pathway for clients that are looking to migrate from on-premise or legacy environments to S/4HANA.
While we have long offered a range of options for helping clients migrate to S/4HANA, RISE with SAP adds an attractive additional path forward - with advantages of bringing all the key elements together in a single package.
Of course, one of the things that we've all learned over the years is that there is rarely a perfect one-size-fits-all solution for everyone, so we encourage clients to consider all the available options, especially when planning a major business transformation program.
We're happy to help your team evaluate the best approach from among all the alternatives, with an eye toward what is best for your specific situation, and we think that RISE with SAP certainly should be in the mix for consideration.
Learn more: