Last year and this year we've all been doing our fair share of binge watching as there's been plenty of content to keep us occupied.
With only so many hours in the day, though, it's impossible to watch all of them. With over 100 webinars from Bramasol to choose from we thought it might be helpful to let you know which ones your colleagues are watching. So, every month we will be sharing the top 5 videos in key categories such as Digital Solutions Economy, Revenue Accounting, Leasing, Cash and Banking, Treasury and more.
In this post, we gather together the Top most-watched webinars on Digital Solution Economy.
Watch Now to get insights from the experts from each of these webinar, and stay tuned for more.
To stay on top of what's new, sign up for our Monthly Newsletter.
1) SAP RAR and Optimized Contract Management - Power for the New Digital Economy
Join SAP and Bramasol for a discussion of how SAP Revenue Recognition's Optimized Contract Management can help power you into the Digital Economy. With powerful features such as day-based calculations, improved inbound processing and new reporting, OCM is the way to go. SAP's product development and Bramasol, the leaders in SAP Revenue Accounting will discuss and present cases for the use of Optimized Contract Management. Watch Now!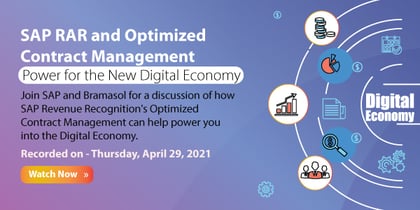 2) The Subscription Economy Revisited: Customer Use Cases on SAP RAR and BRIM
In this webinar we explored three specific customer use cases for the inevitable move to the Subscription Economy. You will hear about three very different uses cases in which companies leverage SAP BRIM and SAP RAR to drive flexibility, scalability and insights as they move to or deepen their subscription models. Also learn how these companies faced challenges to their new business models and how SAP RAR and BRIM helped solve them. Watch Now!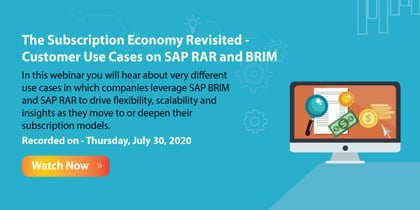 3) Reduce Time to Market and Gain Insights for the Digital Solutions Economy with SAP Automated Revenue Management
The new economy, the Digital Solutions Economy, requires agility, speed and insight. In this first in a series of webinars on the Digital Solutions Economy, we explored with SAP's Pete Graham, how leveraging cloud-based technology to automate and simplify revenue accounting can reduce the time needed to introduce new offers to the marketplace, provide insights into revenue sources and profitability and drive improved ROI. If you are moving to a recurring revenue model of any type, you cannot afford to miss this valuable discussion. Watch Now!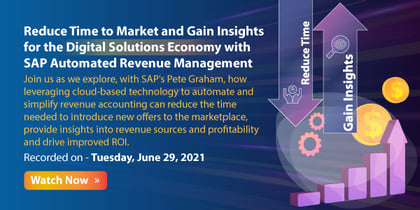 4) Solutions for the New Economy-Subscription and High Volume Billing
In this webinar you will learn about key use cases and the solutions offered by SAP including SAP RAR and SAP BRIM (Billing and Revenue Innovation Mgt) to help enable these new business models. You will hear from experts from SAP and Bramasol on how what you need to consider and how to establish a firm foundation for the new economy. Watch Now!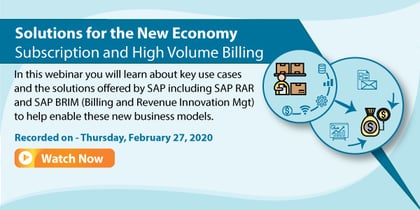 Which of these webinars did you enjoy most? What topics would you like to see us cover in our webinars?
We design our content to serve you and would love to hear your feedback. Contact us to make suggestions for tips or insights you'd like to gain from our team of experts.
We look forward to having you join us for more webinars!