As we near the end of yet another tumultuous year and acknowledge that even the best predictions do not always align with how reality unfolds, it is still a good opportunity to look ahead at some of the key trends that are most likely to have big impacts on 2022.
From Bramasol's perspective as a leading SAP partner creating business management, finance, and compliance solutions for over 25 years, here are five major areas that we are watching closely and helping our clients prepare to deal with in the coming year - and beyond.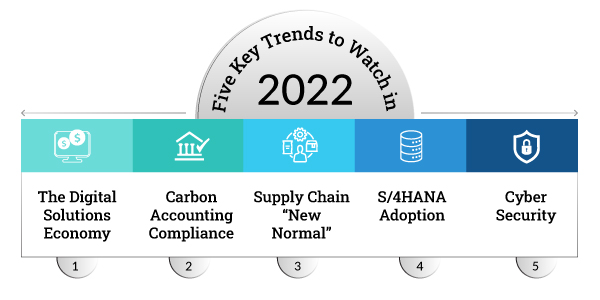 1. The Digital Solutions Economy™ (DSE) will continue to disrupt markets and create new opportunities.
As followers of this blog already know, DSE has been a major disruptive force across many different B2C and B2B markets over the past year and is expected to continue evolving rapidly throughout 2022.
Most industry analysts agree that the pandemic and move to remote working have greatly accelerated the adoption of subscriptions and other DSE business models, leading to exciting growth for many companies that were in the right place to catch the DSE wave.
However, as DSE moves into the next phase, it will be increasingly important for companies to refine and optimize their end-to-end DSE processes in order to maintain profitability and competitiveness. They also need to address compliance requirements such as revenue reporting under ASC 606 and IFRS 15, which are still required but can be more complex for DSE business models.
That's why Bramasol is focusing on helping our clients build sustainable DSE business processes around SAP Billing and Revenue Innovation Management (BRIM) and SAP Automated Revenue Management (ARM) solutions. In addition to providing a portfolio of interoperable applications for DSE and revenue compliance that are S/4HANA compatible, these solution sets also are designed to agnostically interface with non-SAP applications that many companies already have or are building specifically for their DSE offerings.
2. Carbon Accounting compliance will see regulatory guidelines defined and best practices developed.
This is another subject that we've been tracking closely and have addressed in a recent blog on Carbon Accounting Compliance. As a specific subset within broader Environmental, Social and Governance (ESG) reporting, carbon accounting has been the subject of much discussion, both by accounting bodies and governmental policy makers. As the recent COP26 climate conference in Glasgow underscored, there is a growing global consensus that companies need to play a major role in combating climate change, which was exemplified by creation of the International Sustainability Standards Board (ISSB) and other related initiatives.
A recent KPMG survey, of technology leaders, found that "82% wanted to lock in sustainability gains, but more than half said they do not have a decarbonization strategy in place."
The need for carbon accounting solutions that provide tangible and reliable data will be a major issue throughout 2022 and beyond. That's why Bramasol is proactively partnering with SAP to help our clients leverage SAP's Product Footprint Management (PFM), a new cloud-native application built on SAP Business Technology Platform. PFM enables companies to calculate carbon footprints for their products across the entire value chain and to use SAP Analytics Cloud (SAC) for analyzing and optimizing specific factors, such as evaluating specific vendors' carbon footprints. The flexibility of SAC also enables companies to model new scenarios such as proactively identifying the carbon impact at the beginning of the product lifecycle instead of reactively after a product has been produced.
Although the details of carbon accounting regulations are not yet finalized, virtually everyone agrees that this is a top level issue that will unfold rapidly in 2022 and will have significant impacts on all companies' compliance requirements. No matter what the specifics end up requiring, it's already clear that companies will need to collect, analyze and report based on a range of hard data, so now is the time to start putting the underlying management solutions in place.
3. Supply chain "new normal" solutions will require re-thinking, re-working and tighter integration between players.
Over the past year, everyone has heard plenty about how "global supply chain problems" are impacting almost every aspect of our daily lives, from empty store shelves to shortages of automobiles to long lead-times on holiday gifts.
Although some people want to believe that this is a one-time "black swan" phenomena, it doesn't take much digging and analysis to see that the current situation has actually exposed many deeper systemic supply chain issues that must be addressed to avoid potentially worse problems in the future.
Addressing these endemic supply chain issues will require a combination of improving visibility across end-to-end processes, deepening the integration of information and communications between multiple players throughout the chain and enabling real-time embedded analytics.
Bramasol is a leader in the use of SAP Analytics Cloud (SAC), which provides a highly flexible, agnostic solution that can bring together information from disparate data sources along with the ability drill-down and drill-through to specific transactional detail. We've created numerous custom tailored applications using SAC along with dashboards that enable users with various roles to quickly and easily access status and receive alerts on variations, as well as providing ad hoc and predictive analysis.
In addition, supply chain aggregation platforms such as SAP Ariba help build communities of vendors and enable cloud-based integration of complete Source-to-Procure-to-Pay processes that streamline the ability of procuring companies to find, qualify and contract with suppliers. For example, the Ariba Network brings together over 6.7 million companies with aggregate trade volume of $3.2 trillion per year.
Using appropriate security and access controls, solutions such as the Ariba Network and SAC analytics capabilities will play an important role in helping to monitor and maintain healthy end-to-end supply chains going forward.

4. Adoption of S/4HANA will accelerate, led by finance, DSE, supply chain, and working capital management.
From all indications, 2022 looks to be the year that SAP S/4HANA adoption really kicks into high gear. Even though the discontinuance of ECC has been rescheduled to 2027, many companies are finding that specific S/4HANA enabled applications provide both near-term ROI payback along with easing the roadmap toward full S/4HANA adoption.
According to a recent survey from IDC, "67% of current SAP customers are onboard with SAP's vision of creating an intelligent enterprise with S/4HANA as the transformation core."
It is also important to remember that this will be much more than just a software upgrade. S/4HANA represents a unique opportunity for undertaking truly transformational changes and improvements across the entire enterprise.
Just some of the key areas of operational benefits from S/4HANA include:
Finance

– unification of financial data in a single-source-of-truth with resultant improvements in financial close processes, AP/AR productivity, billing, revenue, cash management and more.
Sales

– streamlining of sales master data, sales contract management, sales order processing, billing, invoicing, claims, returns, refunds, and sales forecasting.
Supply Chain

– goods issue and receipt, warehouse management, shipping, logistics, material requirements planning, and vendor information sharing.
Analytics

– embedded capabilities to access data from all functions with drill-down, drill-through, visualization, and reporting - for both on-going monitoring and to inform ad hoc decisions.
Taken together, the enterprise-wide impacts of S/4HANA will enable both near-term and long-term transformation spanning the user experience, business agility, real-time management, and automation, enabling the Intelligent Enterprise. It's becoming clear that the adoption rate for S/4HANA is going to accelerate rapidly throughout 2022.

5. Cyber-security will be critical with more challenges driving the need for a comprehensive security mind-set and integrated solutions.
While it's the big headline grabbing stories about major security breaches that people tend to pay attention to, the truth is that successful security requires a constantly vigilant and day-to-day persistent effort. Like the old saying goes "the bad guys only have to be successful once, whereas the good guys must prevent attacks every day."
Over the past two years, many of the same pandemic related changes that we're familiar with have also had significant impacts on security risk factors. For example, the move to remote work that is now evolving into "hybrid offices" ushered in a myriad of new challenges for maintaining data security and access controls for computers, applications, printers and more that are no longer physically secured within the company facilities.
Also, productivity innovations such as the proliferation of Internet of Things (IoT) devices that monitor operations throughout manufacturing, logistics, supply chains, utilities, power grids, etc. are generating lots of information and triggering actions in real time. The shear ubiquity of these deployments could lead to catastrophic situations if the IoT systems were successfully compromised by hackers.
On another front, the mandates to secure and safeguard private information for individuals and companies is further raising the bar with regard to repercussions for companies that fail to take sufficient protective measures. Between the potential for fines, sanctions and loss of reputation, companies that suffer security breaches could be facing existential extinction.
Here again, Bramasol makes security a key part of every project that we undertake. In addition to our own internal security experts, we leverage the full range of SAP enterprise security solutions, including Single Sign-On, SAP Identity Management, SAP Access Control, Cloud Identity and Authentication, Data Retention Manager, SAP Data Privacy Integration and more.
Summary:
Overall, it looks like 2022 is shaping up to be a very exciting year - full of opportunities to innovate, collaborate, optimize and transform, both internally to make our organizations more productive and profitable as well as globally through mutually beneficial efforts that will make our entire world healthier and more sustainable.
The whole team at Bramasol is excited about helping our clients tackle all these challenges and make the most of the evolving opportunities throughout 2022 and in the years beyond.
Happy New Year!