Most corporate leaders are already familiar with "environmental, social and governance reporting" often referred to as ESG.
However, for the past couple of decades, ESG has typically consisted of producing an annual glossy Corporate Responsibility Report that discussed various initiatives in descriptive terms across areas such as energy usage, waste stream mitigation, labor practices, community programs, charitable giving, etc. While these reports represented an important element for communicating a company's corporate-citizenship vision and were also positive public relations initiatives, for the most part they did not contain a lot of hard, auditable data.
As the world has become more serious about mitigating climate change and the issue of corporate responsibility moves to the forefront, ESG reporting is now shifting toward a more rigorous approach that is increasingly based on accounting disciplines and auditable practices. In the area of climate change, this is often referred to as "carbon accounting".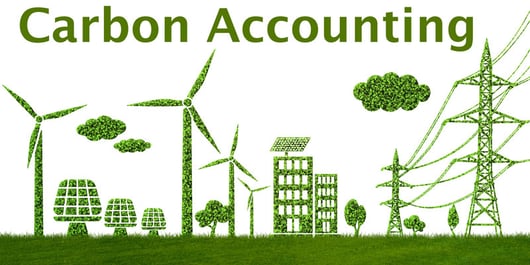 Some of the driving forces behind this shift to hard data and carbon accountability are:
Increased emphasis by investment funds and individuals in choosing companies that can demonstrate tangible programs and quantifiable results in their carbon mitigation efforts.
Movement on the part of global accounting groups, such as FASB, IASB and IFRS, to develop detailed compliance guidelines and regulations around carbon-accounting and sustainability.
New legislation regarding carbon offsets and disclosure reporting that will materially impact many companies' bottom line.
For example, the launch of the International Sustainability Standards Board (ISSB) at the COP26 climate conference in Glasgow responds to rising pressure from investors, lawmakers and other stakeholders for consistent, standardized rules for ESG disclosure.
While some of the accounting compliance and legislative mandates are still taking shape, it has become clear that companies need to move now to begin getting a better handle on hard data regarding their enterprise wide carbon footprints and CO2 transactions.
The key challenge for businesses is to take full responsibility and accountability for the total greenhouse gas (GHG) emissions they generate, while shifting to nature-based climate solutions that mitigate emissions and drive positive change.
As a global leader in comprehensive business solutions, SAP launched a new initiative in 2020 called Climate 21 that reaches well beyond previous reporting practices with a focus on managing hard data about product-related greenhouse gases and other sustainability issues that help businesses and consumers make more responsible buying and investing decisions.
"On the way to a more sustainable future, SAP has a critical role to play in helping companies understand, monitor, and optimize their CO2 transactions — up and down their supply chains as well as in their asset base," said Toby Croucher, Climate and Sustainability Industry Lead at SAP.
As Bramasol expands our Comply, Optimize, Transform™ paradigm to encompass emerging carbon accounting requirements, it has become clear that companies need to combine both a broad, holistic approach and a flexible future-focused implementation roadmap.
The scope of carbon accounting must take into account not only a company's internal operations but also track carbon emissions from their upstream supply chains to downstream logistics, including procurement, operations and manufacturing.
Key factors for success include enabling companies to embrace carbon accounting goals and to transform their end-to-end business processes through innovative intelligent technologies, including Internet of Things (IoT), machine learning, artificial intelligence (AI), blockchain and advanced data analytics.
A good example of integrating carbon accounting at the operations level is SAP's Product Footprint Management (PFM), a new cloud-native application built on SAP Business Technology Platform that can be activated in SAP Analytics Cloud (SAC). This enables companies to calculate carbon footprints for their products across the entire value chain and to use SAC for analyzing and optimizing specific factors, such as evaluating specific vendors' carbon footprints. The flexibility of SAC also enables companies to model new scenarios such as proactively identifying the carbon impact at the beginning of the product lifecycle instead of reactively after a product has been produced.
The Bramasol team is also seeing that convergence of carbon accounting and the Digital Solutions Economy™ is raising the bar for adopting a holistic approach, by using agile SAC embedded analytics to track carbon footprint data across all end-to-end DSE processes.
Ultimately, carbon accounting represents a "dual bottom line" issue in which companies have an opportunity to make a difference by aligning their corporate bottom line accounting practices with the over-arching bottom line of preserving a livable and sustainable planet.