As we move into 2021, companies are finalizing their plans, budgets and operational improvement processes for the coming year. One of the key challenges that many organizations face is how best to optimize and integrate their ASC 842 / IFRS 16 compliance within their overall business systems.
Faced with the lease accounting compliance deadlines over the past 2-3 years, many companies opted for "quick and easy" standalone or offline approaches that emphasized basic compliance over long-term integration, efficiency, and scalability.
As a result, most of these companies are now grappling with major roadblocks when it comes to managing lease accounting compliance in relationship to overall business goals, especially when it comes to coping with dynamically changing lease portfolios.
One of the biggest shortcomings from taking the standalone solution approach is the narrow focus on cataloging existing lease portfolios and analyzing them against the new compliance criteria. In effect, this is like just taking a static snapshot of a constantly changing environment.
In most companies, lease portfolios are inherently dynamic. Leases expire, new leases are instituted, extensions are negotiated, contract terms change, and more – meaning that the accuracy of data in a standalone solution rapidly becomes out of date without constant manual intervention.
Another major pain point revolves around the interfaces between a standalone leasing solution and core financial management processes. ERPs and finance systems are also continually evolving and changing, which means the static interfaces with non-integrated leasing solutions can quickly get out of sync. Obviously, if your standalone lease accounting solution breaks every time your ERP is updated, it creates a sub-optimal and inefficient support situation.
A third important shortcoming of standalone solutions is the lack of visibility across the full end-to-end leasing process. With a focus only on cataloging and analyzing completed lease contracts, standalone systems do not give decisionmakers a complete view of the entire "source-to-contract" sequence, which greatly limits the richness of information that could help them make better and more cost-effective leasing decisions.
In addition, having visibility of new lease negotiations and contract finalization is very helpful for ensuring more accurate data within the lease compliance accounting environment, as well as better auditability of the lease initiation process.
Finally, standalone systems are inadequate for that subset of companies that act as lessors as well as lessees. Managing lessor accounting requires visibility and integration of a variety of additional information streams regarding the revenues generated by leases as well as associated expenses. This information is typically available within a company's finance and ERP systems, but it is problematic to extract the relevant data and make it useable within a standalone system.
So, how can you overcome all these shortcomings related to standalone or offline approaches?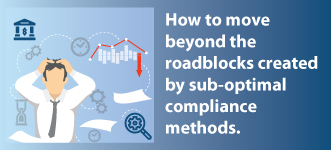 Having been involved with ASC 842 / IFRS 16 compliance and lease management issues from the beginning, our Bramasol Center of Excellence leasing team has helped a wide range of companies plan and implement integrated approaches. We have also developed a solid process for helping companies move away from their roadblocked standalone environments to more sustainable integrated processes.
As a co-innovator with SAP, we have standardized on the use of SAP Contract and Lease Management (CLM) as the most flexible and feature-rich foundation for integrating lease accounting seamlessly into overall business systems.
CLM offers these key advantages:
Full ASC 842 And IFRS 16 compliance functionality
Complete end-to-end visibility for lease negotiation, contracts, and end-of-lease processes
Applicability for operating leases and real estate leases
Native integration with SAP systems, both ECC and S/4HANA
Access to SAP Cloud Analytics for optimized management and reporting
Agnostic flexibility for integrating with non-SAP or legacy environments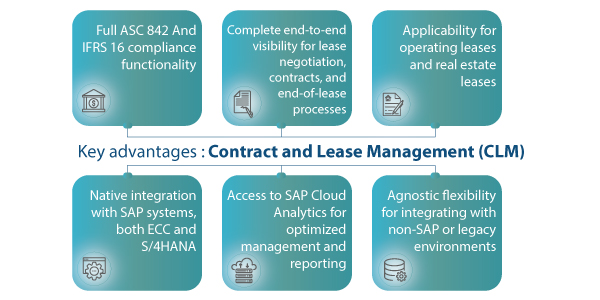 The native integration with backend business systems is a key benefit in that it ensures the cross functionality between CLM and core ERP functionality will not break every time there is a software update, as too often happens with standalone approaches.
In the process of refining our lease accounting and management offerings, we have also developed a range of purpose-built enhancements, such as ASC 842 / IFRS 16 disclosure reports, analytics tools, dashboards, accelerators, and other intellectual property solutions to enhance lease management decisions.
In addition, for lessor accounting, we have developed cross-integration processes to optimize CLM with SAP Revenue Accounting and Reporting (RAR) functionality, which greatly simplifies the correlation of leases and associated revenue streams.
Finally, to help companies smoothly transition from dead-end standalone solutions to a future-proof CLM environment, we've also developed a Leasing Health Check process and a disciplined changeover methodology to minimize transition time and expense.
Click here to learn more about the benefits of CLM and how Bramasol can get you there.