The implementation of new Revenue Recognition standards, ASC 606 and IFRS 15, has been a major compliance undertaking for nearly all companies throughout the globe over the past six years.
Depending on their specific situations, budgets and jurisdictional requirements, companies have taken a variety of different tactical approaches for achieving compliance.
Many organizations adopted a comprehensive approach that used integrated solutions from the outset, thereby maximizing productivity, visibility, and flexibility for addressing innovative new revenue models, such as subscription-based services.
Other companies took a more limited approach focused solely on achieving compliance, often using offline spreadsheets or standalone RevRec solutions. Whereas, in the short term this approach seemed more expedient, now many of those companies are grappling with how to optimize, scale and integrate these standalone solutions.
If the companies that started out with a limited compliance-only approach could somehow find a way to quickly switch over and get on to a more integrated revenue recognition pathway, it would make a world of difference to them.

That's why the Bramasol RevRec Center of Excellence team has now developed a way for any company to leverage the comprehensive benefits of SAP Revenue Accounting and Reporting (RAR) by adopting our new cloud-based solution that integrates with virtually any existing ERP and finance systems.
As the leaders in deploying SAP RAR and co-innovator with SAP on RevRec solutions, Bramasol has implemented RevRec changes with more companies than any other SAP partner. We have also helped work out many of the methodologies and best practices for cost-effectively deploying RAR to deliver revenue compliance that is tightly integrated with existing ERP and/or finance systems.
Based on this extensive experience, we developed our new cloud-based RAR solution to leverage built-in integration features and forward-looking SAP S/4HANA capabilities in conjunction with your current ERP and finance processes.
RAR in the Cloud delivers these key benefits:
Grows with your business no matter how simple or complex your revenue accounting
Will integrate with any ERP, SAP or non-SAP
Provides key features for support of Stand-alone Selling Price, Variable Consideration, Contract Combinations and Modifications and Commissions Costs
Gives you complete data and insights for ASC 606 and IFRS 15 compliance and reporting
Brings the flexibility and benefits of a Cloud Based solution
Can be deployed in weeks, not months or years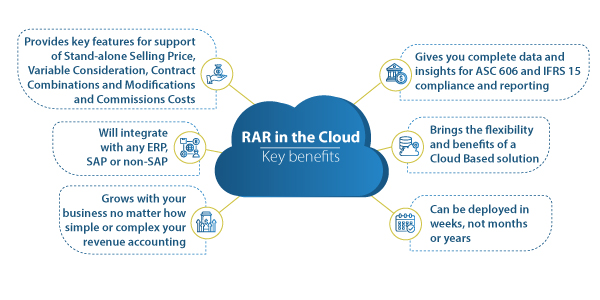 You can be up and running in 16 weeks with a cloud-based RAR implementation, including legacy finance system integration, out-of-the-box reporting, and ASC 606 or IFRS 15 compliance.
Click here to learn more about SAP RAR in the Cloud