Previous posts in this blog series have addressed how SAP solutions such as Quote-to-Cash (QTC), the Billing and Revenue Innovation Management (BRIM) portfolio, and Revenue Accounting and Reporting (RAR) can be meshed seamlessly to integrate frontend and backend processes for subscription-based Digital Solutions Economy (DSE) offerings. We have also explored how SAP RISE and GROW can enhance and streamline overall implementations.
In this new post, we offer a look into how SAP Signavio business process modeling tools can help organizations visualize, analyze and optimize their processes for efficiency and integration, while also providing a change-oriented environment to keep up with the dynamically unfolding requirements and forward-looking digital transformation.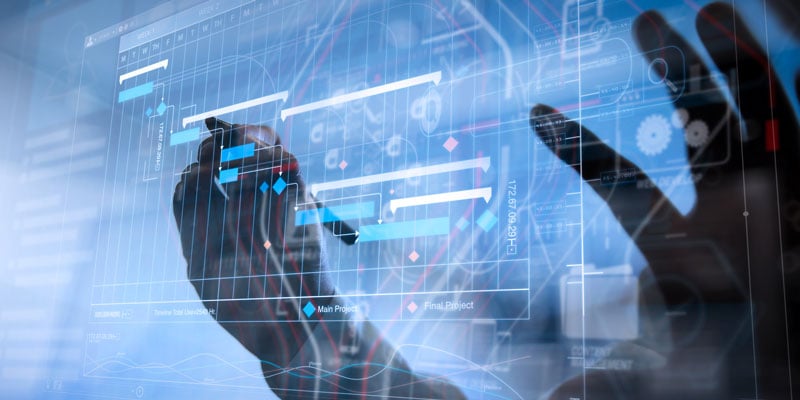 Signavio provides a comprehensive platform for business process management, from initial modeling and analysis to ongoing optimization and governance. It helps organizations align their processes with overall business goals, improve operational efficiency, and maintain compliance with regulations.
The end-to-end perspective of business processes provided by the SAP Signavio Process Transformation Suite helps companies realize transformations in an agile and holistic way.
A recent Quadrant Knowledge Solutions Customer Journey Mapping study cited how Signavio's "vast ecosystem of SAP's tools, provision to integrate legacy systems with outside-in CX views, and facilitation of consultative assistance enable SAP Signavio to undertake largescale digital transformation projects."
Also, an IDC Study on Business Process Observability of 530 organizations across different regions and industries found that "41 percent say they struggle to pinpoint problems in end-to-end business processes and only 26 percent say they can effectively carry out root cause analysis when problems occur."
Key elements of SAP Signavio include:
Process Analysis and Documentation to document and visualize existing business processes. This can help organizations gain a clear understanding of their current processes and identify areas for improvement.
Process Optimization

tools for process simulation and analysis that enable companies to simulate changes to processes and evaluate the impacts before implementing them, thus ensuring that process improvements are well-informed and yield positive results.

Collaboration and Stakeholder Engagement

allows for collaborative process modeling in which partners can work with clients and stakeholders to model and improve processes together. This collaborative approach ensures that everyone's input is considered, leading to more effective process transformations.

Compliance and Governance

tools to ensure that processes are compliant with industry regulations and internal governance policies. This is particularly important in industries with strict regulatory requirements, such as healthcare or finance.

Continuous Improvement

with

analytics and reporting features that can be used to track the performance of processes over time. Companies can set up key performance indicators (KPIs) and use Signavio to monitor and continuously improve processes.

Change Management.

Process transformation invariably involves changes in roles, responsibilities, and workflows. SAP Signavio can be used to model and communicate these changes to employees, to ensure a smooth transition and minimize resistance to change.

Training and Onboarding by using Signavio to create process documentation and training materials. This is particularly useful when new employees need to be onboarded or when existing employees need to learn new processes as a result of transformation initiatives.
Alignment with SAP Solutions.

Since SAP Signavio is part of the SAP ecosystem, users can easily integrate their process improvements with SAP solutions. This alignment enables more efficient and effective business operations by ensuring that all processes are in sync with SAP software.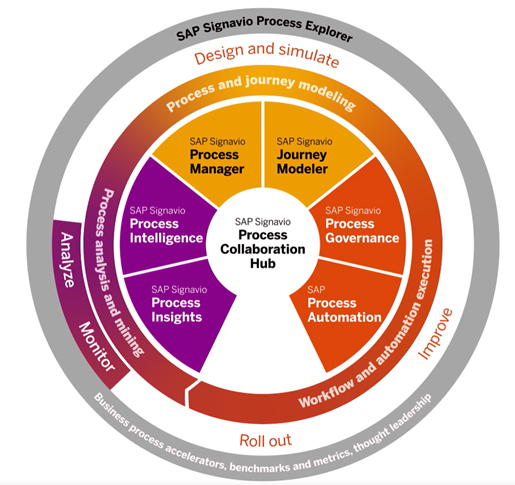 Benefits of using SAP Signavio include:
Improved Productivity:
Signavio's ease of use, agile modeling capability and built in documentation elements enable companies to push process optimization out to various business units, while maintaining overall visibility and consistency. This provides the best of both top-down and bottom-up buy-in, along with the ability to improve productivity throughout the enterprise.
Enhanced Customer Experience:
By mapping and analyzing customer-facing processes, companies can identify pain points and areas for improvement, ultimately leading to a better customer experience. This can be especially helpful for dynamically changing markets such as those with subscription-based Digital Solutions Economy offerings.
Data-Driven Decision Making:
Signavio provides data analytics and reporting features, which partners can use to make data-driven decisions about process improvements. This ensures that changes are based on evidence and analysis, with enterprise-wide visibility and the ability to drill-down and drill-through specific business units, regions, and/or product lines.

Continuous Business Improvement:




Because it is a seamless element of the overall SAP ecosystem and is designed specifically to enhance change management, Signavio can seamlessly support companies in their digital transformation journeys with SAP S/4HANA. In addition, because Signavio intelligence can process data from both SAP and non-SAP systems, its powerful process mining capabilities are able to identify areas needing improvement based on the raw data within multiple disparate environments.
Summary
In working with clients for nearly three decades across a wide range of industries to implement, integrate and optimize SAP solutions, the Bramasol team is continually incorporating new innovations that improve client results by leveraging the full potential of the SAP ecosystem.
While Signavio is not necessarily required for many of the quote-to-cash, revenue compliance, and other Digital Solutions Economy implementation projects we provide, it can be a very helpful addition for clients that are dealing with large or multi-faceted business environments where data mining, process modeling, and change management will be critical to achieving overall digital transformation goals.