Over the past eight years, many episodes in this blog series have focused on revenue recognition and how SAP solutions such as Revenue Accounting and Reporting (RAR) have provided a robust foundation for compliance with ASC 606 and IFRS 15. The evolution of SAP RAR and overall Automated Revenue Management (ARM) capabilities has unfolded along multiple paths to support existing users while also establishing a forward roadmap to some signficant new capabilities in SAP Public Cloud deployments.
The aim of this blog post is to focus on an exciting new use case scenario that enables users of Event Based Revenue Recognition (EBRR) in the Public Cloud to gain real-time insights into both revenue recognition and cost accounting within the same application.
Overview of ARM Deployment Scenarios
As shown below, moving to the Public Cloud gives companies the convenience of a fully integrated turn-key approach that provides advanced solutions along with end-to-end (E2E) scenario support. Key Public Cloud capabilities include Contract-based Revenue Recognition (CBRR) and Event-Based Revenue Recognition (EBRR).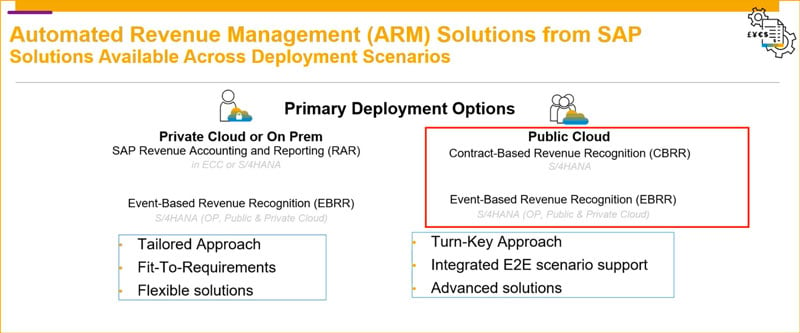 How EBRR is a Game Changer
There are a number of innovations and benefits that derive from using EBRR in the SAP Public Cloud. These include:
Real-Time Reporting - One source document triggers the creation of two separate journal entries directly in the general ledger. This provides the basis for real-time matching of revenue and cost. It also includes market segment information for every revenue recognition posting, so there is no need for separate settlement of business objects.
Streamlined Reconciliation - The revenue recognition process is fully integrated into the Universal Journal. This means that revenue recognition data is stored in the same location as cost and revenue data, so there is no need for juggling and combining separate data sources. In addition, this internal reconciliation process can feed into other external enterprise level reconciliation processes, such as Blackline, if appropriate.
Full Transparency -EBRR provides full drill down for G/L accounts such as revenue, along with profitability attributes, such as customer group or product group. Transparency also provides clear audit trails for each revenue recognition posting, with a link to the reference document.
As shown below, the fact that EBRR in SAP S/4HANA Public Cloud is "listening" for cost and margin information in real-time, along with revenue recognition, means the period end closing process can be greatly streamlined. Instead of going through multiple steps to conduct the closing, EBRR provides a complete, end-to-end view of all the elements from a single unified source.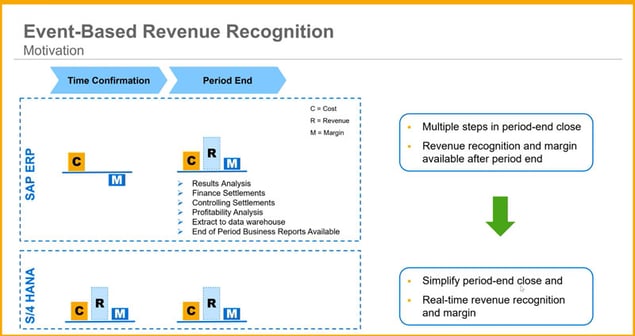 The flow diagram below offers more detail on how all the revenue, cost, and other inputs come together, with various source document inputs along the top and accounting interfaces along the bottom.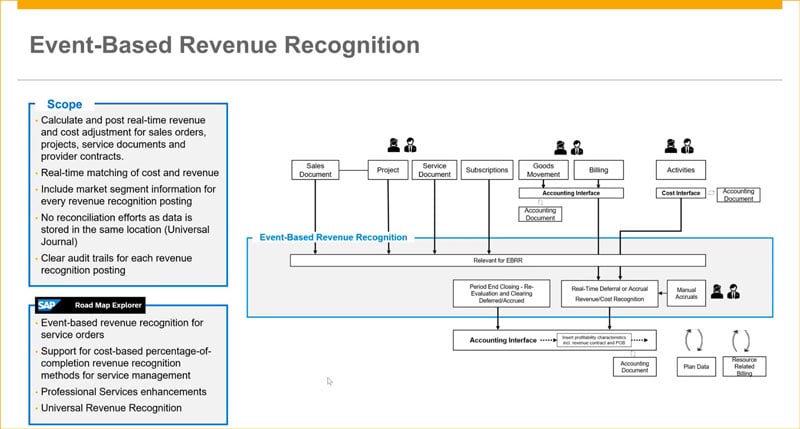 Summary
It is important to take a holistic viewpoint when considering the implications of using EBRR in the Public Cloud for combining revenue, cost and margin information. Because EBRR has direct access to both revenue and cost information, along with accessing the Universal Journal, it provides a simple and highly efficient option for pulling everything together to support closing processes.
Of course, there always will likely be some complex, multi-faceted scenarios that require additional tailoring in a fit-to-requirements approach. But, for many use cases, such as professional services, sell-from-stock, or subscription services, taking a unified, end-to-end approach with EBRR out-of-the-box on Public Cloud can truly be a game changer.
Check out the resources below for more information: