This important issue was previously explored last year in Are You Ready for "Carbon Accounting" Compliance? and also identified as one the Five Key Trends to Watch in 2022. A subsequent blog post specifically addressed How Can Carbon Accounting Impact the Value of M&A Deals?
This new blog post provides an update on the rapidly evolving landscape of accounting standards development and regulatory actions that are helping give clarity to what companies can expect regarding Carbon Accounting compliance going forward.
Among the biggest developments is a new proposed rule from the Securities and Exchange Commission (SEC) that was published on March 21, 2022 for public comment over the next 60 days.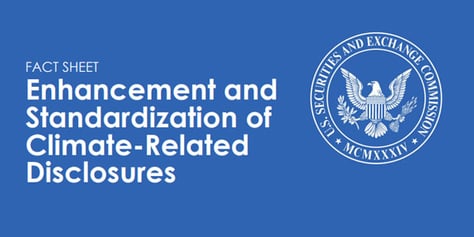 The SEC summary of the proposed regulation states that the rule amendments would require a domestic or foreign registrant to include certain climate-related information in its registration statements and periodic reports, such as on Form 10-K, including:
● Climate-related risks and their actual or likely material impacts on the registrant's business, strategy, and outlook;
● The registrant's governance of climate-related risks and relevant risk management processes;
● The registrant's greenhouse gas ("GHG") emissions, which, for accelerated and large accelerated filers and with respect to certain emissions, would be subject to assurance;
● Certain climate-related financial statement metrics and related disclosures in a note to its audited financial statements; and
● Information about climate-related targets and goals, and transition plan, if any.
For more details, read the SEC fact-sheet Enhancement and Standardization of Climate-Related Disclosures
The SEC notes that the newly proposed disclosures in the rule are similar to those that many companies already provide based on broadly accepted disclosure frameworks, such as the Task Force on Climate-Related Disclosures and the Greenhouse Gas Protocol.
If adopted by December 2022, the new disclosure requirements would be phased in over Fiscal Years 2023 through 2025, depending on companies' SEC registration types.
From a global perspective, the International Sustainability Standards Board (ISSB) is also working on developing uniform financial reporting rules. ISSB was established by the IFRS Foundation in response to the Glasgow COP 26 conference in November 2021.
A key question, especially for global companies, will be how United States SEC rules and ISSB international rules will be aligned. According to CFO.com, "The staff of the U.S. Securities and Exchange Commission (SEC) has been actively involved in the ISSB technical readiness working group." The CFO.com article also says, "Early indications are that if a U.S. company does significant business in Europe or Asia, it will likely have to comply with the sustainability disclosure standards of the countries in those regions."
In light of this accelerating development of Carbon Accounting compliance and reporting standards, what should companies be doing now?
As noted throughout our previous blog posts, it will be critical for companies to start early with implementing comprehensive, end-to-end processes for collecting, aggregating and analyzing data on enterprise-wide CO2 transactions, carbon footprints, and other related information.
Furthermore, the scope of carbon accounting must take into account not only a company's internal operations but also track carbon emissions from their upstream supply chains to downstream logistics, including procurement, operations, manufacturing, distribution and end-of-life.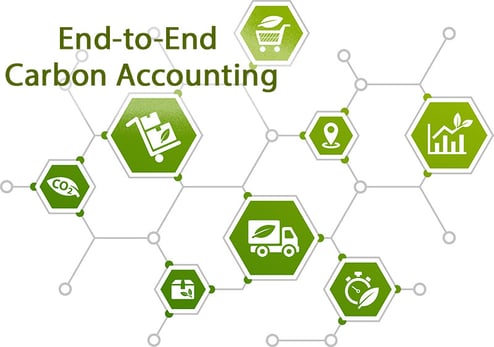 In moving to the forefront at helping client companies formulate their forward planning for Carbon Accounting, the Bramasol team is leveraging SAP's comprehensive suite of solutions, including SAP Product Footprint Management (PFM), a new cloud-native application built on SAP Business Technology Platform that can be activated in SAP Analytics Cloud (SAC).
PFM enables companies to calculate carbon footprints for their products across the entire value chain and to use SAC for analyzing and optimizing specific factors, such as evaluating specific vendors' carbon footprints and other external factors.
The flexibility of SAC with PFM also enables companies to model new scenarios such as proactively identifying the carbon impact at the beginning of the product lifecycle instead of reactively after a product has been produced.
Given the fact that specific SEC and international disclosure and reporting mandates are still evolving, the seamless integration of embedded and predictive analytics with SAC will likely be a critical element to provide enterprise-wide visibility and agile responsiveness to meet specific requirements.
In addition seamless integration within the SAP S/4HANA enabled Intelligent Enterprise provides these carbon accounting processes with access to a single-source-of-truth for understanding and reporting on enterprise-wide climate-related issues.
The bottom line is evolution of new climate-related standards and regulations is shifting into a faster gear and, although the details are still unfolding, companies must act now by putting in place the processes for collecting and analyzing data to meet requirements as they firm up.