Several times in the past, this blog series has focused on various big picture issues regarding environmental, social and governance (ESG) programs, compliance and carbon accounting solutions.
In this new posting, we are shifting gears for a deeper dive into the "social" aspect of ESG with a look at how social responsibility can make positive differences in the lives of real people across the globe and in the communities where companies operate.
The concept of corporate social responsibility (CSR) goes back nearly three decades to the term "triple bottom line" that was coined by British author John Elkington in 1994 in which he emphasized the importance of "profit, people and planet" as a way to look beyond financial results to encompass the social and environmental dimensions of a company's impacts.
Over the years, a number of research studies have produced various metrics to measure the impacts of corporate social involvement, including:
Financial performance:
Multiple studies have found a positive correlation between corporate social responsibility and financial performance. For example, a meta-analysis of over 200 studies found that companies with strong CSR practices tend to have better financial performance compared to those with weak or no CSR practices.
Employee engagement and productivity:
According to a study by

Cone Communications, 74% of employees say their job is more fulfilling when they have opportunities to make a positive impact at work

. Engaged employees are more productive, more likely to stay with the company, and contribute to its success.
Talent attraction and retention:
Research shows that companies with strong CSR programs are more attractive to job seekers, especially millennials and Gen Z. According to the Deloitte Millennial Survey, 56% of millennials actively seek employers whose values align with theirs, and 77% consider a company's social impact when choosing where to work.
Customer loyalty and brand reputation:
Numerous studies indicate that consumers are more likely to support and remain loyal to companies that demonstrate social responsibility. According to a global survey by Nielsen, 73% of consumers say they would switch brands if a company supports a good cause. Moreover, positive CSR activities contribute to building a strong brand reputation and trust among customers.
Risk management and regulatory compliance:
Companies that engage in responsible practices and comply with ethical standards are better equipped to manage risks and adapt to changing regulatory environments. Proactive CSR initiatives can help companies avoid legal, reputational, and operational risks associated with unethical practices or non-compliance.
Innovation and competitiveness:
By integrating CSR into their business strategies, companies can drive innovation and create a competitive advantage. Social and environmental challenges often present opportunities for innovation, and companies that proactively address these challenges can gain a first-mover advantage and differentiate themselves in the market.
Some examples of real-world social involvement at Bramasol
Focusing on examples from Bramasol's own experiences with social responsibility also gives me a chance to proudly highlight the employee-driven social initiatives that are a key part of our ongoing CSR and ESG activities.
Art In Action
Bramasol is a sponsor and active participant in helping the Art in Action program based in Redwood City, CA, which provides multi-faceted visual arts programs for Bay Area schools and beyond. The lessons help student's develop critical thinking skills, creative confidence, hands-on art experience, visual literacy, self-esteem and an appreciation of other cultures. In addition, Art in Action serves as an advocate for enhancing and expanding art education in California schools to provide these important educational elements across some of the state's low income and minority communities. Learn More at Art in Action.

West Valley Community Services and Silicon Valley Second Harvest Food Bank
Bramasol employees in the Bay Area have a long history of volunteering at community support organizations such as West Valley Community Services in Cupertino, CA and the Second Harvest of Silicon Valley. On group outings the Bramasol volunteers perform tasks such as stocking crates with canned goods, pasta, beans, rice, and getting crates ready for distribution to schools for the underprivileged. Bramasol team members also handle chores such as washing the windows and sweeping the floor of the RV that is used for picking up donations of food from the partner grocery store.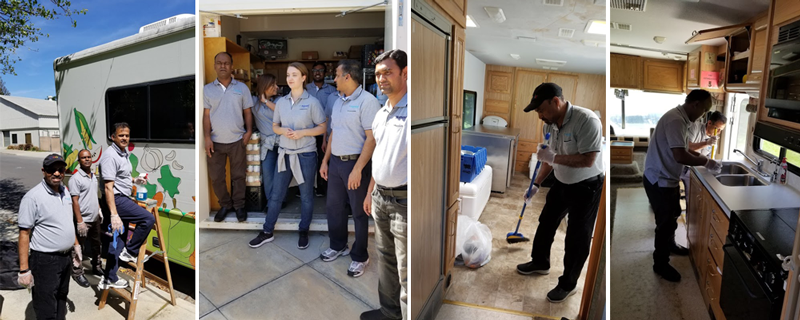 CORA Domestic Abuse Support Center
Bramasol is also a supporter of the CORA Community Overcoming Relationship Abuse center, which provides safety, support and healing for individuals who experience abuse in an intimate relationship and educates the community to break the cycle of domestic violence. CORA is the only agency in San Mateo County that is solely dedicated to helping those affected by intimate partner abuse. From counseling, to emergency housing, to legal assistance, their services are designed to provide safety, support, and healing.

Bramasol India Women's Committee
The KAIZEN Bramasol India Women's Committee made a small contribution towards the well-being of our society by organizing a Cloths & Toys Donation Drive. We reached out to everyone in our India office and received an overwhelming response. We collected the donations and handed them over to Goodwill India, an NGO based in Pune. Goodwill India has been actively involved in various social work initiatives for the past five years. One of their notable activities is collecting used clothes from all over Pune, processing them, and distributing them to those in need and underprivileged individuals.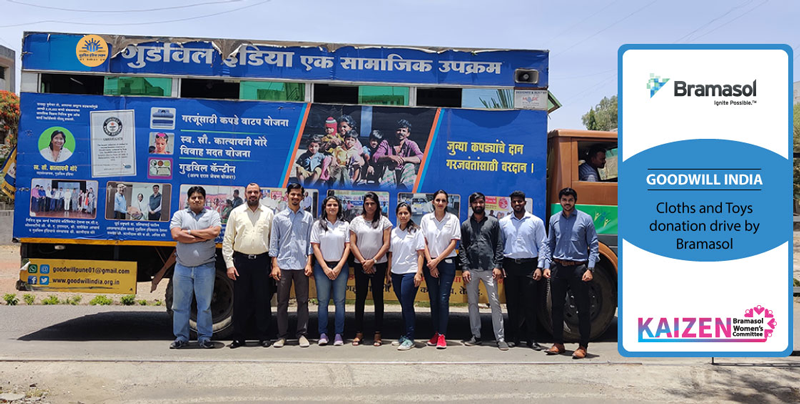 Summary
One of the key elements of successful social and community involvement, that we've learned from experiences at Bramasol, is to lean toward supporting causes that our employees care about and consider worth their volunteer efforts. The best and most satisfying results come about from these organically generated, employee-led efforts as compared to a top-down approach.
From an overall perspective, CSR and community involvement helps companies build stronger relationships with various stakeholders, including employees, customers, suppliers, local communities, and regulatory bodies.
By demonstrating a commitment to social and environmental issues, companies can foster trust and goodwill among stakeholders, which leads to increased customer loyalty, stronger partnerships, and improved relationships with local communities, which can positively impact the company's long-term sustainability.