As public companies have worked over the past two years to comply with new ASC 842 and IFRS 16 leasing standards, they have taken a variety of paths to achieve the initial compliance requirements. Depending on each company's specific requirements and the extent of their lease portfolios, their journey to compliance may have been comprehensive or might have taken a limited approach with a "path of least resistance" philosophy to minimize disruptions.
However, those companies that took a limited approach using standalone solutions or spreadsheets are now discovering they're stuck in a dead-end with regard to integrating and optimizing lease compliance within their overall business operations.
As the leading experts in SAP Leasing Solutions for ASC 842 and IFRS 16, we've seen it all and we know what works. Integration can be hard. Data validation is required far more than you expected and reporting is anything but a snap, especially if you need data from your ERP as well as your leasing solution.
How is CLM Different?
Having worked with a range of leasing solutions, including co-innovation with SAP on lease compliance, Bramasol finds that the SAP Contract and Lease Management (CLM) solution is among the most comprehensive and integrated approaches for both today and the future.
CLM is not a module, it's an application that supports all contract types and integrates with SAP back-end systems in support of contract compliance. CLM creates a unified leasing contract data repository that can be accessed to leverage accurate and relevant data for the optimization of the lease accounting processes particular to your business, including equipment management, supplier management, business planning, and more.
As a native integrated solution that provides end-to-end life-cycle management for all your leases, SAP CLM is the best choice for SAP customers. CLM is fully integrated with SAP ECC and S/4 HANA and leverages your master data and GL without costly, complicated or difficult integrations.
By enabling proactive management of all aspects of the contract life cycle, SAP CLM will help you:
Accelerate time to contract through automated contract creation and collaboration
Lower legal, financial, and regulatory risk through standardized language and reporting
Protect your company's bottom line
Realize full savings and revenue through contract visibility and awareness
Ensure more control and better compliance throughout the contract life cycle via system integration, alerting, and reporting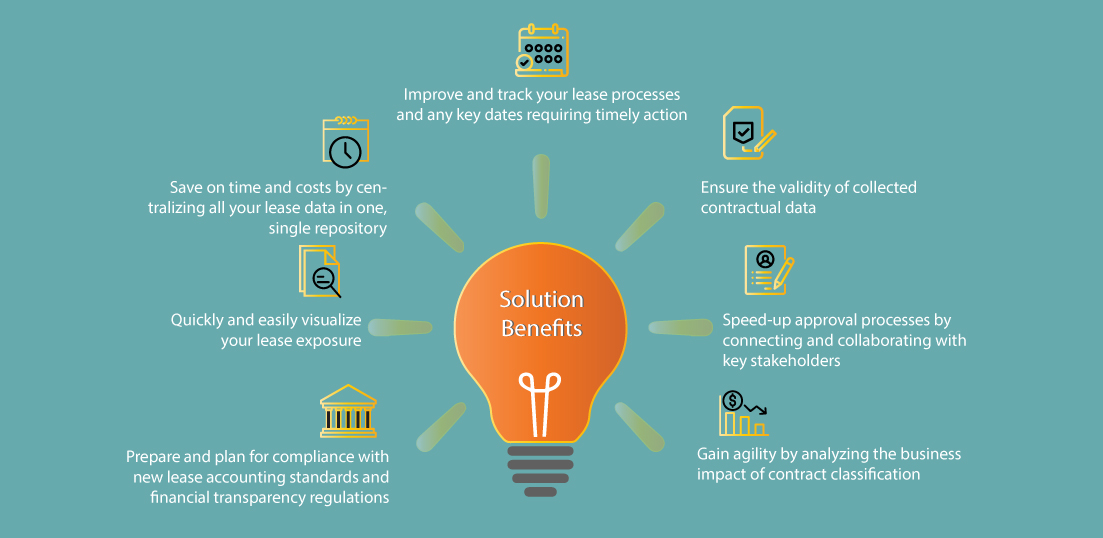 Additionally, since CLM has been certified by PWC to produce accurate calculations and make the correct journal entries, you can rest easy when it comes time for your audit. Combined with Bramasol's disclosure packages and validation reports you get a jump-start on ASC 842 and IFRS 16 reporting requirements.
If you have managed to comply with a standalone solution, congratulations. Now it is time to take it to Phase 2 and check out SAP Contract and Lease Management. Check out these links to learn more:
How Can You Convert Your Standalone Solution to Full Integration with CLM?
No matter where you are in your compliance journey, you now can efficiently convert to CLM without having to start from scratch. Bramasol has developed a disciplined conversion process that enables companies to move from disconnected or stand-alone systems to integrated solutions leveraging the data, classifications and report structures you have already defined.
We've built our CLM Conversion process around the specific issues involved with transitioning from a stand-alone environment to fully integrated Contract and Lease Management functionality. At the same time, we've created conversion methodologies that can be adapted to virtually any stand-alone or home-grown compliance approach.
The key steps in this process, as defined for a Leasing Solution conversion are shown below.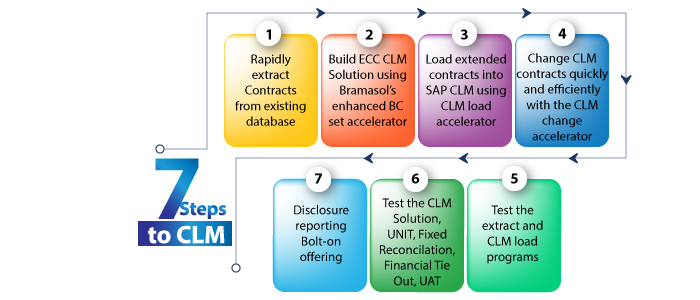 The bottom line is: Bramasol has established a straight-forward process for leveraging your existing compliance efforts for transition to CLM at a fraction of the time and cost of a new greenfield implementation.
Following the steps described above, and leveraging our proven conversion methodology, we can have your company fully transitioned to CLM in about 9 weeks and approximately half the cost of starting from scratch!
Click here to learn more and to Request a Free Consultation for Converting to CLM