Many CFOs and other company leaders are currently grappling with the challenges of planning and executing their movement to S/4HANA. Everyone in the SAP ecosystem knows that adoption of S/4 will be mandatory by 2025 but a large percentage of companies are struggling to figure out where and how to get started - often resulting in "analysis paralysis".
In most companies, the Office of the CFO is expected to play a key leadership role because finance processes are intimately intertwined with virtually all other processes and activities throughout every organization. Therefore, a growing number of CFOs are looking into the use of SAP Central Finance as a key tool that can help implement their S/4HANA roadmaps while enabling a cost-effective incremental approach, along with seamless integration of disparate legacy ERP environments.
SAP Central Finance is a native S/4HANA application that can facilitate a rapid transition by moving existing financial functions into a live S/4HANA environment but keeping legacy data relationships intact as the transition process moves forward. Since the heart of the Intelligent Enterprise is inherently financial, it makes great sense to start with an approach such as Central Finance that enables you to transition key finance processes first – without causing undue disruption to other ERP activities.
Central Finance is designed from the ground up to function both as a fully integrated S/4HANA application and a multi-faceted, agnostic connector to legacy ERP environments.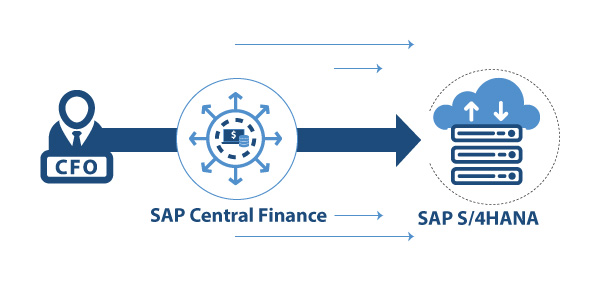 Because Central Finance reaches deep into the line-item level of existing SAP and/or non-SAP finance processes while providing real-time replication and data mapping into S/4HANA, it enables users to begin operating in the S/4-enabled future environment without severing connectivity with the past.
It's important to keep in mind that Central Finance ignites all of the power of S/4HANA, such as unified analytics, predictive modeling, simulation, accounting, treasury and compliance tools, along with the ability to roll-up and process huge amounts of data with a high degree of dimensionality and transparency – all while maintaining live connectivity with legacy environments.
This means that multiple source systems can be unified within a single S/4HANA environment that is constantly updated via the dynamic connections with each legacy system. In effect, this lays down a solid foundation for implementing the Digital Core and Intelligent Enterprise without losing the capability for drill-down and drill-back to line-item legacy data. It also provides a seamless unbroken audit trail to all data along with access to a wide spectrum of S/4 analytics, finance modeling, reporting and management capabilities.
Central Finance helps cut through the perceived dilemma in many companies where they are trying to choose between highly disruptive total makeover migration approaches, involving either complex "brownfield" customization or completely new "greenfield" implementations.
Roll-out of S/4HANA using Central Finance allows for a highly flexible overall migration approach, that can be incremental, iterative and guided by each company's unique priorities. That is very important. For example, instead of a massive 9-18 months "big bang" implementation approach, companies can decide to follow a more manageable and less disruptive phased approach.
Initial set-up and launch of Central Finance can be accomplished in as little as 3-6 months, followed by a well-managed incremental process, such as carefully sequencing in new capabilities on a quarterly basis.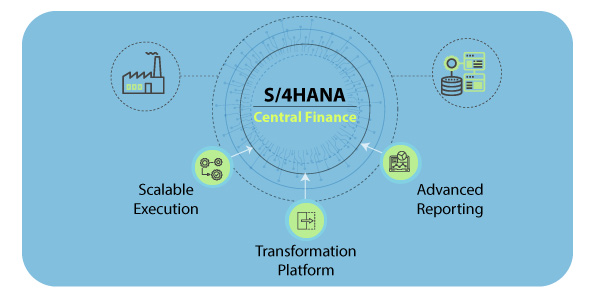 This quick implementation is made possible because connecting Central Finance doesn't require any changes to the underlying source systems. The flexibility to quickly connect diverse finance systems can be especially beneficial for companies with multiple legacy ERPs, globally dispersed business units, or other complexities such as supporting growth-through-M&A activities.
Basically, Central Finance gives companies the best of both worlds by providing a seamless bridge between the full capabilities of the S/4 world on one end and preserving a deep latency-free dynamic connection to all their legacy data on the other end.