In this eBook, we provide an in-depth look at the ways that advanced analytics, machine learning, and artificial intelligence (AI) are helping CFOs and company leadership to drive higher productivity, faster financial closing processes, improved market agility and lay the groundwork for financial transformation.
In a very important way, adaptive analytics processes help companies cope with constantly changing external forces, such as new regulatory compliance requirements, market dynamics and competitive pressures. Analytics are also critical for monitoring internal functions and change programs to provide context, transparency and agility for identifying issues and responding to potential problems before they become emergencies. They enable organizations to become adaptable and react and pro act to constantly changing market forces such as Brexit, US/China Trade, Mideast and others.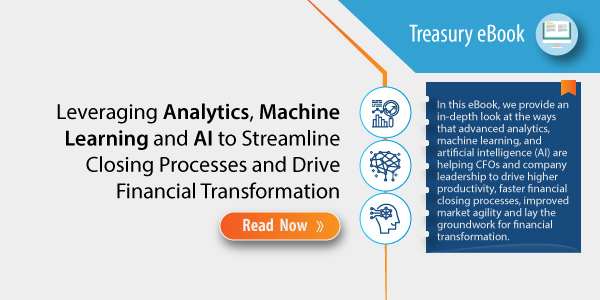 As regulators have time to review what companies are doing their insights and interpretations for Revenue Recognition (ASC 606 and IFRS 15), Lease Accounting (ASC 842 and IFRS 16), the European General Data Protection Regulation (GDPR), and others are evolving requiring companies to have clear insights only provided by analytics. Analytics are the key for successfully unifying internal processes and data to meet these external demands.
With so much external change going on, it's vital that your organizational sensory and response systems be agile, transparent and comprehensive. To succeed, you need to simultaneously see the big picture and have the flexibility to drill down for detail across a widening range of compliance requirements.
At Bramasol, while working with a broad spectrum of companies across many industries on their compliance and financial transformation initiatives, it has become clear that analytics needs to be treated as a core strategy for overall success – with a comprehensive and highly adaptive approach.
Companies need end-to-end integrated solutions for compliance that fit seamlessly within existing operational and financial systems while providing the detailed information, audit trail, aggregation methodologies and advanced analytics to support disclosure reporting. In addition, company management needs assurance that these end-to-end solutions are capable of being adapted and updated as compliance and disclosure requirements are fine-tuned or to meet special situations.
While there is no easy one-size-fits-all solution for all companies, it is useful to leverage core analytics technologies that can readily adapt to unique requirements while also meshing with existing legacy systems and laying the foundation for forward-looking business strategies.
Check how Machine Learning opens Key Gateway for Jump-starting Finance Optimization
Explore our other Treasury eBooks here