Listen to our latest Podcast on How Payment Factory can Improve Your Cash Flow, Increase Productivity and Reduce Risk. During this podcast, Kim Dowling, Director of Treasury at Bramasol, sat down with Jim Hunt to discuss key aspects of payment factory and why should you care.
So, what is a Payment Factory? While there are varying approaches to the implementation details, most experts agree Payment Factory in general refers to a centralized hub that is set-up to control and manage processing of payment flows across multiple locations and/or business units.
If you are grappling with your relatively complex payment processing scenarios! This Podcast is for you. Listen Now!
You will get to hear on the following points;
What is Payment factory?
Why should you care about Payment factory?
How does the shared services model fit into enabling payment factory?
How Payment factory is going to help you?
What about the term in-house bank, used in relation to payment factory?
and much more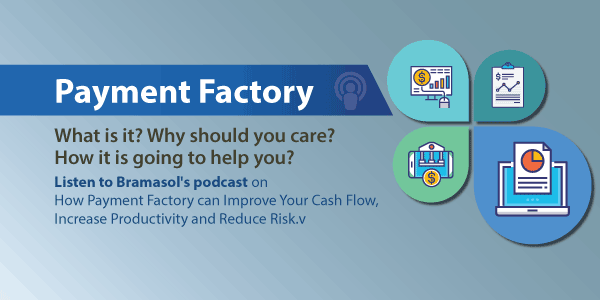 or click here to read the discussion
and Listen to our other Podcasts.
For more information, do check out our recently recorded webinar on Treasury Payment Factory.
Like what you hear? Follow Bramasol Insights to Action Podcast series on Podbean and get new episodes as they become available.