This eBook provides a brief overview how S/4HANA represents the future for companies currently using SAP platforms, as well as many other companies looking for a sustainable path to finance innovation. It also lays out some of the key considerations in developing a roadmap to implement and get the best results from S/4HANA.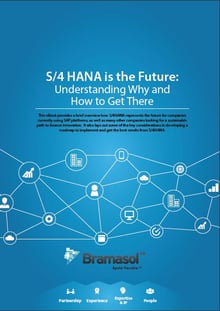 The focus of this piece is to provide a roadmap for planning and carrying out implementation of SAP S/4HANA and Digital Core environment, with an emphasis on the Why, How, and Key Steps for Success.
If you ever had a question, Why Financial Transformation? This is the must read eBook meant for you, As most conventional finance management technologies have been in existence for decades and, while they offer a familiar environment, the lack of unified solutions create significant limitations when it comes to keeping pace with today's complex and dynamically changing corporate challenges.
This eBook addresses nearly all of your S/4HANA related questions starting from what really is S/4HANA, Key benefits of the S/4HANA architecture vs. Legacy Systems, How it can transform the Enterprise Finance Landscape and a roadmap for S/4HANA success.
Here is the quick Index of the this value eBook;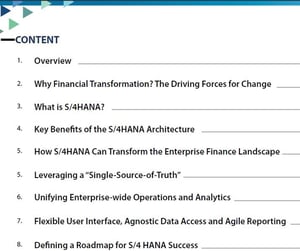 Instead of always grappling with reassembling disparate pieces of the picture this enables CFOs and staff throughout the company to see a holistic real-time view that encompasses all operational data sets and analysis capabilities within a single unified architecture.
In addition to improving both the access to and the ability to manipulate information, S/4HANA also dramatically improves real-time analytics performance because nothing must be moved, massaged or reconciled before the analysis.
S/4HANA's data compression and immediate accessibility capabilities have enabled a single source of truth and shared decision-making environment for everyone, the financial transformation approach radically changes how people interact and collaborate to solve problems and improve performance.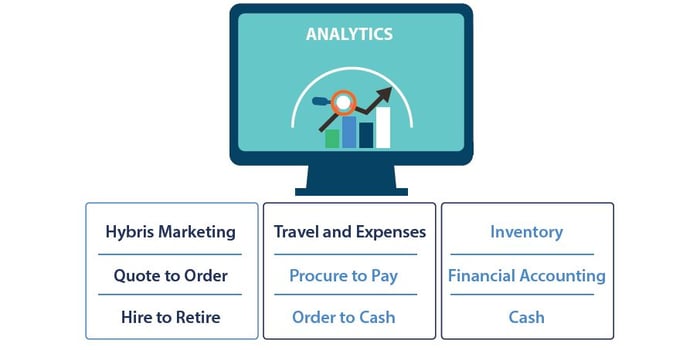 You may also be interested in our recent Thought Leadership blog-The Financial Transformation Maze – Developing A Roadmap To Help CFOs