According to the Big 4, over 50% of companies experienced a delay in compliance with ASC 606 and 842 due to accounting issues. Those same companies struggled to produce their disclosures and reporting. Underlying this are the technical accounting expertise and disciplines needed for success.
Watch this webinar to learn about the practical lessons learned from our lease and accounting RevRec projects and how to accelerate your financial reporting disclosures with Bramasol's disclosure reporting tools. Bramasol has successfully led dozens of lease accounting and revenue recognition projects and based on that experience, we have assembled a Top Ten Tips and Tricks garnered from these projects.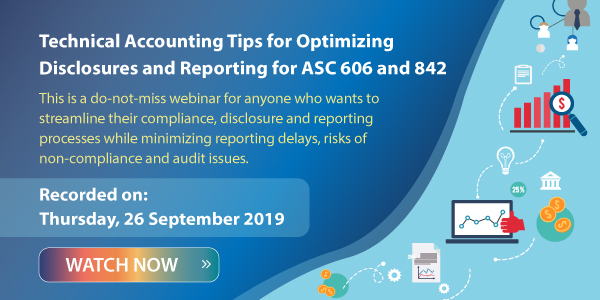 Since the last step in an accounting transition project is reporting, we will also show how to accelerate your reporting. See a live a demo of Bramasol's disclosures for revenue recognition ( ASC 606) and lease accounting ( ASC 842)
This is a do-not-miss webinar for anyone who wants to streamline their compliance, disclosure and reporting processes while minimizing reporting delays, risks of non-compliance and audit issues.