As we move into Fall, there are a number of important events coming up for CFOs and other finance leaders, where you'll get a chance to network with colleagues and talk with experts in creating and implementing solutions for treasury, compliance, disclosure reporting and other related finance management issues. Bramasol is proud to be a participant and in some cases an enabling sponsor for the following key conferences. Please plan to join us.
SAP Conference on Treasury Management
November 4-6, 2019 - Chicago, IL
In today's complex, volatile and interconnected business environment, treasurers are facing changes from all directions. Despite rising complexity, they need to do more with less, make better decisions more quickly, while ensuring compliance at all levels. The role of treasurers is also evolving. They are expected to provide sound strategic guidance to their company's board with faster, more accurate financial analyses and forecasts, and become nimbler by harnessing disruptive technologies like machine learning, predictive analytics or blockchain.
Bramasol is proud to be a Gold Sponsor of this event!
Register here and join Bramasol at SAP Treasury Management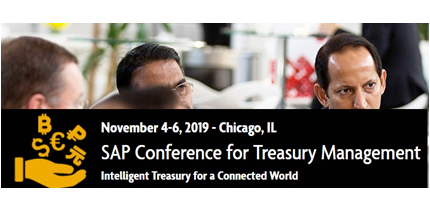 Looking forward to seeing you at this exciting event!
Past Events
SAP Conference on Central Finance


October 15-16, 2019 - Chicago, IL

Launching in Chicago, this inaugural event will explore how you can take your finance service delivery model to the next level. Pre-conference workshops, customer case studies, group discussions, roadmap and solution updates from SAP will demonstrate how you can utilize the power of one. By establishing one single source of data and one standard process via the SAP S/4HANA Central Finance deployment, users are simplifying their financial processes, lowering operational costs, as well as achieving better business transparency and visibility of productivity

Register here and join Bramasol at SAP Conference on Central Finance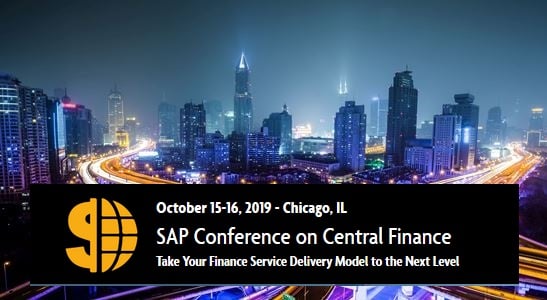 AFP 2019 Conference
October 20-23, 2019 - Boston, MA
Association for Financial Professionals (AFP) is the professional society committed to advancing the success of treasury and finance members and their organizations. AFP established the Certified Treasury Professional and Certified Corporate FP&A professional credentials, which set the standards of excellence in treasury and finance. Each year, AFP hosts the world's largest conference for more than 7,000 corporate finance professionals.
Bramasol will be demonstrating how advanced SAP Treasury and Financial management solutions, along with accelerated implementation, analysis and disclosure reporting tools can help transform your company's financial management and improve business performance.
Register here and join Bramasol at Booth #2628