Proving the value of a SAP S/4 HANA project is clear if you focus on Finance, and more importantly Treasury. Learn from the experts in SAP Treasury, Bramasol, how you can save money on banking fees, lower compensating balances, higher yields on cash and lower borrowing rates by focusing your S/4HANA project on Treasury.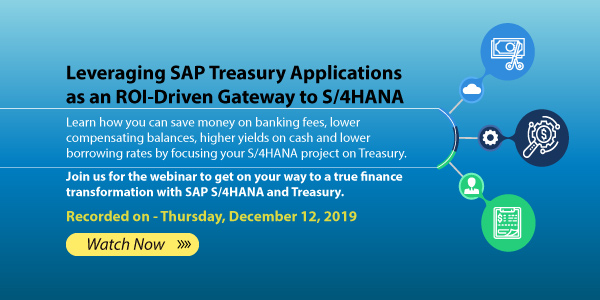 With SAP Bank Account Management, MultiBank Connectivity and other Cash Management solutions you can rationalize and optimize your banking relationships saving hundreds of thousands if not millions in banking fees and costs for too many compensating balances. Learn how have a real-time view of cash and cash position will help you get in the market quicker saving as much as 20 to 30 basis points on loans or increasing yields similarly.
Join us, to get on your way to a true finance transformation with SAP S/4HANA and Treasury.