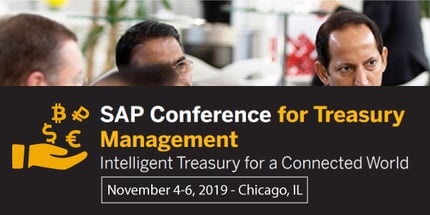 In today's complex, volatile and interconnected business environment, treasurers are facing changes from all directions. Despite rising complexity, they need to do more with less, make better decisions more quickly, while ensuring compliance at all levels. The role of treasurers is also evolving. They are expected to provide sound strategic guidance to their company's board with faster, more accurate financial analyses and forecasts, and become nimbler by harnessing disruptive technologies like machine learning, predictive analytics or blockchain.
Bramasol is proud to be a Gold Sponsor of this event!
Register here and join Bramasol at SAP Treasury Management
Bramasol engages organizations on their way to strategic treasury, by empowering the visibility into their cash, liquidity, payments and financial risk management. As the Office of the CFO moves from recording the past and documenting the present, to driving innovation and strategy, Treasury plays a key role in the management of cash, risk and driving innovation.
Key areas we focus on for Treasury include:
Cash and Cash Management

Virtual and In-House Banking

Banking Platforms

Analytics and disclosures for IFRS 9

FX, hedging, and risk mitigation
Also, are you grappling with the challenges of moving to S/4HANA? Everyone in the SAP ecosystem knows that S/4 is coming but many companies are struggling to figure out where and how to get started - often resulting in "analysis paralysis".

At Bramasol, we are leveraging our proven leadership in compliance, treasury and finance issues facing the Office of the CFO to create tangible ROI-focused on-ramps to S/4HANA that actually pay for themselves!

We firmly believe that companies can quickly pay for much of their S/4HANA implementation costs by starting with a targeted focus on ROI-rich treasury applications.

Please plan to join Bramasol at the SAP Conference for Treasury Management to learn more about how SAP Treasury applications can deliver ROI immediately while also laying out the road-map for migrating to S/4HANA.