Join us for our webinar on "Solutions for the New Economy - Subscription and High Volume Billing"
As companies increasingly move to subscription or pay-as-you-go business models, they need solutions to help with billing, invoicing, pricing and complex A/R and A/P. They also need support for the complex revenue recognition requirements for ASC 606 and IFRS 15.
In this webinar you will learn about key use cases and the solutions offered by SAP including SAP RAR and SAP BRIM (Billing and Revenue Innovation Mgt) to help enable these new business models. You will hear from experts from SAP and Bramasol on how what you need to consider and how to establish a firm foundation for the new economy. Watch Now!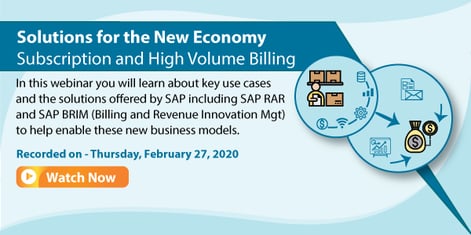 For More Information: Watch our previously recorded webinar video
To learn more read our recent Thought Leadership blog on subscription economy- Success in the Subscription Economy Will Require High-volume Flexible Billing Solutions