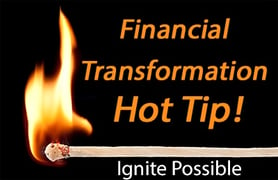 A recent blog post by Bramasol CEO Dave Fellers posed this important question: "How does a company go about getting targeted cost-effective compliance in the near-term along with a transformative path forward to overall Finance Innovation?"
He also explained that "for companies that are already invested in SAP technologies, the answer is S/4HANA and S/4HANA Cloud."
Looking at the SAP roadmap, it is clear that S/4 HANA is the future for all SAP-based companies and that virtually everyone will undertake migration projects to implement S/4 HANA over the next two to three years.
Given the reality of S/4 HANA as the core SAP technology platform, with the excellent and cost-effective S/4 HANA Cloud functionality available right now, Bramasol believes in charting a path that takes maximum advantage of today's compliance-driven requirements to usher in tomorrow's financial transformation.
The SAP Cloud Platform is SAP's platform-as-a-Service allowing companies to extend and personalize on premise or cloud apps, build new and differentiating apps or integrate and connect cloud and on-premise apps to make digital access simple and streamlined.
Join SAP for this new six part webinar series to hear from SAP experts and third party analysts on key topics to help demystify and clarify many aspects of the SAP Cloud Platform that in turn will lead you to make more informed and accurate decisions as you continue your journey to the cloud.
The webinar topics are as follows:
Discover How to Solve Business Problems Faster with SAP Cloud Platform
Date: Wednesday, May 9, 2018
Time: 8:00 a.m. PDT / 11:00 a.m. EDT
Discover why SAP Cloud Platform stands out from the pack
Date: Thursday, May 24, 2018
Time: 8:00 a.m. PDT / 11:00 a.m. EDT
How SAP Jam can help modernize your intranet quickly and accelerate time to value
Date: Thursday, June 14, 2018
Time: 8:00 a.m. PDT / 11:00 a.m. EDT
Key considerations in choosing data persistence options in SAP Cloud Platform
Date: Thursday, June 28, 2018
Time: 8:00 a.m. PDT / 11:00 a.m. EDT
The Apple/SAP Partnership: Delivering Next Gen Intelligent Apps for the Enterprise
Date: Thursday, July 12, 2018
Time: 8:00 a.m. PDT / 11:00 a.m. EDT
Myth busting: Separate fact from fiction when considering your SAP cloud journey
Date: Thursday, July 26, 2018
Time: 8:00 a.m. PDT / 11:00 a.m. EDT
We urge you and your staff to attend one or more of these webinars to build a better awareness of the opportunities available with S/4HANA Cloud Platform. Click here to register for SAP Cloud webinars.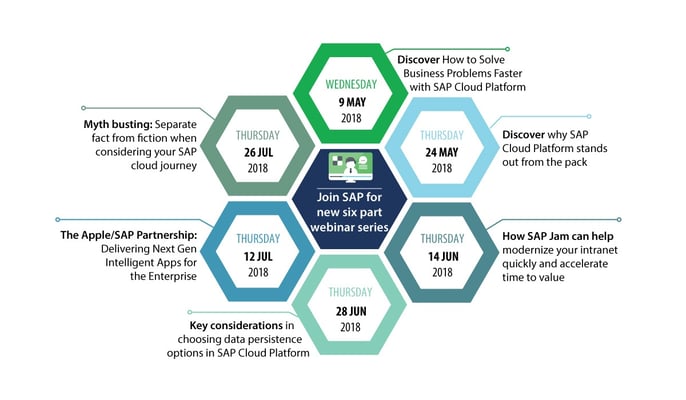 In the meantime, if you want some personalized help to understand specifically how these technologies can be applied to your business, click here to request a consultation and S/4 HANA demo from Bramasol experts.