Over recent years, companies throughout the world are experiencing a series of major changes in regulatory and compliance mandates that are disrupting existing accounting and business processes.
Implementing new revenue recognition standards (ASC 606 and IFRS 15) has been the key emphasis during the run up to the January 2018 deadline. Now, lease accounting (ASC 842 and IFRS 16) has taken the main spotlight with less than four months until the January 2019 compliance deadline.
There's nothing like some hard deadlines to help focus our minds and energy, however for the sake of your company's future, it's important to not see these dates as short-term finish lines. Instead, these deadlines on the calendar are actually just milestones in the longer run toward a culture of sustainable compliance that is woven into the core fabric of your . Taking the long view also enables companies to institute a Comply, Optimize and Transform strategic approach that leverages analytics and data integration to turn compliance into a competitive advantage.
In short, compliance is not a sprint. It is a marathon and you need to view it as such.
You can't just treat compliance as a short all-out sprint in your street clothes, after which everything goes back to normal. This approach will just leave you and your organization exhausted and still well short of achieving important long-term compliance integration goals.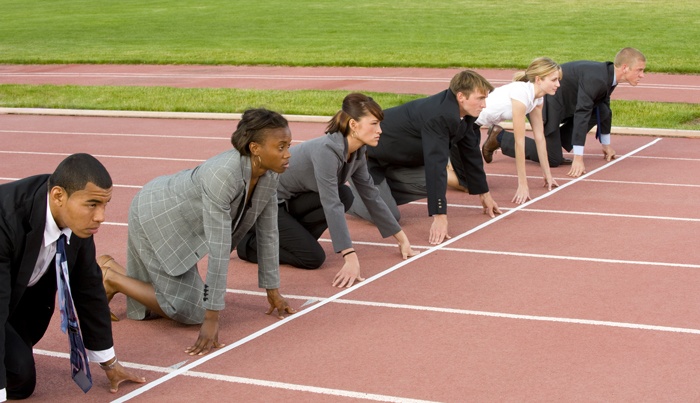 For example, it is way too soon to breathe a sigh of relief and declare victory over revenue recognition. Although new standards were effective on January 1, 2018 for most public companies with calendar year-end closing, the mandated disclosure and reporting requirements are continuing to drive ongoing ripples of change throughout most organizations.
Those long-run minded companies that invested in purpose-built, comprehensive RevRec solutions, such as SAP Revenue Accounting and Reporting (RAR), have proactively laid the foundation for continuous compliance that enables tight integration with advanced analytics and core finance processes.
On the other hand, sprint-minded companies that focused instead on minimizing disruptions by using "solutions" such as offline spreadsheets or other non-integrated RevRec software are now facing even harder choices ahead. This means that every quarterly or annual reporting cycle going forward will perpetuate the inherent hassles of their short-term thinking. Instead of smoothly extracting the needed RevRec information directly from finance operations and keep a steady pace over the long run, CFOs and their staff in these companies find themselves running that same sprint over and over again.
Even some choices that seem safe in the short run can turn out to be dead ends. Take for example, companies running SAP ECC environments that opted to use SD RevRec in ECC as their quick road to revenue recognition compliance. Now, as they look ahead to the future of SAP with S/4 HANA, these companies have discovered that SD RevRec will no longer be supported. Oops, dead end!
If you're facing this specific challenge of how to get from SD RevRec to RAR supported in S/4 HANA, you should check out Bramasol's webinar on "SD RevRec is Dead. What Now?" Listen as our RevRec Center of Excellence experts talk about the right sequence – RAR first or S/4 first, or is it simultaneous. What are my data considerations and how can I ensure a smooth transition?
Viewed from the big picture, trying to run an endless series of sprints puts a lot more wear and tear on your organization when compared to setting out with a marathon strategy from the start and charting out a pace that considers all of the hills, obstacles, curves and straightaways that must be traversed to achieve your end goals.
But take heart; even if you started out with a sprinting mindset, with a good understanding of long-term compliance strategies and effective coaching from a knowledgeable partner that knows the terrain ahead, you can effectively shift to a well-planned long-term strategy built to keep on winning over the long run.