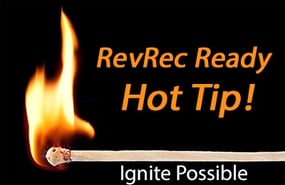 The deadline for new Revenue Recognition standards, ASC 606 and IFRS 15, is arriving on January 1, 2018. Yes, that is next week!
Many companies have been working diligently over the past year or more to get ready. Bramasol has actively been working with lots of them to provide software solutions, data migration services, consulting on best practices, Proofs-of-Concept (POCs), Pre-Built Disclosure & Compliance reports, and overall change management assistance.
Of course, not everyone is perfectly ready to go. We know this because thousands of attendees in our monthly RevRec webinars over the past two years have told us via their responses to survey questions.
The good news is that it's not too late! Yet! (But it will be soon)
The first quarter of 2018 will be an absolutely crucial time for making sure that the most important steps and processes are in place for timely data collection and compliance reporting.
Our Bramasol Center of Excellence experts in Revenue Recognition are seeing a surge of companies that are looking for answers to key questions such as:
What should you definitely have done by now in the implementation process?
How can I make sure that my data migration is on track?
What's the difference between data migration and transition processes?
What are the reporting requirements in the near term and over the next year?
What changes are considered "material" and how/when do we address them in our standard disclosure reporting processes?
How can we coordinate the go-live processes between IT and Finance?
What comes next to ensure long-term success?
If you'd like catch up now so you can avoid the dire consequences, regulatory sanctions, financial impacts and stock market impacts of being judged non-compliant...
Or, if you just want to make sure that all your efforts thus far are coming together to meet requirements of your auditors and other key stakeholders such as your Board of Directors and shareholders...
Then you're in luck!
There's one more present to open as you leave 2017!

Contact Bramasol's RevRec Experts for a Free Demo and consultation.