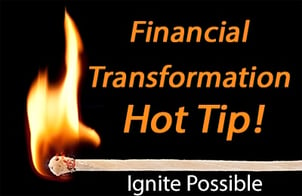 Corporate finance professionals face many challenges. They need to reduce the amount of time spent on inefficient month-end/year-end closing processes, improve their ability to extract timely and accurate financial information and streamline overall operational end-to-end business processes. On the regulatory front, CFOs also must deal with, Revenue Recognition Changes (ASC 606 and IFRS 15), Lease Accounting Changes (ASC 842 & IFRS 16), Financial Instruments Impairments & Disclosures (IFRS 9) as well as on-going changes in the global regulatory environment.
The accelerating set of new challenges and changing compliance requirements threatens to overwhelm the inherent limitations of existing legacy finance and ERP systems.
Most conventional finance management technologies have been in existence for decades and, while they offer a familiar environment, they have significant limitations when it comes to keeping pace with today's complex and dynamically changing corporate challenges.
Some of the chronic problems that arise from these limitations include:
Too much time and energy spent on inefficient month end close processes
Difficulty acquiring and accessing accurate data for financial reporting
Time wasted reconciling reports based on conflicting data sets
As Elizabeth Milne, Solution Marketing at SAP, put it in a recent blog post on Continuous Accounting:
"Transforming the financial close is not a one-time project; it's a continuous incremental journey, and the dividends to making even the first few steps to improvement can be substantial. This approach not only cuts the cycle time of the close and reduces risk and audit fees, but also lowers the internal financial and accounting resources dedicated to close tasks. This is an era where CEOs and the broader executive team are looking for finance to move beyond crunching the numbers to interpreting them and acting as a business partner and advisor. Freeing up finance from manual effort and duplicative work and reallocating them is essential to making that shift."
As companies undertake Financial Transformation to become more nimble, react quickly and take advantage of market trends, one key area they're focusing upon is the creation of a Single-Source-of-Truth that eliminates the time-consuming hassles of reconciling various disparate data sets.
Bramasol is a co-innovation leader in the implementation of the SAP S/4HANA Cloud, which provides a high-performance, in-memory, and extensible Digital Core for unifying transactional data and analytics within a single-source-of-truth environment along with a wide range of best-of-breed functionality.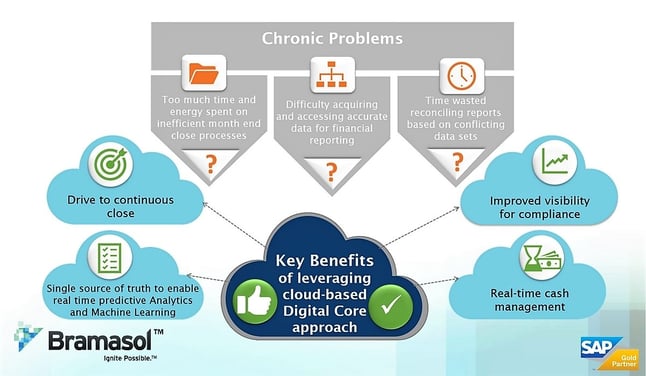 SAP S/4HANA Cloud is a real-time ERP suite for digital business that provides a high-performance and highly flexible platform for addressing the full range of business requirements. It is built on the advanced in-memory platform, SAP HANA, and offers a personalized, consumer-grade user experience with SAP Fiori, as well as tight integration with analytics, communications and collaboration functions.
Key benefits of leveraging this cloud-based Digital Core approach include:
Drive to continuous close
Consolidation of data source for reporting
Improved visibility for compliance with new standards for Revenue Recognition, Leasing and Financial Impairments
Real-time cash management
Join the growing number of companies that have already discovered how the transformative capabilities of S/4HANA Cloud can give you real competitive advantages.
Click Here to learn more about Bramasol's Financial Transformation solutions.