While reading a recent Aberdeen white paper, The Case for Cloud ERP in Manufacturing: Alleviating Outdated Concerns, I kept thinking to myself how well it fits with SAP's OnDemand offerings, mainly SAP's Business ByDesign ERP cloud solution. Although the article focuses on the "Cloud ERP in Manufacturing" aspect, the findings in the article can be applied to all types of Industries, not just manufacturing. As the cloud expands, I believe businesses that do not take advantage of the cloud will start losing any competitive-advantage they have over their competitors. How is this? Let's look at the following five "Key Benefits of Cloud Solutions that a Manufacturer Must Consider" as outlined in the above-mentioned Aberdeen report and see how SAP's OnDemand Cloud solutions are a perfect fit:
Cost
The ability not to rely on Internal IT Resources
Enhanced collaboration, standardization, and visibility across the enterprise
Scalability
Functionality as SaaS deployments are updated by the software vendors.
When talking about doing business in the cloud, cost is always one of the first topics mentioned. There will always be cost savings in the IT area when comparing cloud solutions versus the traditional on premise solutions, whether it's hardware, software, maintenance costs, upgrades, IT personnel, etc… There will be cost-savings, no matter how big or small the cloud solution may be. Even in the area of data protection—thousands of dollars can be spent on backup systems and disaster-recovery plans. With SAP's OnDemand solutions, they take care of those worries for you. They take care of your data with secure data backups at secured backup data centers. That, in addition to the lowered IT costs, results in a win-win for the customer.
The next benefit is one that most users in your organization will probably love to hear about: that the use of cloud solutions compared to on-premise solutions will greatly reduce the need to rely on internal IT resources. I don't how many times I've heard that there is some functionality, process or report-modification a user is not able to use because the IT department is too busy. With SAP's OnDemand software, these types of things can be taken care of by the different "Key Users" or Administrators that are setup within the organization. All users across the company would have the capability to customize any of the standard reports they have been given access to, but the Key User would be able to generate new reports to share across all users within the organization. This SAP OnDemand model empowers the users with the tools needed to get their work done in a timely, efficient matter.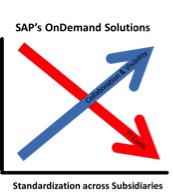 The next key benefits are core assets for those organizations with subsidiaries scattered across the world, that being enhanced collaboration, standardization, and visibility across the enterprise. All three have a direct correlation to each other when it comes to the cloud (see Figure 1.) It's a given that it is a benefit to run the same applications across an organization that has multiple subsidiaries. But to do this on the cloud is huge! As standardization of applications and processes increases throughout the subsidiaries of an organization, collaboration within the entire organization increases as well. In an environment where different subsidiaries are using different systems to do the same thing, collaboration between the subsidiaries can be difficult. Gathering data from multiple systems across the organization can be a time-consuming process and some of that data may not be as up-to-date as you want. So, it's needless to say that with a cloud-based system deployed across all subsidiaries, you will gain better collaboration, greater visibility and as a result, lower IT costs.