The latest Association for Financial Professionals® (AFP) 2019 AFP Risk Survey - The Evolving Treasury Ecosystem, examines the challenges that companies are facing regarding their treasury operations, with an emphasis on how they are looking to leverage new technologies.
Among the key findings of interest is the focus on cash management, as illustrated by the excerpt below:
Cash Management and Forecasting Will be the Focus of Treasury Operations over the Next Three Years
"A majority of treasury professionals (55 percent) cites cash management and forecasting as the greatest focus for organizations' treasury operations over the next three years. Cash management and forecasting is a greater priority for those organizations with annual revenue less than $1 billion and those that are privately held. Financing and capital allocation are the second most-often cited areas of focus, reported by 41 percent of survey respondents. Treasury services technologies ranks third at 36 percent.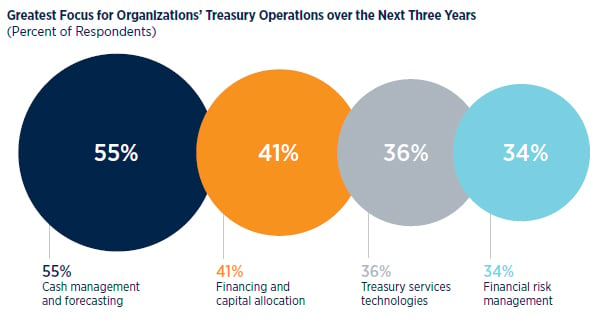 Regarding the relationship between cash management and forecasting, the report adds:
"While technology can be an enabler for this, it is internal relationships that treasury and finance will need to develop in order to be efficient in the process. This is also a factor in forecasting business needs going forward and ensuring there is a capital structure in place that fulfills an organization's underlying goals. Forecasting and effective working capital management will be key to these directives."
Click here to Download the full AFP Risk Survey on Treasury

Also for more information on Cash Management, visit these links to recent Bramasol blog posts and webinars on the topic:
Webinar video - Treasury Cash Management. Do you know where your cash is?
Blog: "Treasury Optimization Starts with Global Cash Management
For more info, visit Bramasol at www.bramasol.com or contact me directly at jfroelich@bramasol.com