The Supply Chain Takes Center Stage
How Your Supply Chain Strategies Dictate Your Organization's Success
1. What is the top supply chain challenge that SAP customers face in 2015?
The very definition of supply chain management is changing, as the world is moving toward an extended supply chain, in which customers, suppliers, employees, "design-to-deliver" business processes, and analytics play integral parts. In our experience working with more than 45 customers over the last 18 months, the biggest challenge for SAP customers is preparing for new-age platforms such as the Internet of Things (IoT).

As a company driven by innovation, we are working with technology partners to address specific supply chain pain areas using IoT. The other area we identified as a challenge is keeping pace with disruptive technology delivery models, such as cloud, SAP HANA, and mobility, while monitoring risk, staying compliant, maintaining cost pressures, and responding to shortened product life cycles.
2. How should organizations address that challenge?
Having a partner do more than just implementations should be a priority for customers. At Bristlecone, we advise customers on the industry business process roadmap, and bring in the competencies to implement it.

For example, currently we are helping a customer, one of the largest milk product manufacturers in the world, to map business processes to IoT scenarios, and then implementing them. This will help the organization stay ahead of the curve.
The biggest challenge for SAP customers is preparing for new-age platforms such as the Internet of Things.
3. How does Bristlecone help SAP customers improve their supply chain performance?
At Bristlecone, our more than 1,200 employees are trained to think about and deliver what is best for customers. Our approach is to identify solutions that are sustainable, innovative, and best fit for customers' processes. Our initial engagement with customers involves diagnosing and building a process roadmap before we proceed with implementation.

With more than a decade of experience working with more than 250 customers across multiple industries, we have developed pre-configured solutions for diverse industries, including high-tech, consumer product goods, chemical, automotive, and manufacturing. Our varied intellectual property solutions bring best practices for customers and accelerate the overall process, thereby saving crucial resources, time, and money. We experience high customer satisfaction and retention rates, which we achieve with the processes that we have established to ensure that customer goals are met. Gartner rated us highly when it comes to supply chain and procurement areas.1
We continue to invest in next-generation products and solutions for IoT, networks of networks, and extended supply chain to make sure our customers are ready to face today's challenges. Twenty-five percent of our consultants are dedicated to SAP HANA and cloud deliveries and we see that increasing as we grow globally. Being a part of Mahindra, a diversified $16.5 billion group, adds to our strength to have firsthand industry knowledge, ability to invest in innovation, global reach, and agility to respond to customer requirements around the world.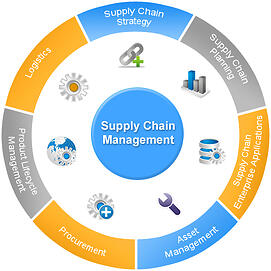 1 Gartner, "SAP Supply Chain Management System Integrator Assessment and Selection Guidance" (October 2012;)
https://www.gartner.com/doc/2219815/sap-supply-chain-management-integrator).